Interview with Original Teddy Boy, Mr Herm Derbyshire, who will be one hundred years old in 2038. Interview date : 19th of November 2014. Herm lives in Oldham, near Manchester and has been a Teddy Boy since 1953, Before that he was a Bop Boy. He is one of Manchester's most respected. Interviewed by Julian Lord and Boppin' Brian Spilsbury.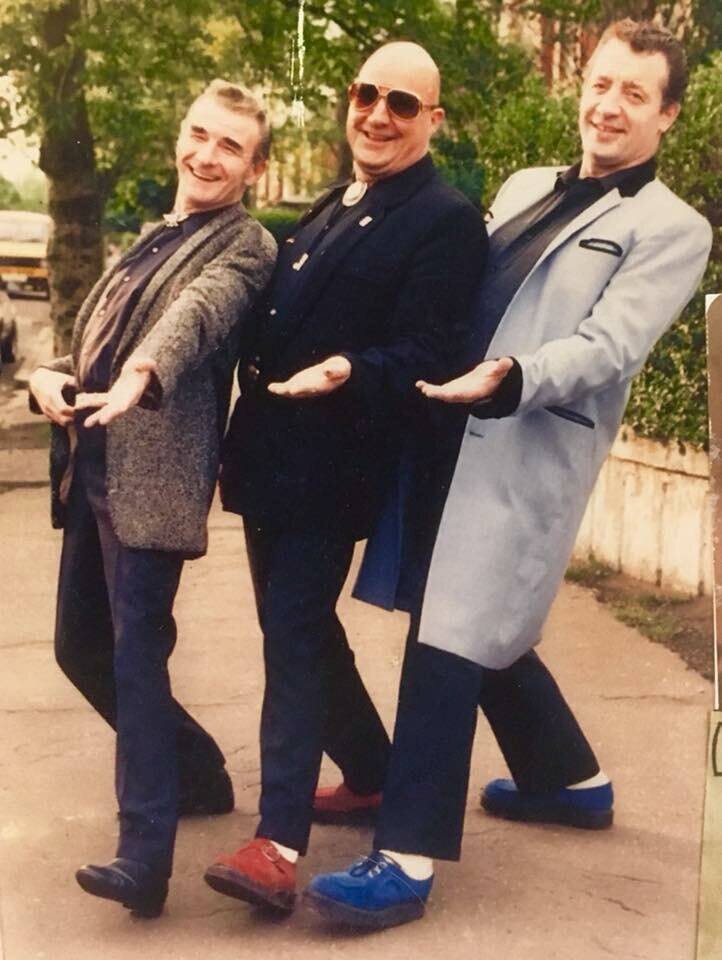 "I am originally from Wythenshawe in south Manchester. I became a Teddy Boy because I liked the style and dress of the Teds. I left school when I was 14 years old. I bought my first Ted suit when I was 16. It cost me 14 guineas. It was a lovett-blue suit with a black velvet collar.
I liked jazz and I listened to great singers like Frankie Laine and Johnny Ray and Guy Mitchell. I also liked Jack Parnell and the first record I had was Livery Stable Blues by Mugsey Spanier. I also listened to Baz and Ivey Kirchen. Then in 1954 Bill Haley hit the charts with Crazy Man Crazy, and that was it, rock and roll had arrived - forever.
I was in a very big gang of Teds in Wythenshawe and there were lots of fights in Wythenshawe Park. They were mostly fights about territory. We had a lot of fights with Teds from Moss Side. This was not because they were black lads, but because they were in the wrong place - there were only two or three of them that were black anyway. It is a load of rubbish what they were saying in the media about Teds being racist. I didn't care what colour you were. I loved the music of Elvis Presley and Little Richard when I first heard them and I didn't know if they were coloured green, and I didn't care either. Sometimes we fought for nothing at all. I just liked fighting, and I don't know why!
No, I was not elected King of the Wythenshawe Teds, I just assumed the crown, because I was a good fighter I suppose. My mate had a faun coloured drape. I had a black/grey drape made of Donegal tweed. I always had velvet on the collar of my drape jackets. I remember wearing yellow socks with a spliced nylon heel so they didn't wear out so fast. We didn't wear the socks so they showed too much.
I went into the army in 1957 to do my National Service, but I wanted to see the world. This was back when people did not go abroad for their holidays at all. To a lot of people, Blackpool was as far as they ever got in the fifties! So I signed on for 3 years, 1957 to 1960. I flew out to Bahrain in the Persian Gulf as part of an advance unit whilst the others went by ship. I tell you what, it was hot out there, boy was it hot! My creepers melted and spread out! You couldn't get a cold shower; you turned on the cold shower tap and it came out hot! Same thing with your drinks.
There was an American base there as well and they had cold showers and cold water, and I used to go there. I used to love watching the American wrestling on the TV. There was some trouble between the Shiites and the Sunni Muslims and they were fighting each other, so we had to get into the three ton trucks and go out on active deployment with live weapons. It was then that we all wished we had written a few more letters home to England! I was also posted to the Trucial States (The United Arab Emirates after 1971) also to East Africa, to Nairobi and Mombasa.
No, I don't think if they were called up that half of today's lot would go. Why? Because they are all too up themselves. Yes, there has always been a strong military element in the Teddy Boys, and it comes from those times. Back then we called older people Mr or Mrs, none of this first name nonsense you get today.
At the end of the fifties I noticed that the drapes were getting brighter in colour. One of the Moss Side Teds had a pink drape. He was a good fighter though. That was in 1959. The scene did change when I came out of the army in 1960. In the sixties there was a girl who would not go out with me if I went into town with my drape on, but I still went wearing my drape anyway.
There were favourite places that us Teds used to hang out at, such as Charley's in Northenden. It was a great place to hang out and there were lots of one-armed-bandits, wrestling and skating. There was also the Gem on Palatine Road and Pops Milk Bar on Church Road. All these places were in Northendon. I did not change my style in the sixties and carried on being a Teddy Boy.
I was in rock and roll bands all through the sixties. I had my own band called Herm's Rock Cats. We used to play at some really rough places in Manchester like the Bossa Nova Club and the Victoria.
In 1972 the Midland Hotel in West Didsbury opened up for rock and roll nights. I was in a band called the Rockin' One Percents and we used to rehearse at the Midland Hotel, and before long we were the resident band there for a while, playing there every week. Tommy the Ted was the original DJ at the 'Mid' as we all called it, before Kid Cadillac and Mike Zodiac became the resident DJs. I always kept to the same style of suit. I like jetted pockets, and I still have black, grey and faun coloured drapes.
I think the 1950s was the best period. You would put the radio on and you would get all the music for squares and then suddenly you would hear a rip roaring rock and roll record come on and it was new and really exciting.
I liked it when the Punks came out as well, because they had their own style of dancing. I thought 'good on them'. They didn't just shuffle about like all the squares did, and still do, and call it 'dancing'. That's not dancing, it's just rubbish shuffling about that any fool can do. Shuffling fools the lot of them. Nobody can dance like the Teds though, jiving and bopping. It is classy and great fun too.
No, you cannot separate Teds from rock and roll, the two are meshed together. I still get up singing every Sunday at my local rock and roll pub down the road.
I must mention one of my favourite subjects and that is classic American cars. All Teddy Boys should drive big American cars, you simply cannot beat them. I have had a 1960 Cadillac Fleetwood, a 1951 Pontiac Chieftain (I had two of them at the same time, one was for spares) and a Chevrolet Kingswood station wagon with powered clamshell rear doors. You could press a button and the bottom door section of the tailgate would slide into a space under the rear of the car whilst the upper rear windscreen would slide up into a space in the rear roof. Fantastic.
The Americans were decades ahead of the British on cars. They still are. I also had a Rambler Classic, a Rambler Rebel, a Lincoln Continental and an early sixties Pontiac Parissienne. Barry Moran and Ernie Wright did all the work on my Yank cars. Believe it or not though, the best car I ever drove was a Japanese Lexus V8. Mind you the Lexus was entirely designed by Americans in the USA, so there you go. No, I have never gone in for those classic 1950s British Fords. Too much faffing about with that manual column gear change, and they are all underpowered anyway. I still wish even now that I could have a 1960 Chevy Impala with the gull wings at the back. That is a proper Ted's car that is. Teds, rock and roll and big Yank cars, it is all part of the same thing to me.
As you can see, my house is a shrine to rock and roll and especially to Elvis. For me rock and roll has never gone away, but I was glad when it all came back in the seventies.
What I like about the Teds and being a Ted is that you can pull the birds, but it is really the camaraderie. You can go anywhere in the country and if you see another Ted, he can be from anywhere, and you have got a mate almost before you start talking to them. In that respect it has all changed for the better since the 1950s.
I was born to rock and roll.
THE END
-------*-------