In this article, Teddy Boy and Teddy Boy Historian, Brian A. Rushgrove, born 1st August 1947 and originally from Bradford, Yorkshire tells of his lifetime as a Ted. Well known for his famous magazine, THE VELVET COLLAR and numerous publications of the History of the Teddy Boys.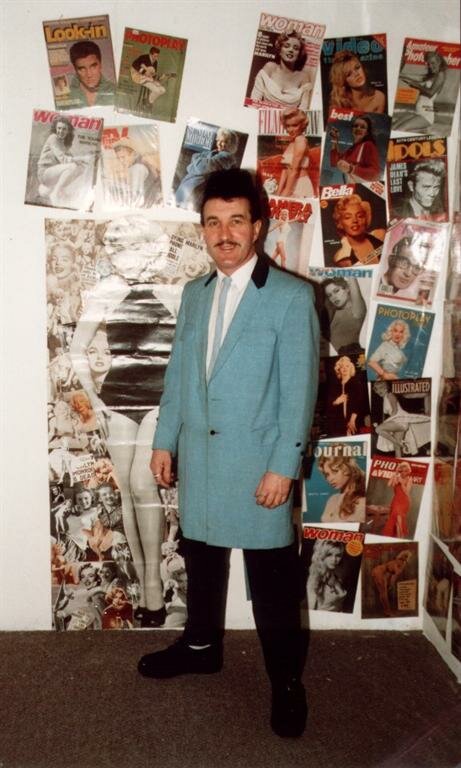 Brian Rushgrove at Portsmouth in 1985.
My uncle was a Teddy Boy and my auntie was a Teddy Girl. They encouraged me, and got me into the records as well: Vincent, Cochran, etc. I got my first drape on my fifteenth birthday, in 1962. My parents wouldn't let me wear my drape in the house, they were very strict. It was a grey, fingertip-length drape with no velvet, had a link button, cuffs, and flaps on the pockets. Velvet was expensive and added to the cost of the drape. My pants were fourteen-inch bottoms without turn-ups. There was no waistcoat, they were expensive. I had a pair of creepers with a one-inch-thick crepe sole. They had black leather uppers with metal D rings for the laces. I always wore white socks. At that time Teds were wearing mustard socks, lime green socks, etc. I was skint, like most Teds, so we wore what we could get hold of. I wore Maverick ties or a neckerchief tied up. The drape had to be a straight back. I usually wore a white shirt but sometimes a black one. I bought my first drape jacket at Jacksons the tailors in 1968, but the only velvet it had on it was a velvet collar.
It was definitely the music that was the driving force behind me becoming a Teddy Boy. I had seen gangs of Originals down in the park when I was a kid. When I was thirteen years old, I saw a documentary on the telly called No Trams To Lime Street. It was the first documentary made by Billy Whitelaw and Tom Bell. It was shown on a Sunday in 1959 as one of Granada Television's Armchair Theatre productions. It was about three sailors in Liverpool who were all Teds. It showed film of young people jiving and took you into three or four pubs in the city. That documentary made a massive impact on me. When I was young there was none of this fifties nostalgia thing. Once you clicked onto the fact that the music had a following called the Teds, well then that was it.
In the sixties I knew the Rockers, but from 1962 through to '64 me and a few other Teds started going to back street pubs, and we used to have to take our own record player with us. I went to Blackpool in '64 looking for Mods but never found any. In 1968 we formed our own club in Bradford along with the band the Dave Lee Trio. The local newspaper came and took some photos of us. Within a year there were 600 club members. It was a shilling to get in. In 1971, the newspapers came round again and the next week there was a small article about us but no photos. The reporter that interviewed me that day went on later to become the Editor in Chief of the Bradford Telegraph and Argus.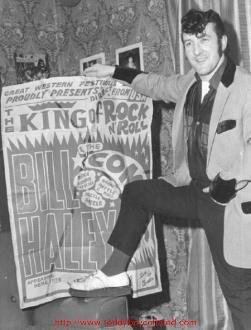 Brian in Bradford, 1978.
There was hardly any trouble in the sixties for the Teds, but in the seventies there was a hell of a lot more trouble and fights. We always wore big studded belts that we used if there was trouble. One night, me and five other Teds were walking along when we saw about thirty 'smoothie' football fans come charging out of a pub chasing three Teds. We were all tooled up with our studded belts and one of us, Johnny Elvis, was carrying his Italian flick knife. One of the smoothies threw an iron bar at me. It hit the ground, bounced and caught my wife on the ankle. In the fight that followed, Johnny Elvis stabbed seven smoothies in the face. Most of the smoothies cleared off and we never had any bother with them again.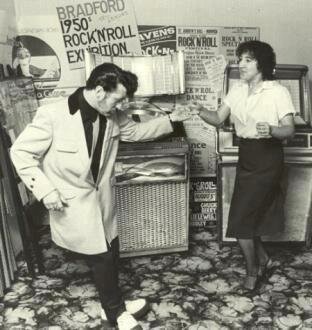 Part of TV Documentary for Yorkshire TV 1978.
In the seventies there were about 500 Bradford Teds. On a Saturday we used to go down to the cafes and by 6.30pm there was about 150 of us going into the Market Tavern. I was not into the brightly coloured drapes that were in fashion then.
To me the Teds are like a family. They are the ones who you can fall back on. Today the Teds are like rock and roll, they will never die out now. They have withstood the greatest test of all, the test of time.