Early career history of Britain's first Teen Idol & Rock 'n' Roll Star - Tommy Steele.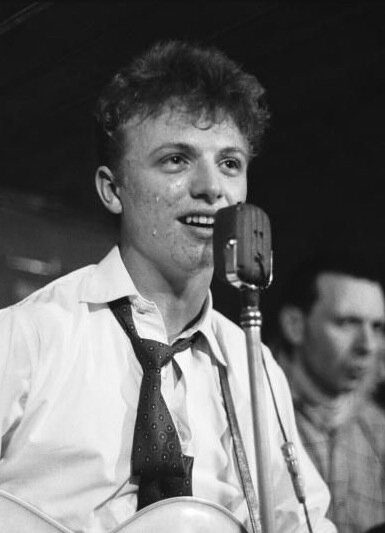 Tommy Steele OBE (born 17 December 1936 in London), is widely regarded as Britain's first teen idol and rock 'n' roll star. Born Thomas William Hicks in Mason Street, Bermondsey, his cheeky Cockney image and boy-next-door looks won him success as a musician, singer, and actor.
Tommy Steele was undoubtedly Britain's first great Rock and Roll idol. Like many who followed him Tommy started his musical career by playing in a skiffle group.
Tommy Steele was also the first of the London based artists who would precurse their fame by singing at the 2 'I's Coffee Bar, a venue which later hosted the virtually unknown Adam Faith and Cliff Richard. Although Tommy's brand of Rock and Roll was nearer to 'easy listening' than that of some of his American contemporaries he more than made up for it with his personality.
His manager, Larry Parnes, once said "Tommy Steele was the greatest entertainer that I ever had on my books", and Tommy Steele's rise as a teenage star was probably attributable to charisma rather than simple sex appeal.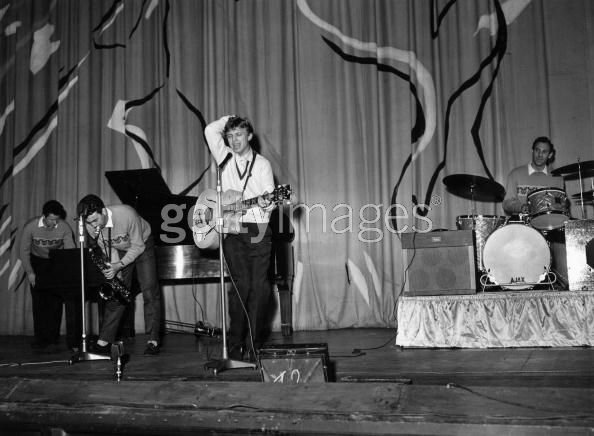 24th May 1957 - British rock n roll singer Tommy Steele in concert with his backing band The Steelmen.
Before landing a singing career, Tommy Steele tried his hand at a number of odd jobs and had a brief spell as a merchant seaman. Like many singers of his era he never did national service, having failed the medical examination because, at 18 years old, he was diagnosed as suffering with cardiomyopathy (According to his autobiography "Bermondsey Boy" he failed the medical because he had flat feet).
While on leave or during dock strikes, he played guitar and banjo and sang in the 2i's Coffee Bar and The Cat's Whisker where hand-jiving was devised, both coffee houses in Soho, both as a solo performer and with Wally Whyton's Vipers Skiffle Group.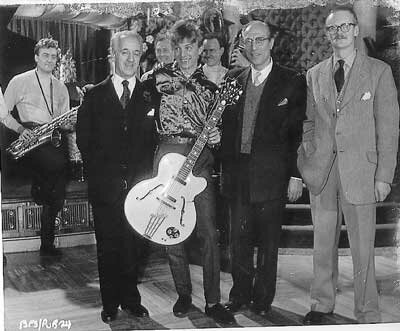 When a ship Tommy Steele was serving on docked in Norfolk, Virginia, he heard Buddy Holly and fell in love with rock 'n' roll, turning his back on the British skiffle craze. He was discovered by free lance photographer John Kennedy, who believed Tommy Steele could be Britain's answer to Elvis Presley.
Later co-manager Larry Parnes is incorrectly credited with creating the stage name 'Tommy Steele.' It was Steele who adapted the surname of his Scandinavian paternal grandfather, Thomas Stil-Hicks (pronounced Steel-Hicks), adding another E to the spelling.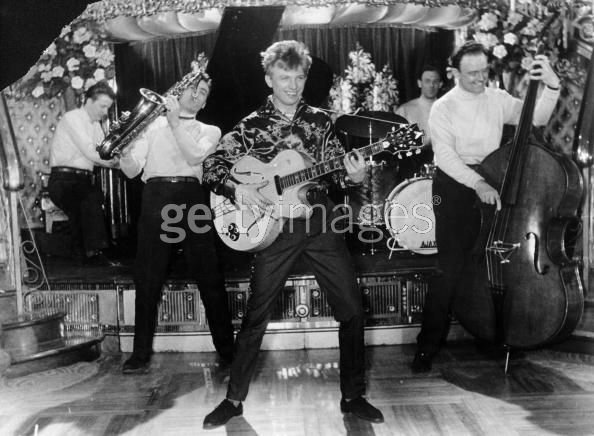 'Tommy Steele performs with his band, the Steelemen, 25th February 1957. They are Alan Stuart on tenor sax, Alan Weighell on bass and Leo Pollini on drums.
Tommy Steele shot quickly to fame in the UK as the frontman for a rock and roll band, The Steelmen, after their first single, "Rock With The Caveman," reached number 13 in the UK singles charts in 1956. Steele and other British singers would pick known hits from the United States, record their cover versions of these songs and release them in the UK before the American versions could enter the charts.
Most of Tommy Steele's 1950s recordings were covers of American hits, such as "Singing the Blues" and "Knee Deep in the Blues". Although Tommy Steele never proved a serious threat to Presley's popularity in the UK, he did admirably well on the 1950s British pop charts and "Singing the Blues" got to Number 1. (Guy Mitchell was number 1 with "Singing the Blues" on 4 January, 1957 and Tommy Steele on 11 January, 1957.)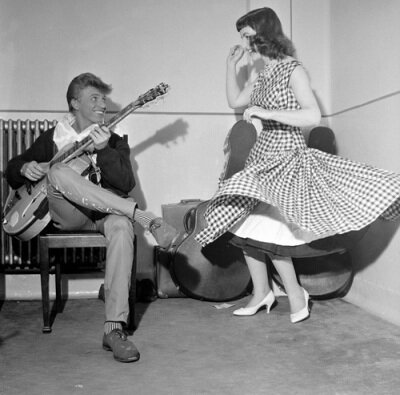 Tommy Steele with Girl in 1957.
Claimed Meeting with Elvis Presley in England
For many years it was thought that Elvis Presley had never set foot in England, and had only ever spent a few minutes on the tarmac at Prestwick Airport in Scotland where his military plane, en route to the United States after completing his military service in West Germany, stopped to re-fuel. However, on 21 April 2008, in a (BBC Radio 2) interview with theatre impresario Bill Kenwright, it emerged that Presley, then 23, had in fact visited England for a day, after striking a phone conversation with Tommy Steele in London in 1958.
According to Bill Kenwright: "Elvis flew in for a day and Tommy showed him round London. He showed him the Houses of Parliament and spent the day with him". Bill Kenwright admitted on 22 April, 2008 that he was not sure whether he should have told the story.
Tommy Steele said: "It was two young men sharing the same love of their music. I swore never to divulge publicly what took place and I regret that it has found some way of getting into the light. I only hope he can forgive me."
Officials at Prestwick Airport immediately issued a statement requesting proof, photographic, or otherwise, of the said meeting. Until such proof is provided, they shall continue to regard Prestwick Airport as the only place in Britain where Elvis Presley ever set foot, the marker, photographs and special lounge at the said airport being a vivid reminder to the credibility to that claim.
Lamar Fike, a former member of the Memphis Mafia, who lived with Presley at the time, has posted a claim on www.elvisinfonet.com that it was him, not Presley who visited London and Tommy Steele for a day in 1958.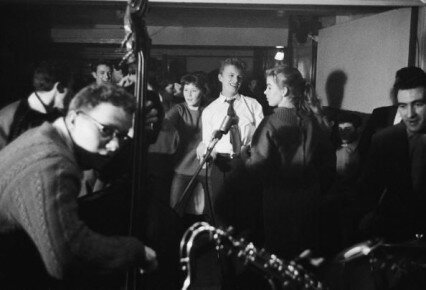 Tommy Steele at the Bread Basket 25th February 1957.
1950s 45rpm UK Discography
Listings include UK 45 singles releases only.
Decca F10795 1956 Rock With The Caveman/ Rock Around The Town #13
Decca F10808 1956 Doomsday Rock/ Elevator Rock Decca F10819 1956
Singing The Blues/ Rebel Rock #1 Decca F10849 1957
Knee Deep In The Blues/ Teenage Party #15 Decca F10877 1957
Butterfingers/ Cannibal Pot #8 Decca F10896 1957
Shiralee/ Grandad's Rock #11 Decca F10923 1957
Water Water/ A Handful Of Songs #5 Decca F10941 1957
Hey You!/ Plant A Kiss #28 Decca F10976 1958
Happy Guitar/ Princess #20 Decca F10991 1958
Nairobi/ Neon Sign #3 Decca F11026 1958
It's All Happening/ What Do You Do Decca F11041 1958
The Only Man In The Island/ I Puts The Lightie On #16 Decca F11072 1958
Come On Let's Go/ Put A Ring On Her Finger #10 Decca F11089 1958
A Lovely Night/ Marriage Type Love Decca F11117 1959
Hiawatha/ The Trial Decca F11152 1959
Tallahassee Lassie/ Give Give Give #16 Decca F11162 1959
You Were Mine/ Young Ideas Decca F11177 1959
Little White Bull/ Singing Time #6