This article on the founding of T.E.D.S. - The Edwardian Drape Society has been co-written between Nidge and the two sisters who were the founders of T.E.D.S., Susie Prince and Dixie Hodges.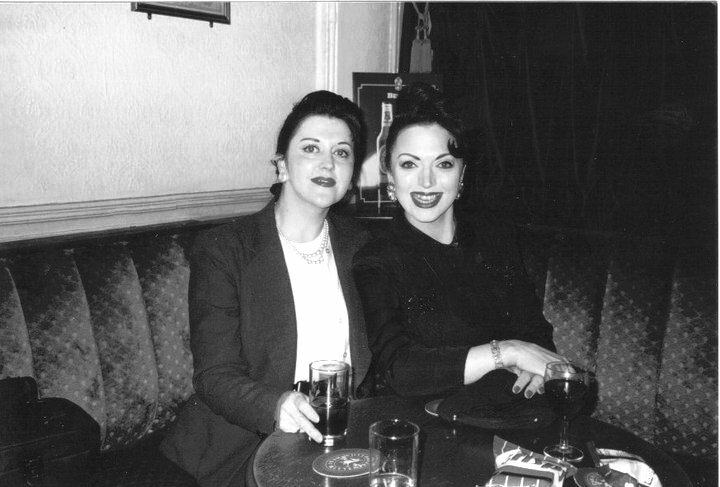 The Founders of T.E.D.S. "The Edwardian Drape Society", Dixie and Susie at the Empress of Russia Pub, Islington in 1992.
The Teddy Boy scene as a whole was starting to wane by the mid 1980's and the numbers of Teds were starting to drop significantly. Some had got married and couldn't afford to go out anymore due to family commitments, a considerable number had joined the ranks of the Hep Cats and Rockabillies and some just simply became disillusioned and left the movement altogether. This then only left a hardcore of Teds who continued to be active in the scene and those who were left soon realised that the heady days of the seventies revival for the Teds were coming to an end.
However, in the late autumn of 1992 something was starting to stir in London just north of the river, where sisters, Susie (Prince) and Dixie (Hodges) put into action a simple idea which was to help have a profound effect on the declining image of the general Ted scene.
"The clothes of the 1950's, and getting the authentic look right was very important to us and we were very much into finding out about and wearing the original look of the early British 1950's Teddy Girls. Our boyfriends at that time, as well a few of the people we would meet up with, were shunning off the peg drapes from places like Teds Corner and suchlike, and instead having their own bespoke drapes tailor - made. These were cut in the authentic 1950's style, taking inspiration from the earliest Edwardian Ted images available at that time, which in the days before the internet were not that easy to find. As an example of how difficult it was to source pictures of 1950's new Edwardian Teds, we would have to book appointments at the Hulton Picture Library in London to view the archives and pay quite a lot for copies of original photographs.
We never claimed to be the first to adopt this very early style, and were well aware of the small pockets of Edwardian style Teds dotted around the country, but we strongly felt that we ought to actively encourage more of it within the places we would go to in London and try to bring about an end to the brightly coloured shiny polyester look, so we decided to round up all the well-dressed Teds and Teddy girls we knew, and with their help encourage like-minded Teds elsewhere on the scene to promote the style of the smarter, more authentic 'Edwardian' Ted look which was truer to the original early 1950's image, by setting an example.
We wanted to be able to go to places similar to the club in The Lambeth Boys documentary, (although obviously that had been a youth club), or the Wood Green jazz club, with the same kind of atmosphere, where we could have a band on, or just records, chatting, drinking, dancing and listening to the early British Rock'n'Roll music that we felt was lacking in the clubs & pubs that we were going to at that particular time. So this was the kind of club that we decided to go ahead and organise."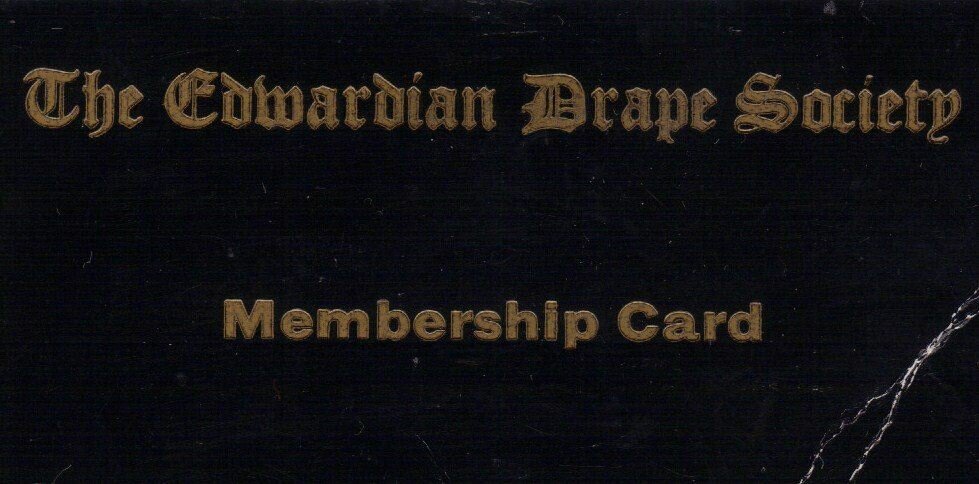 Having decided on the name, The Edwardian Drape Society, we started out by producing private invite cards which we gave to Teds that we knew as well as to other smart Teds that we saw or met while we were out at a various places. This invite explained the concept which was basically that we wanted to improve the perception of the Teddy Boy as an individual who took an interest in well tailored clothing and a pride in their appearance.
Although we didn't advertise in any other way, word soon got around and more and more people wanted to become members. However, a lot of these were people who were not Teds but just on the rock n roll scene in general and others just curious about what was going on, and so in order to protect the original ethos, it was decided that at that time membership would not be given on demand, but only on merit.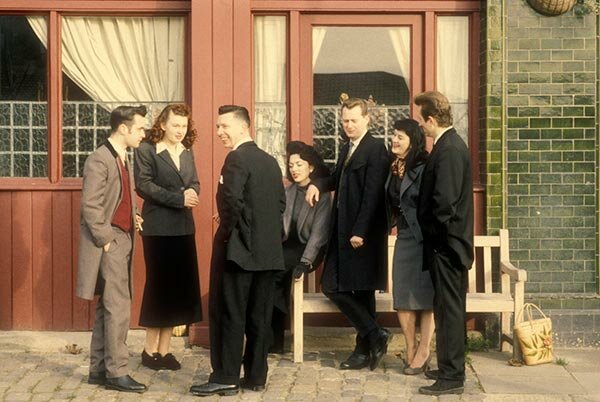 Members of the Edwardian Drape Society at Battersea in 1993. The chap in the light grey drape suit is Andy, the girl is Birgit (from Germany) the chap in the black suit laughing over his shoulder is Keith Thorbey and the chap stood between Susie and Dixie is Steve Cranmer with Ritchie Gee (far right), The picture amongst others, was taken for a book by photographer Ted Polhemus called Street Style, which had a big launch at the V&A Museum where this and other pictures were shown.
This did lead to a perception of the club as being 'exclusive, and over-selective, and a few noses were put out of joint, but the ideals and standards had to be high and exacting and it was thought better to upset the few who should have been in rather than take a chance on the many who definitely shouldn't. If people did not meet the standard for one reason or another, it just meant that they had to try a bit harder. It was all about maintaining a standard and getting away from the image that some of the more unkempt 1970's Teds had perpetuated with jeans, T shirts and Drape Jackets over the top. It was not about telling people how to dress in an arrogant way, it was just about setting an example, being smart and recapturing the original pre 1955 Edwardian look".
After a few months of searching for just the right place, Susie and Dixie decided on 'The Empress of Russia' pub at 360-362 St John Street, Islington, Central London (The pub is now "The Brasserie "). The Empress of Russia was a very big traditional corner pub which had a separate private bar upstairs which was ideal for the purpose. Huge windows looking out over the main road, wooden floor, a small stage, a snooker table and best of all a sliding partition on the door like in a speakeasy! The first club night took place on Saturday 21st November 1992.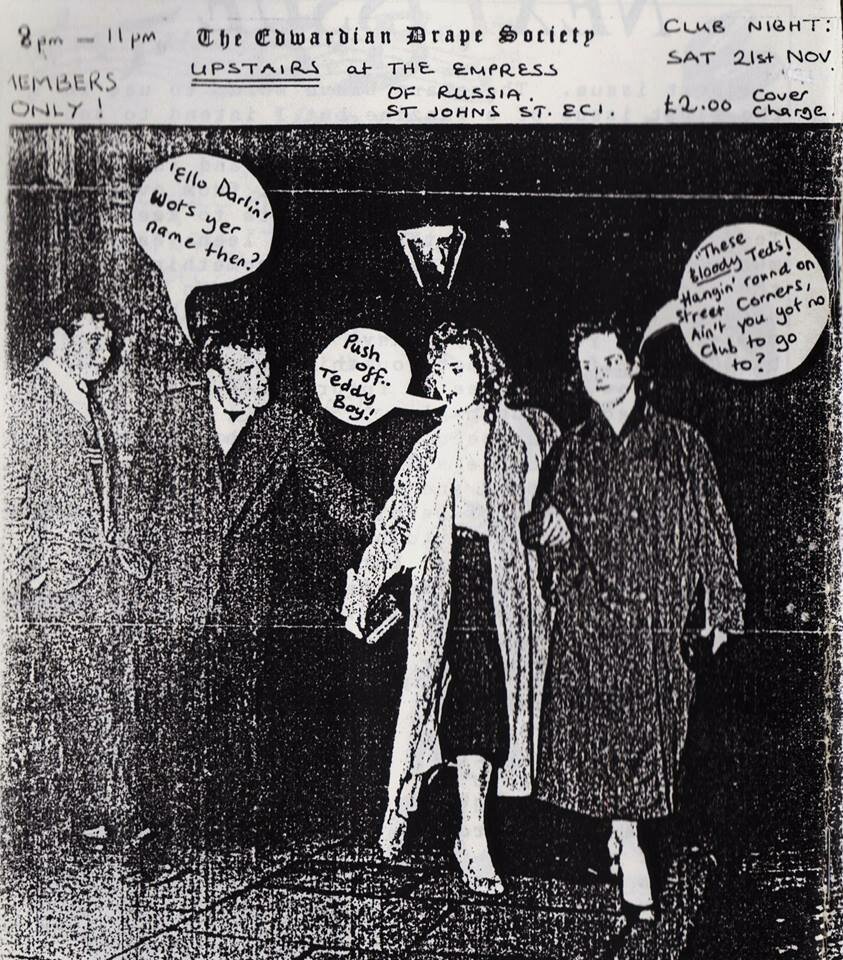 The first flyers advertising the meetings at the Empress of Russia, in the days before word processing, were simple cut and paste jobs with the first one being a photograph of two original 1950's Teddy Boys hanging around on a street corner and two passing girls. One Teddy Boy in the photograph is shown grabbing hold of one of the girls arms and says in a speech bubble: "Ello Darlin' Wots yer name then?" The girl replies "push off Teddy Boy" while the other girl says "Bloody Teds! Hanging round on street corners, ain't you got no Club to go to?" suggesting that Teds needed a club to go to, namely The Edwardian Drape Society.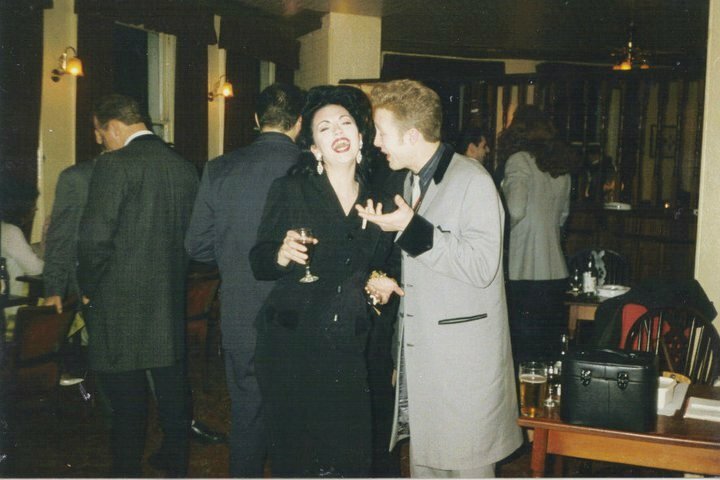 The girls admit that they thought that there would not be many who would answer their call for that first night, but in fact it was a great success. The first through the door were 'Russian Danny' and Paul Keenaghan (better known as Teddy Boy Paul). There were around 30 Teds who attended that first night and the numbers rapidly grew as time went on. Teddy Boy, Richard Thompson became the official DJ for T.E.D.S. Susie remembers:
"Richard was our DJ, he also used to DJ at the 59 Rockers Club in Hackney, and I asked him to be the club DJ when we were preparing for our first night, he had already joined T.E.D.S so he was a member also and had helped to promote it."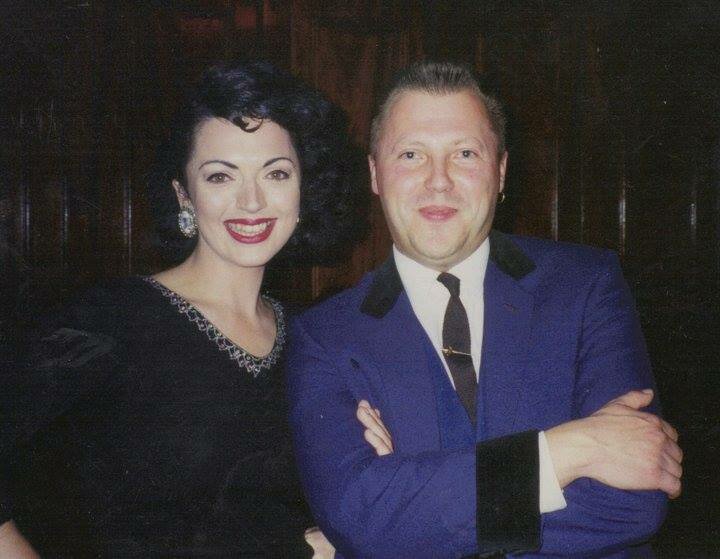 Co-founder of T.E.D.S., Susie with Richard Thompson - the official T.E.D.S. Disc Jockey at the Empress of Russia 1992/3.
"We had our first night in November 1992 and it was jam-packed. After that we'd have regular nights, and within a few months we had around a hundred members, which isn't bad when you think it was all by word of mouth as we never advertised the club. Everyone would be notified of the next club night by a flyer through the post (god, the hours spent addressing all those envelopes!) and it became a very successful little club. I also created a monthly magazine for the members called 'CLUBS' which was a Rock'n'Roll "What's on & where" mag' that I used to illustrate with original 50's adverts and graphics. It became very popular and I expanded it out onto the London Rock'n'Roll scene where it was sold for 50p from the stalls like Rex's Rockin' Records, Tasha's Vintage Clothing and Marleigh Videos."
T.E.D.S nights were set up primarily to promote a particular standard of dress and as a regular get-together for its relatively small group of members; it was never intended to be a country-wide event open to all and sundry. However, it did attract a great deal of interest and become known about very quickly, and while they received a huge amount of support and encouragement, it involved a lot more time and energy than they were able to devote to it, with both having full time jobs and a very busy social life. So after a period of around 18 months of organising and promoting T.E.D.S nights at the Empress of Russia, Dixie and Susie decided to move to an exciting new home.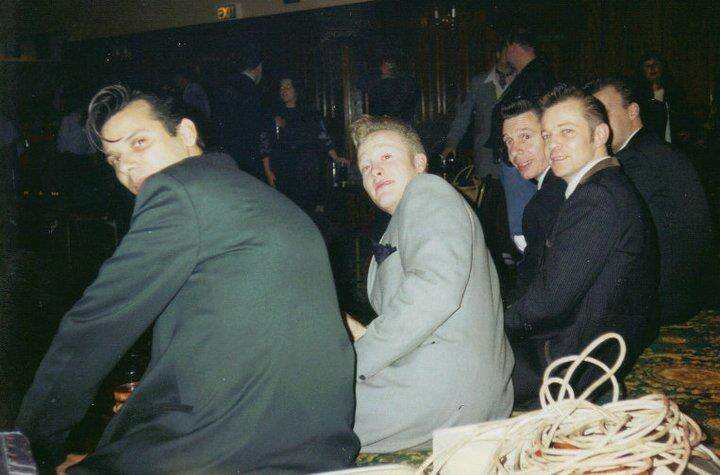 The Tennessee Club' was a major new Rock 'n' Roll club, started in 1993 by Edwardian Drape Society member, and at that time, Dixie's boyfriend, Ritchie Gee, at the White Hart pub on White Hart Lane in Tottenham, Middlesex (North London).
Having made the decision to finally open T.E.D.S up to a wider crowd and end the 'membership only', the girls arranged for the meetings to be held on certain nights every 3 months or so when 'The Tennessee would host a special Edwardian Drape Society night, with appropriate bands and DJ's.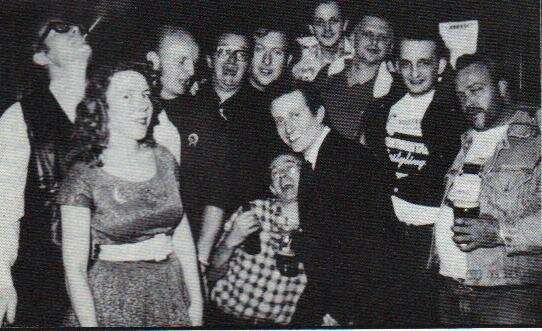 This being a very glamorous, prestigious and extremely well-run venue, providing, at long last, a Rock n Roll club where everyone could dress up to the nines and not feel out of place, suited the purposes of The Edwardian Drape Society perfectly. Eventually, Ritchie would take on the advertising and general organisation of future T.E.D.S meetings under the umbrella of his Tennessee Club, amalgamating the two.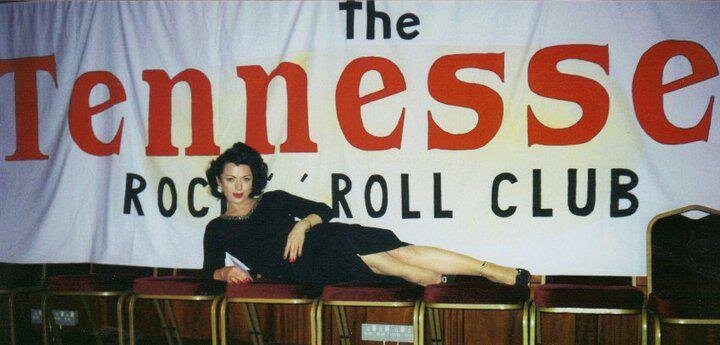 Founder members Susie and Dixie and the other members of 'The Edwardian Drape Society' continued to work hard on promoting the objectives of the group. These ideals were so heavily publicised in the media, that it could not fail to capture everyone's imagination and attention. There were interviews in many publications and a lot of interest in the immaculately attired members of the club for various photographic exhibitions, most notably the Street Style exhibition at the Victoria & Albert Museum and an episode of the BBC Clothes Show. This was considered to be an excellent way of getting across the persona of the smart Edwardian style authentic looking Ted (in contrast to the often-used caricature with 6" high quiff and 3"high creepers), and 'The Edwardian Drape Society' continued to receive massive attention with front page spreads in newspapers such as The Sunday Telegraph, The London Independent and the London Evening Standard as well as numerous fashion and music Magazines. In 1996, a brief 3min 45 sec Black and White film was made by photographer and film maker Bruce Weber entitled 'Teddy Boys of the Edwardian Drape Society, and in 2004 The Millennium Gallery in Soho hosted an exhibition called, The Edwardian Drape Society, by Jonathan Root, which featured, amongst other T.E.D.S stalwarts, Chris Hodges and Johnny Tomlinson and Frank Lacey.
Although credit must go to the pockets of Teds that started to reclaim the original style back in the early eighties, The Edwardian Drape Society brought the Teds together as one force and, with the media interest in the group, managed to spread the word throughout the Teddy Boy scene and beyond. This is why this group were successful where the others were not in promoting a more original and authentic style of Teddy Boy clothing amongst the whole of the Teddy Boy Movement.
As a well known Teddy Boy from North London says: "It's great what The Edwardian Drape Society set out to do back then in those days, because this had a permanent and lasting effect on putting our image right."
This statement is certainly true, because The Edwardian Drape Society have positively changed many people's perception of Teddy Boys in terms of how they should look. The Edwardian Drape Society have, without doubt, been largely responsible for holding the Teddy Boy movement together and keeping it going during the last 25 years or more. What's more, it all started with two sisters - Susie and Dixie!
T.E.D.S. has continued as an entity although it has gone underground somewhat these days and does not hold formalised meetings as such. However, it has now largely achieved its objective and left a legacy. Its ideals and standards are still promoted, and get-togethers take place throughout the year with Edwardian Teds out in force at various regular events like "Teds in London Town" and the "Edwardian Invasion" at Pakefield.