The Story and background to the establishment of Cliff Richard & the Drifters (later Shadows) during 1958.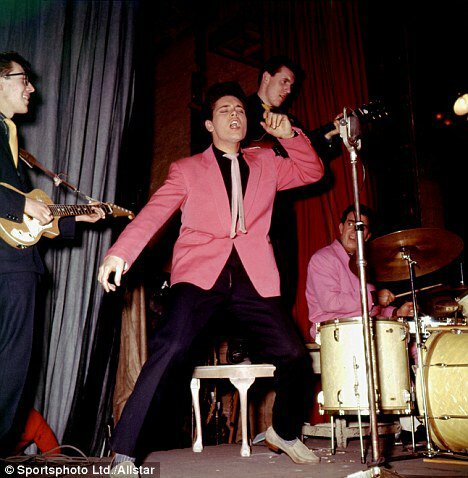 Cliff - The Early Years
Cliff Richard was born as Harry Rodger Webb at King George Hospital, Victoria Street, in Lucknow, British India in 1940. He is the son of Anglo-Indian parents, Rodger Oscar Webb from Dehradun, United Provinces and Dorothy Dazely from Asansol, West Bengal. His parents lived in Dehradun for a few years and then moved to Howrah, near Calcutta, West Bengal where Harry (aged almost 6 years at that point) started his early school life in September 1946 at St. Thomas' Church School in Church Road, Howrah. Indian Independence took place on August 15, 1947 and a year later the Webb Family left India for England and on Tuesday 24th August 1948 boarded a P&O passenger liner called the SS Ranchi. At 6am on Monday 13th September 1948, the SS Ranchi arrived at Tilbury Docks in the UK.
The family initially settled at Harry's grandmothers home in Carshalton, Surrey. A year later the the Webb's moved to Waltham Cross, Hertfordshire where they stayed with Harry's Aunt Dorothy. Harry attended King's Road Primary School and had a somewhat miserable early childhood in England and was teased on his Indian looks. There was not much in the way of immigration to Britain in the late forties, early fifties and was a certain animosity towards Harry because all the kids knew that he had been born in India. They used to call him 'Sabu' (after Sabu Dastagir, star of the 1937 film 'Elephant Boy') This ended up in quite a few skirmishes which toughened him up to a point that by the end of Secondary School, he ended up being probably the best scrapper in the school! In April 1951 the family were granted a three-bedroom council house on the newly built Bury Green Estate at nearby Cheshunt. After just failing the eleven-plus exam, Harry was enrolled in the newly built Cheshunt County Secondary School, Cheshunt which was taking in 800 pupils. He attended this school between 1952 and 1957.
One Saturday in May 1956, Harry was walking with some friends in Waltham Cross when he heard a sound that would change his life forever. That noise was Elvis Presley singing Heartbreak Hotel blaring from the radio of a parked Citroen which quickly zoomed off, leaving the teenagers fascinated by a sound unlike any they'd heard before. Cliff later said:
'The first time I heard Elvis' voice I thought of it as a sound or an instrument. I had never heard anyone sing like that before...When I heard Elvis the next step for me was to try to do it.'

Harry and his friends all went home and tuned into Radio Luxembourg and the American Forces Network until they eventually found out that the man who would eventually turn Harry Webb into Cliff Richard was Elvis Presley.
In 1956, after being inspired by the music of Elvis, Harry and school friends Betty Clarke, Freda Johnson, John Vince and Beryl Molineux formed an informal singing group which started off singing along to records at the Holy Trinity Youth Club's Saturday night dances. They quickly gave themselves the name 'The Quintones' and started practising at a friend's house. For his sixteenth birthday on 14 October, 1956, Rodger Webb decided to give his son, Harry a gift which would help indulge his new found fascination with rock 'n' roll, a guitar which cost £27! A concert which would further ignite Harry's interest in becoming a Rock 'n' Roll star was the Bill Haley concert at the Regal in Edmonton on 3rd March 1957 around the time his film Rock Around The Clock was causing a sensation in Britain.
The beginnings of the Original Cliff Richard & the Drifters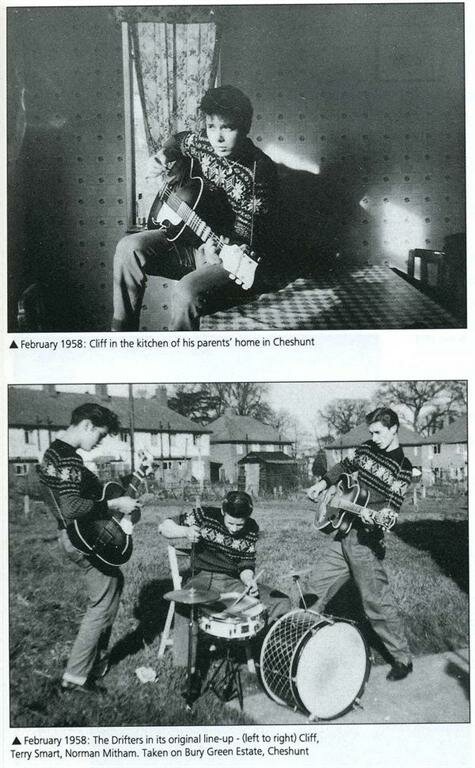 In March, 1958, after a short stint playing skiffle in a band called Dick Teague's Skiffle Group, Harryand fellow band member Terry Smart left to form a new band that would, in various forms, remain with Cliff for the next 10 years. With school friend Norman Mitham, they rehearsed in the front room of Harry's parents house in Hargreaves Close, Cheshunt playing Rock 'n' Roll classics such as Blue Suede Shoes, Heartbreak Hotel and Rock Around The Clock. Cliff's sister Donna would write down the words from the records, while the band figured out the cords.
Initially, at Terry Smart's suggestion, the band was going to be called The Planets, b
ut Harry and Norman didn't think it sounded quite right. They looked up 'planet' in the dictionary and saw that it came from the Greek word 'planetes' which meant 'wanderer' or 'drifter' and decided upon The Drifters. They also decided that their first album cover would feature them all sitting in a toboggan driving into a snow drift. The group made their grand debut at the annual dinner dance of the Forty Hill Badminton Club between Cheshunt and Enfield. Their fee for the evening's performance was the princely sum of ten shillings.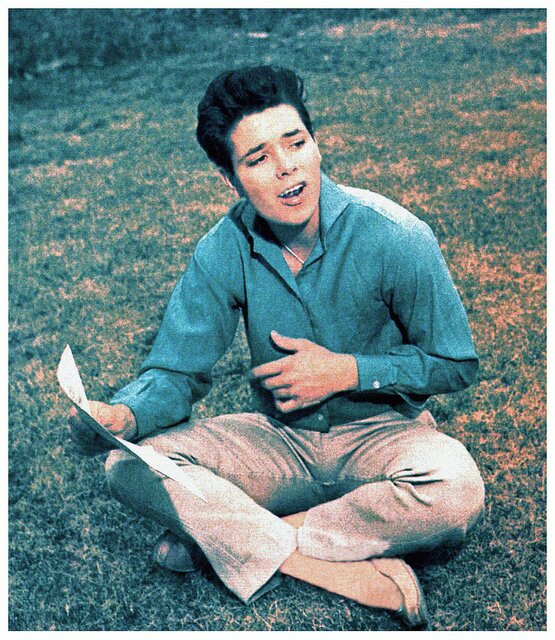 Cliff Richard ( Harry Roger Webb ) pictured during a summery late afternoon on the Bury Green Estate, Cheshunt, in March 1958 .The obviously self aware and alert young man had became a very popular teenage pop idol within a year or so .
One evening in March, 1958 not long after their debut a man who was to become their first manager spotted the drifters playing at the Five Horseshoes pub in Burford Street, Hoddleston. Foster, who was drinking with his mates at the bar, walked up to the Drifters after their set and simply asked them if they wanted a manager. A little taken aback, they laughed 'Ok, you're on!'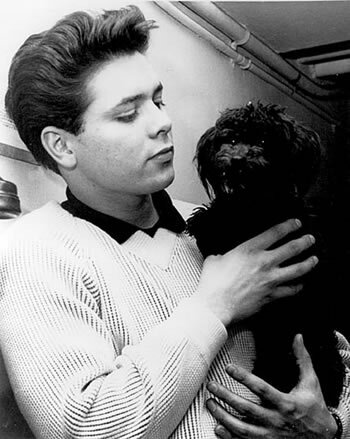 Cliff Richard pictured backstage at the 2I's in early 1958.
This man was John Foster, who drove a tractor on a sewage farm and who's greatest experience in the rock'n'roll world was once standing next to early British rocker Terry Dene at the legendary 2i's in Soho. Despite this lack of experience, he was struck by what he saw, particularly in Harry, later recounting that 'something told me, yes, he's going to be big. He's going to be really big.'
One connection John Foster did have was that he was on speaking terms with manager Tom Littlewood who booked acts into the legendary 2i's Coffee Bar on 59 Old Compton Street in Soho, London. The 2i's was the Mecca of British rock 'n' roll at the time and had launched the countries biggest rock 'n' roll stars of the time, Tommy Steele and Terry Dene. The bar was originally owned by the two Irani brothers (hence the name) who sold it to two flamboyant Australian professional wrestlers, Doctor Death (Paul Lincoln) and 'Rebel' Ray Hunter who had transformed the originally languishing establishment into a thriving icon of the rock'n'roll era.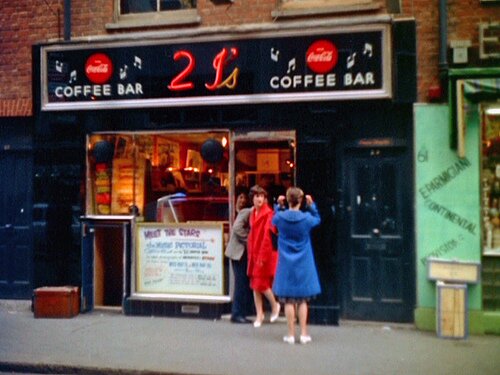 A rare colour photograph of the famous 2I's Coffee Bar, Old Compton Street, Soho in 1959.
In April, 1958 after an audition for Tom Littlewood, they were booked for that night which turned into a two week booking. While they wouldn't be discovered there, the booking at the 2i's led to a chain of events which would see Harry Webb becoming the country's biggest rock'n'roll star by the end of the year.
As already mentioned, Cliff Richard was not actually discovered at the legendary 2I's Coffee Bar at 59 Old Compton Street, Soho as many people think. Jazz Drummer Raye Du-Val reminds us "Of course the guys who were discovered there (at the 2I's) are legendary but as I remember it, Cliff wasn't one of them. Initially, he played across the road at the 'Act 1 Scene 2 Coffee Bar'.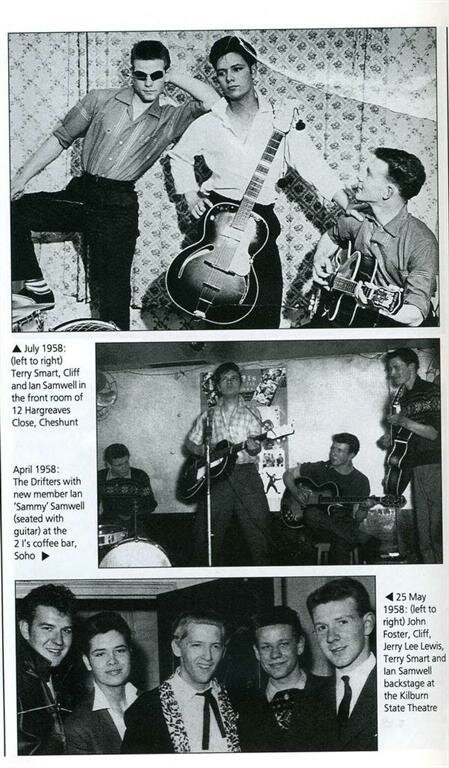 Ian Samwell joins the Drifters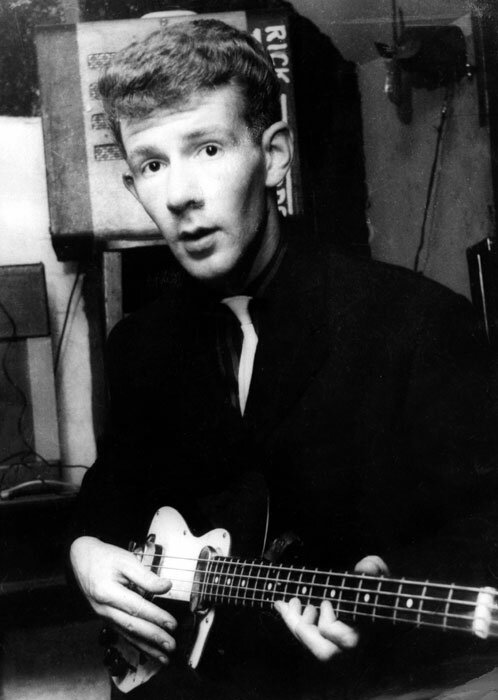 Ian Samwell, Lead Guitarist of the Drifters and writer and composer of most of Cliff's early hits in 1958. If it hadn't been for Ian Samwell, Move It would have never been written and Cliff would probably never have been the major international recording star that he bacame.
Ian Ralph Samwell was born in Lambeth, London on January 19th 1937, but raised in Harrow. A member of a local church choir, he wrote some hymns in a skiffle style and then, on National Service at Royal Air Force Hendon, bought a guitar and continued to compose.
Looking for an opening in a pop group, he frequented coffee bars, including the 2I's in Soho's Old Compton Street. It was there, just before his demobilisation in May 1958, that he heard a credit control clerk, Harry Rodger Webb, accompanied by two chord-slashing guitarists. Afterwards, Ian Samwell offered his services as Harry Webb's lead guitarist.
"I told him I wanted to play lead guitar as they hadn't got one," Ian Samwell recalls. "They were having a rehearsal on the following Saturday afternoon, so I rehearsed with them and played the gig that evening."
Ian Samwell would then go on to write most of Cliff Richard & the Drifters early major hits and was solely responsible for writing the song that got Cliff off the ground, 'Move It', which is credited as to be the best British Rock 'n' Roll record ever.
Ian Samwell was also responsible for the follow up record, High Class Baby, which was coupled with My Feet Hit The Ground. Ian Samwell wrote High Class Baby standing at a rainy bus stop in Barnet, North London, "imagining I was playing Jerry Lewis's piano."
By the time this dropped out of the 'Top Ten', Ian Samwell had been edged out of the Drifters and was offered a songwriting deal. The Drifters later recorded Ian Samwell's Feeling Fine as their first solo release without Cliff Richard in January 1959.
Further Samwell hits for Richard included Dynamite, Mean Streak and, with the Shadow's Hank B Marvin, Gee Whiz It's You.
Harry Webb becomes Cliff Richard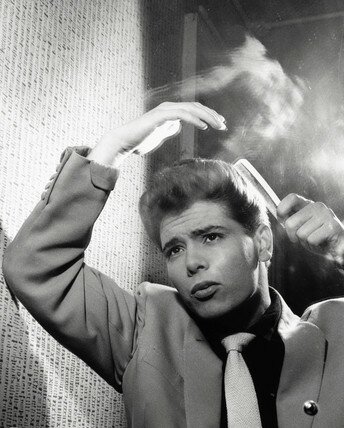 In May 1958 a man known as Harry Greatorex came down to London specifically to find a group that he could promote locally as being "Direct from the 2i's Coffee bar in London". Harry Greatorex was the owner of the Regal Ballroom in the quiet Derbyshire town of Ripley. He unknowingly pulled off a major coup by signing up The Drifters, who were grateful for the opportunity to perform in the town. Prior to the event, he persuaded the group that they should incorporate the name of their lead singer, Harry Webb with that of the Drifters. However, he did not think that Harry Webb and the Drifters sounded quite right.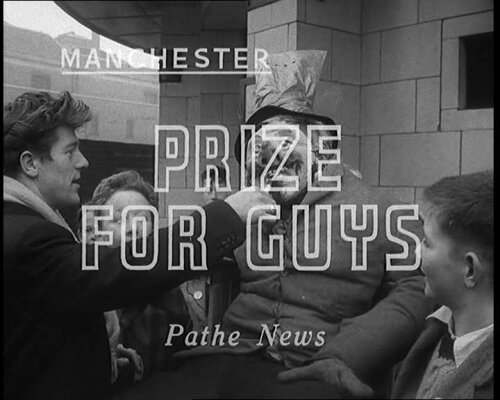 British singer Russ Hamilton in Manchester with local kids taking part in the best guy competition who's name was indirectly responsible for influencing the new name for Harry Webb.
Once the group had secured the booking in Ripley, they felt that they needed a new name as a result of Harry Greatorex's comments, so they retired to the Swiss pub on Old Compton Street to come up with something.
They started by playing around with the name of a current British singer called Russ Hamilton. They then came up with Russ Clifford which Harry didn't really like, then Cliff Russard, and then Cliff Richards. As Ian Samwell recalls "Cliff's manager, Johnny Foster, came up with Cliff Richards, and I said, 'Leave the 's' off because everyone's bound to say 'Cliff Richards' and, when we correct them, they'll have heard it twice.' "
Ian Samwell then suggested that the drop the 's' to make in Cliff Richard as a tribute to the famous American Rock 'n' Roller, Little Richard.
Cliff Richard and the Drifters made their debut on Saturday 3 May and the Regal Ballroom, their biggest booking so far.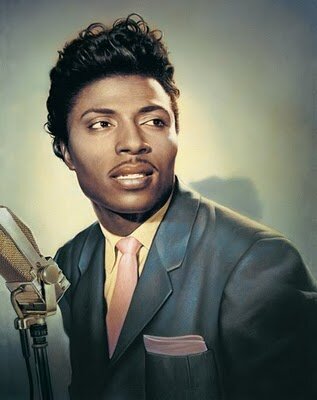 The famous American piano thumping wild Rock 'n' Roller, Little Richard (real name, Richard Penniman), who's name was used in part to re-christen Harry Webb as Cliff Richard.
As already mentioned, Cliff Richard was not actually discovered at the legendary 2I's Coffee Bar at 59 Old Compton Street, Soho as many people think. Jazz Drummer Raye Du-Val reminds us "Of course the guys who were discovered there (at the 2I's) are legendary but as I remember it, Cliff wasn't one of them. Initially, he played across the road at the 'Act 1 Scene 2 Coffee Bar'.
Making their second appearance at the Gaumont Theatre in Shepherd's Bush in June 1958, the Drifters decided to invite an agent that they'd randomly chosen out of an entertainment newspaper. The agent they chose was George Ganjou who they knew nothing about, but who had started off his showbiz career as one part of a cabaret act called the Ganjou Brother and Juanita. He knew nothing about rock'n'roll and proudly referred to himself as 'square'.
Despite his disinterest in Rock'n'Roll he cancelled a weekend of golf to come and see the shows, and liked what he saw enough to suggest that they cut a demo record.
After John Foster's parents put up the then substantial sum of £10, the Drifters then went about the business of cutting a demo record early the following week in a small studio above the HMV record shop in Oxford Street. They recorded Elvis' Lawdy Miss Clawdy and Jerry Lee Lewis' Breathless. The line up for that demo was Cliff Richard (vocals, guitar), Ian Ralph Samwell (lead guitar), Norman Mitham (guitar), Ken Pavey (Guitar) and Terry Smart (Drums).
These recordings were released forty years later as part of The Rock'n'Roll Years box set.
George Ganjou took Cliff and the Drifters demo to an A&R man at EMI, Norrie Paramor, along with that of an opera singer and as an afterthought, suggested that Norrie might want to listen to it. Norrie liked the single sufficiently to call the drifters for an audition. He told the group that he would make a decision over the next two weeks while he was on holiday with his family, and when he returned he told the group that he wished to sign them to the Columbia label and record a song which had been a hit in America for Bobby Helms, Schoolboy Crush. It was from this point that Norrie Paramor would go on to produce Cliff Richard & the Shadows for over a decade, producing more hits for Cliff and the Drifters/ Shadows than anyone else.
The recording of Schoolboy Crush and Move It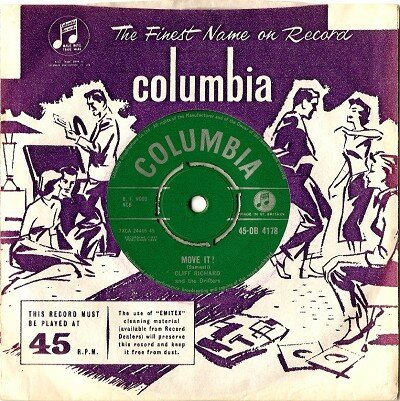 Move It was actually written by Ian Samwell sitting upstairs on the back seat of the 751 Green Line bus whilst travelling from London Colney to Cheshunt on his way to Cliff's parents house and was the first song that Ian had ever written. Cliff Richard later persueded Norrie Paramor to let Ian Samwell play with the session musicians who would back him on the actual recording of Schoolboy Crush. Moreover, the B-side was Ian Samwell's own composition, the legendary song - Move It and it seemed very appropriate that Ian was able to play on the recording of the songs.
On the recording of Move It on Sunday evening, July 24th 1958, Cliff Richard [vocal] was instrumentally accompanied by Terry Smart, Ian Samwell, Ernie Shear and Frank Clarke.
According to Ian Samwell, "Shear and bassist Frank Clarke were older men who by their looks would not have been imagined as rock'n'roll musicians. Clarke - who played double bass - was a very experienced session musician: physically he was a tall, good looking, well dressed and muscularly looking man. Guitarist Ernie Shear was a short, stocky, dark and wavy haired Scotsman. A horn rimmed spectacle wearer by 1958 - Shear had moved to London when aged just fifteen years and had eventually found work in the Oscar Rabin Band."
Says Ian Samwell; quote - On 'Move It' Ernie Shear played a blond Hofner guitar with a DeArmond pick-up near the bridge. Though it has been suggested that he used a Fender amp, I doubt that he did; it seems too early. The British government were still busy rebuilding the post-war economy, and import restrictions were still firmly in place. Ernie would have had to travel to the United States or import it himself. It's more likely that he would have used a Selmer or some such. In the studio's recording control room, there were two engineers, Malcolm Addey and Peter Brown. They were both formally dressed but Norrie Paramor was resplendent in a Hawaiian shirt and Bermuda shorts! He had recently returned from his summer holidays in Tangier. Previously we had only seen him sitting behind a desk at his office appearing and acting every inch the businessman as he peered over his rimless glasses. I believe his title at the time was Recording Manager rather than Producer: end quote.
THE SESSION: Immediately at the onset of the 7.pm recording session, because no demonstration recording had been made of the song [and as it had not been annotated as sheet music] "The Drifters" performed it for Clarke and Shear.
Probably "The Drifters" had not appreciated quite how or even if their recording session would be augmented by other musicians! As it was Samwell, being as professional as he could be, simply presented Shear with the song's lyrics which the session man duly placed on his music stand.
After the introduction and initial practices of the song, Paramor very quickly decided that Shear's guitar playing, his instrument and equipment, were better than Samwell's and that it would be necessary that he perform the song's somewhat unusual and technically demanding quaver rest introduction - which Shear had readily mastered.
It was further decided that Shear would play the first two bars of rhythm. Following those, Samwell would join in, so allowing Shear to perform guitar embellishments - ie the "frills". Thereafter 'Move It' was recorded in just two takes and although there was a single false start the session was rapidly completed - taking little more than twenty minutes from start to finish.
Through the years keen rock'n'roll enthusiasts - not necessarily musicians - have suggested that the guitar of Ernie Shear is the most compelling component of 'Move It' and that Ernie Shear who had been asked to perform his guitar parts in an inventive manner and intuitive rock'n'roll manner did just that and something more. His guitar part improvisation , which was uniquely exciting to many rock 'n' roll record buyers, made the otherwise unremakable "Move It" a British rock 'n' roll classic !
Ian Samwell remembered: "There were no photographers on hand that day, (a Sunday evening after 7 p.m.) but from left to right such a picture would have shown myself, Ernie Shear, Frank Clarke and Terry Smart. Cliff stood just a little in front of us facing the control room. Because he had had some difficulty singing without playing, Paramore had allowed him to hold on to his guitar. After the session I remember feeling strangely deflated. There was nothing to do but go home. Same thing for Cliff, Terry and Johnny. They to Cheshunt and me to London Colney."
There are a number of stories about why the A-side was replaced by the intended B-side. One is that Norrie Paramor's young daughter raved about the B-side; another was that influential TV producer, Jack Good, who used the act for his TV Show Oh Boy!, wanted the only song on his show to be "Move It".
"Move It" fired the enthusiasm of Jack Good, producer of the ITV pop show, Oh Boy! Its reception on the show led to its elevation to the A-side, and in September 1958 it became a top five hit.
Butlins, Clacton-on-Sea, July 1958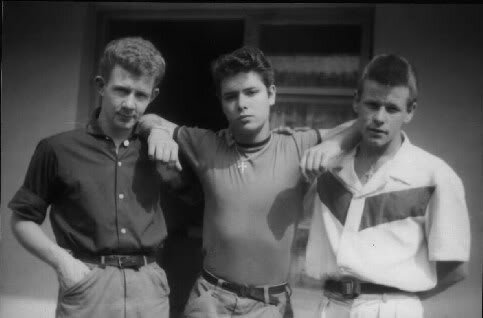 Ian Samwell, Cliff Richard and Terry Smart outside their chalet at Butlin's Clacton-on-Sea, Essex in July 1958.
In July 1958 Cliff Richard & the Drifters were booked for a short four week engagement at Butlin's Clacton-on-Sea camp. Immediately prior to the Butlin's engagement, it was mutually decided that Norman Mitham would leave the Drifters altogether as he did not consider that he was adding anything to the band because he was not singing and was playing the same cords as Cliff.
Butlin's was their first professional engagement and they were contracted as Bar Entertainers but sadly, because of their type of music, they were not always featured by Butlin's in the most suitable venues. Their repertoire was also limited and to cover the usual, three-hour nightly period, it was necessary for them to repeat songs they had done earlier in the evening. This did not go down too well with the holiday makers, especially as nearly all the songs were of the Elvis Presley type. They were also featured in the new, Rock `N Calypso Ballroom.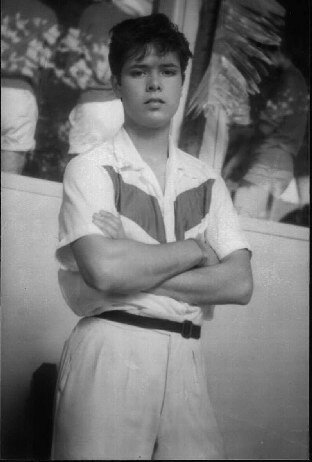 While performing at Butlin's, EMI sent a pre-release copy of 'Move It' to the DJ of the Butlin's camp radio station. Tulah Tuke was the first person in the world to play a Cliff Richard song on radio, with the simple plug:
'That was the new record from Cliff Richard and the Drifters. You can see them live tonight at the Rock'n'Roll Ballroom.'
While at Butlin's Cliff Richard and the Drifters consisted of, Cliff Richard, Ian Samwell (lead guitar) and Terry Smart (drums); their mentor/manager, Johnny Foster, made up the group, not musically, but as part of the payroll which was in the princely sum of £25 per week (less agents commission) between them all. Having no stage clothes, the Entertainment Manager issued special red flash sports shirts, usually worn by the Redcoats. These shirts were originally designed for Redcoats to wear on outside sporting events to enable them to remove their red jackets and still be recognisable as Redcoats.