"WHO'S GONNA ROCK YA?"
The complete history of the most legendary Teddy Boy Band to emerge over the last forty years,
Crazy Cavan & the Rhythm Rockers -
40 ROCKIN YEARS ...... The Story by
John Kennedy.
Reproduced by special permission of the band: Crazy Cavan & the Rhythm Rockers and Crazy Cavan & the Rhythm Rockers Fan Club Band /Secretary, Mrs Louise Barrell. Entire Story fully credited to John Kennedy.
WHO'S GONNA ROCK YA?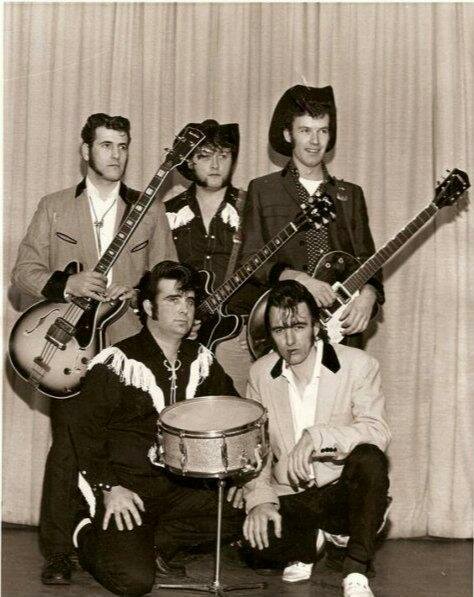 WHO'S GONNA ROCK YA?
40 Rockin Years The Story by John Kennedy
Crazy Cavan 'n' the Rhythm Rockers are without a shadow of a doubt the most influential band the rock 'n' roll scene has ever produced over the last forty years. The sound and style has often generated many imitators, but nothing compared to the real thing. They contributed to the so called 'revival' of the late 60's and 70's more than any other band I know. While on the London pub scene in the early 70's, they began to tear up the rule book and they lit the blue touch paper which helped spark off a rock 'n' roll explosion when they issued a riotous 4 track EP on their own label and in doing so, helped to pave the way for all who followed. Together five boys from South Wales embraced rock 'n' roll, rockabilly and country music to come up with their own unique sound that they labelled 'crazy rhythm'.
Personally, I've always had the feeling that they never got the credit that they deserved. Until now that is. Often maligned by the purists and labelled just another 'Ted band', what you have to remember is that these boys, back in the late 60's, were listening to records by artists such as Sonny Burgess, Charlie Feathers and Billy Lee Riley long before many of those purists were even born! They've been spreading the rock 'n' roll gospel relentlessly for forty years now and show no signs of calling it a day. The year 1970 may have been the birth of the name Crazy Cavan 'n' the Rhythm Rockers, but it was by no means the birth of the band.
Back in the early 60's Lyndon Needs would go and visit his cousin Terry Whalley who lived 3 miles outside Newport, South Wales in an area called Goldcliff. The pair used to go fishing, shooting and bird nesting and comparing what guitar riffs they had learnt. At that time Terry had a Futurama red and white electric guitar and it looked just great, in fact just like Hank Marvin's. Lyndon also had another friend from school that could play the drums, his name was Gerald Bishop. The three of them got together and became a trio playing all the Shadows instrumentals, just like thousands of other boys who had aspirations to be a pop star would do at that time. Lyndon's father was a television engineer and he managed to build Lyndon an amplifier to help him along his way.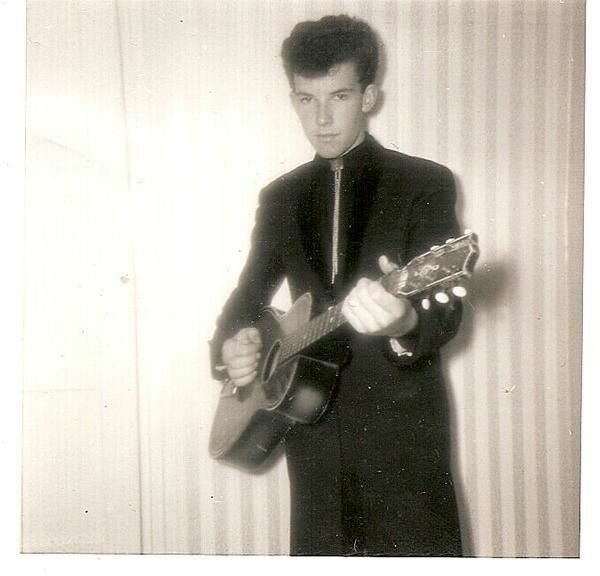 Lyndon Needs - my first guitar I found in a neighbours dustbin, age 15 1966.
Lyndon, Terry and Gerald needed a place to practice and they managed to hire a small room on a caravan site at a place called Pye Corner. This caravan site also just happened to be the place where a rock 'n' roll fan called Cavan Grogan lived. One day the three of them were just messing around learning another typical Shadows instrumental when suddenly the door opened and there stood Cavan, with long duck-tailed greasy hair, wearing a leather jacket which was emblazoned on the back with the words 'Rock 'n' Roll in brass studs. He asked, "Do you know this song" and started singing 'Bo Didley', the boys backed him up if a little uneasily. Then Cavan started singing Tommy Tucker's 'High Heeled Sneakers' and a song that he had written himself called 'I Put A Curse On You Baby' - he was really into Screamin' Jay Hawkins at that time! He then asked that magic question, "Do you wanna be in my band"? Like all aspiring teenagers that loved rock 'n' roll, they couldn't refuse and said yes. Cavan suggested that they call themselves Count Dracula and the Vampires. That was the last time the boys tried to play 'Apache' and 'Foot Tapper' on their guitars.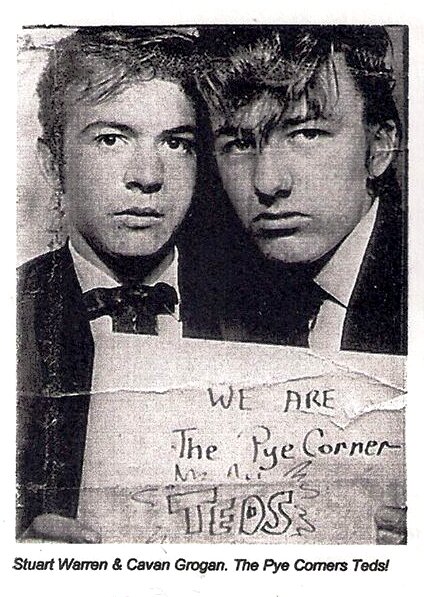 Lyndon had also borrowed a couple of albums from Cavan, the LP's in question were 'Bo Diddley Rides Again' and 'Dance Album' by Carl Perkins. Young Lyndon was completely knocked out when he first listened to these records; at that time he had never heard of Carl or Bo and this just fired his interest to find out more about this great music. Listening to Perkins for the first time was his introduction to rockabilly. During 1964 Lyndon had bought his first ever electric guitar from a catalogue that sold instruments by post. It was a black and white hand-made guitar and he found it a little difficult to play because the neck was warped and that made it hard to depress the strings. But he did alright.
All four were hooked on rock 'n' roll, but being so young they couldn't afford to buy new records, they were too expensive, especially the LP's. The best place to find them would be the junk shops where second hand rock 'n' roll records were plentiful as hardly anyone was interested in them at that time because the British Beat boom was in full swing. It wasn't long however before their band came to nothing. None of them held a driving licence so they couldn't get to the gigs with the amps, drums and guitars, and the last they thing they wanted was to be confined to playing gigs at the caravan site.
Lyndon travelled to see Cavan as often as possible so he could listen to his records. Cavan told Lyndon about another guy from the caravan site called 'Breathless' Dan Coffey who was a Teddy Boy as well, and a huge rock 'n' roll fan. Dan was also the editor of 'The Boppin News' one of the first rock 'n' roll fanzines. Their association with Dan Coffey was to be an important one in the band's future development.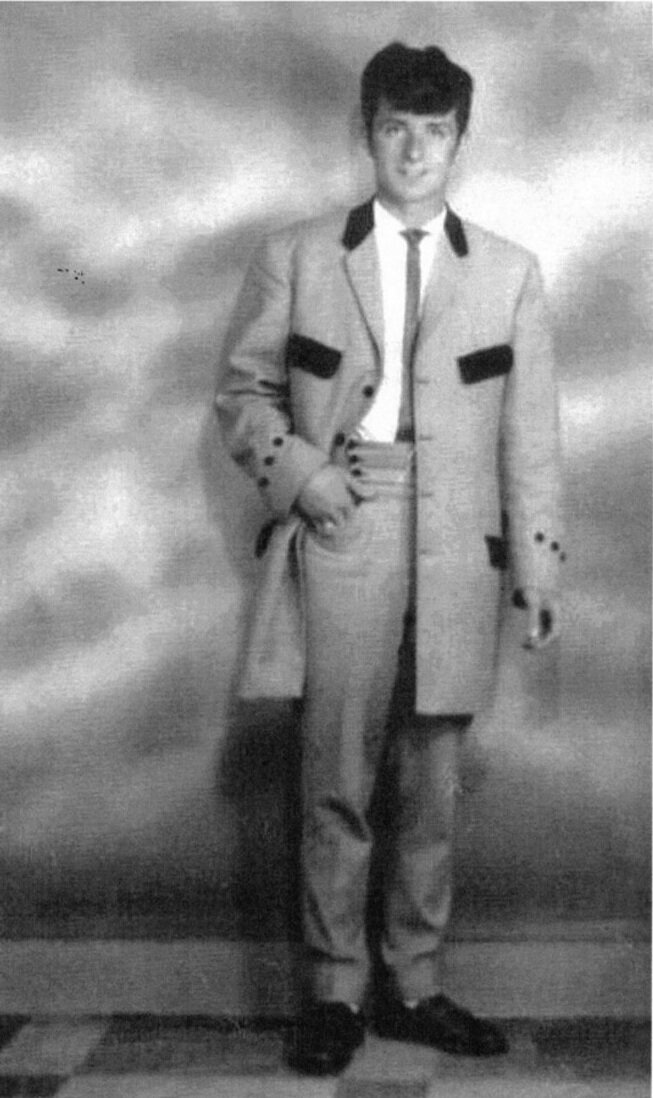 Breathless Dan Coffey 1960.
UNDER CONSTRUCTION