The notorious story of the Plough Boys Gang stabbing at Clapham Common where the murder of John Beckley took place on the evening of Thursday July 2nd 1953. As a result of this single incident, horror and outrage stuck to the wearers of Edwardian style clothing, the Teddy Boy was born and a media-led moral panic ensued.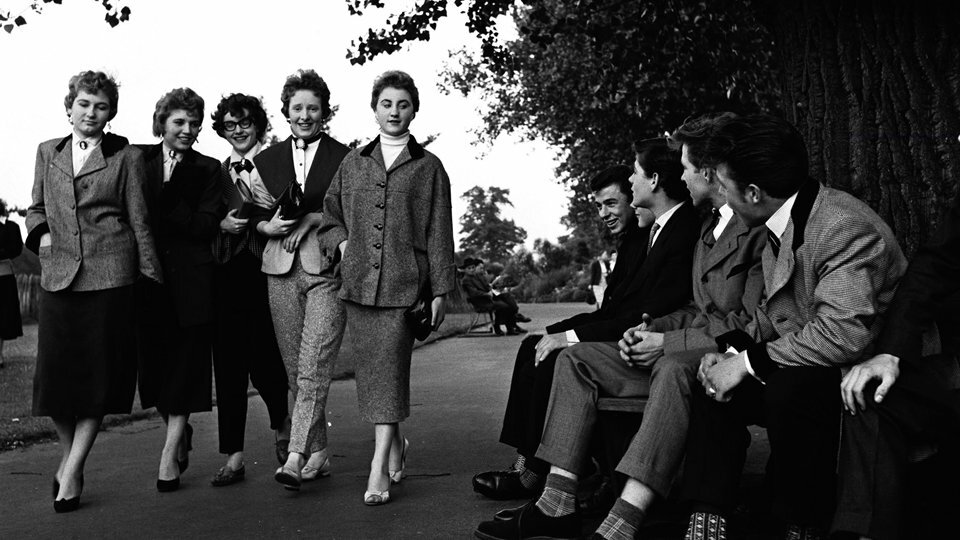 Teddy Girls are admired by a group of Teddy Boys at Clapham Common, South London in 1954
On the balmy summer evening of Thursday, July 2nd, 1953 there were maybe around two hundred teenagers hanging around a bandstand and its accompanying cafe situated roughly in the middle of the two hundred acres that make up Clapham Common in South London.
The band was playing hits of that year such as Frankie Laine's I Believe and and Dickie Valentine's Broken Wings and noticeably smartly-dressed young men were feigning disinterest in the girls who were dancing to the music. The self-conscious young men were at the common 'to see and be seen' and they wore expensive-looking long jackets, white shirts and ties with tapered trousers, and shoes with thick crepe soles known as creepers. They had longish, greased-back hair in oft-combed waves over the top and sideburns down the cheek - a hairstyle that was beginning to become popular to differentiate from the National Service short-back-and-sides all to prevalent at the time.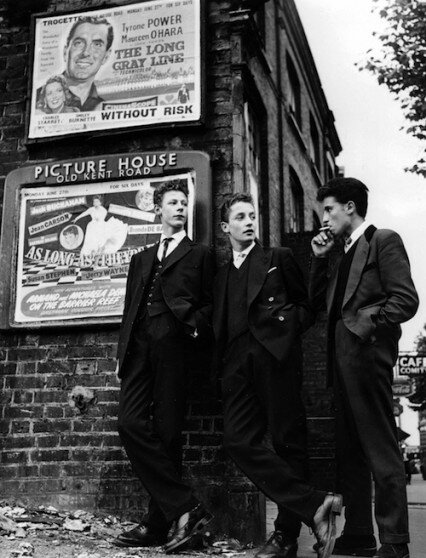 Teddy Boys in 1954/55 from Elephant and Castle outside the Old Kent Road Picture House - potentially where the Teddy Boy style may have began.
It was said that a shop-lifting gang from Elephant and Castle called the Forty Thieves were on a recce in the West End and were impressed by the rather flashy and expensive-looking new Edwardian-style and quickly took it for their own.
Around 1950/51 some young men around Elephant and Castle and Lambeth having appropriated the uptown Edwardian clothes started to mix it up with the look of a World War Two spiv but also borrowing from the hairstyles and style influences of American Westerns (the Mississippi gambler bootlace tie for instance) that were hugely popular in the early fifties.
This potent fashion statement could very well have been the first time teenage boys developed their own style of clothing that differentiated from their fathers or elder brothers. It was a conscious and colourful attempt, just like the posh dandies in St James, to rebel against the grey post-war austerity that had enveloped the country after the war. These fashionable young men from South London would be today known as Teddy Boys but the term had not been invented and the boys were known as Spivs, Cosh Boys or Creepers.
A lot of the young men on Clapham Common almost sixty years ago were part of a loose gang known as the Plough Boys a name that came from the nearby Plough Inn at 196 Clapham High Street (it's still there but now unfortunately part of the ubiquitous O'Neill Faux-Irish pub chain). However there were other gang members milling around the common such as the relatively local Latchmere Lot or the Brixton Boys and the Elephant Mob from a few miles away.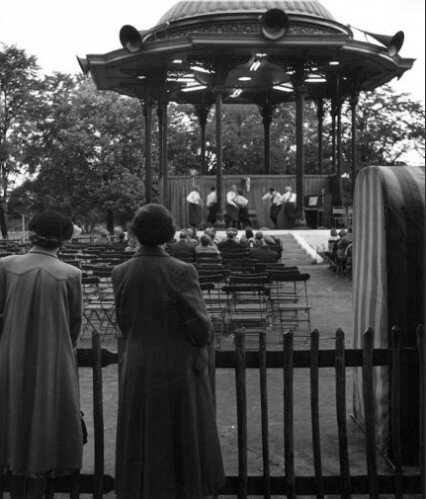 Spectators at Clapham Common Bandstand in 1957.
Later in that July evening on the Common, and after the band had stopped playing, four young men, not from the locality and not dressed in the fashionable Edwardian style, were sitting on two park benches facing each other with their legs stretched out across to the opposite seats. The young men sitting on the benches were John Ernest Beckley (17) Apprentice Electrical Engineer, from Walworth, John Francis Ryan (19) from Lambeth, Mathew Frederick Chandler (18) Bank Clerk from Bermondsey and Brian William Carter (17) from Bermondsey .
One of the so-called Plough Boys,a tough fifteen year old called Ronald Coleman and his Girlfriend, Sylvia Audrey Clubb (17) were prevented from getting between the four outsiders who had their legs across the footpath. So Ronald Coleman provocatively pushed through the young men's legs.
Referring to Coleman's clothing one of the men who had been spread out over the park benches softly said "walk round the other way you flash cunt". Being on his own and with his girlfriend, Coleman decided not to retaliate but went to find some of his fellow Plough Boys standing on the other side of the bandstand. The Plough Boys began muttering amongst themselves, glancing every now and then at Beckley, Chandler, Carter and Ryan.
Watching this and sensing the start of some trouble, and not being local, the four young men decided to quickly leave the common.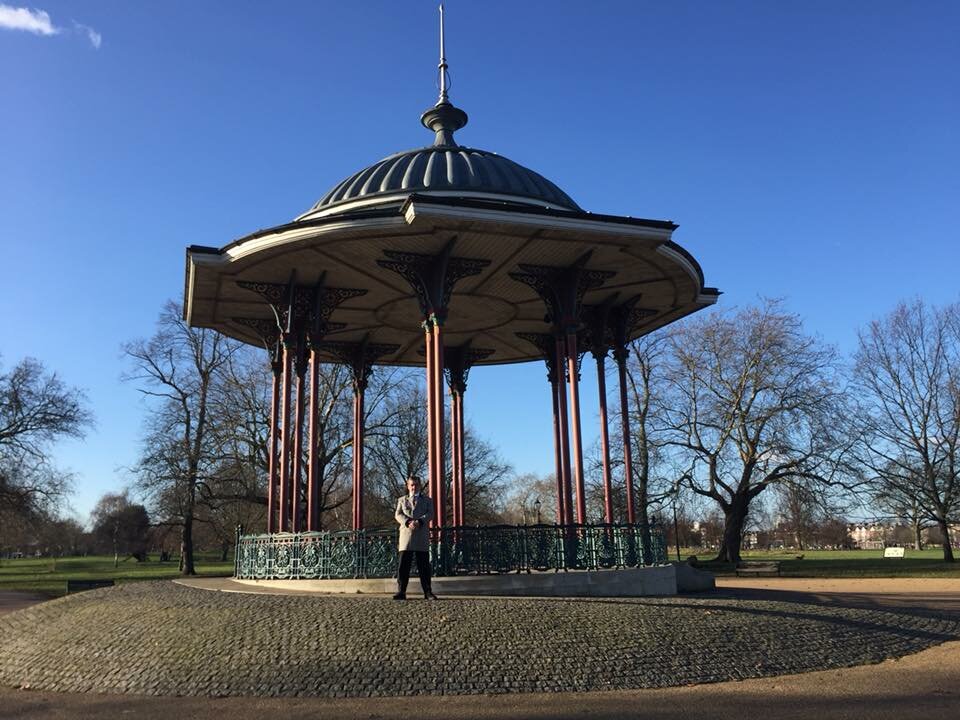 Clapham Common Bandstand in January 2018 with Teddy Boy, John van Rheede Toas aka Nidge.
However the Plough Boys had decided that they were not prepared to have one of their own insulted by the outsiders and decided to seek retribution and promptly chased after the four boys who were leaving the common. The Plough Boys who persued the outsiders were: Ronald Coleman (15) a Shop Assistant, Terrance David Woodman (16) a Street Trader, Michael John Davies (20) a Labourer, Allan Albert Lawson (18) a Carpenter, Terrance Power (17) Unemployed and John Fredrick Allan (21) a Labourer.
Despite the four young men having a head start, they were unfortunately caught up by the Plough Boys at the drinking fountain north of the bandstand. The Plough Boys were egged on by some teenage girls and a fist-fight quickly ensued. The Plough Boys began kicking and punching Beckley, Chandler, Carter and Ryan and one of the attackers was heard to say "Get the knives out".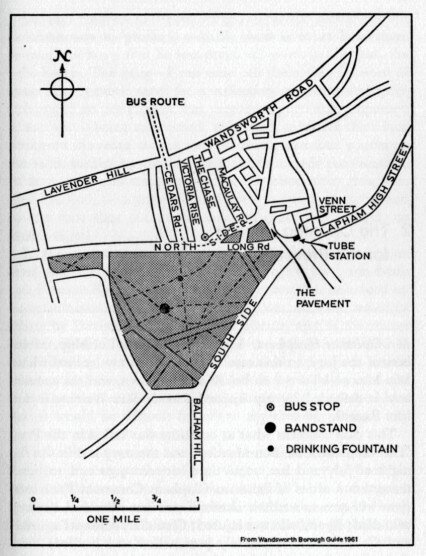 A Map of Clapham Common, dated 1961.
Putting up a good fight, although completely outnumbered and with Johnny Ryan receiving a stab wound to the left shoulder during the fight, the four young men managed to get away.
Beckley and Chandler ran towards Clapham Common North Side where they saw a 137 bus turning out of Cedars Road into North Side. Jumping on the open platform they must have thought they had got away but unfortunately, as is often the case in London, the bus dawdled in traffic and then came to a halt for the request bus stop where eight or nine of their pursuers were waiting. They dragged both Beckley and Chandler off the bus and started to attack them.
Fred Chandler was lucky, and despite bleeding from stab wounds to the groin and stomach managed to scramble back on to the open platform of the 137 RT bus as it was pulling away and headed for the Tube Station despite feeling groggy. He then went home to Bermonsey and the next day he went to Guys Hospital for treatment to his wounds.
John Beckley was not so lucky and he became surrounded by the attacking Plough Boys and he was struck repeatedly. He eventually broke away and managed only to run about a hundred yards up the road towards Clapham Old Town.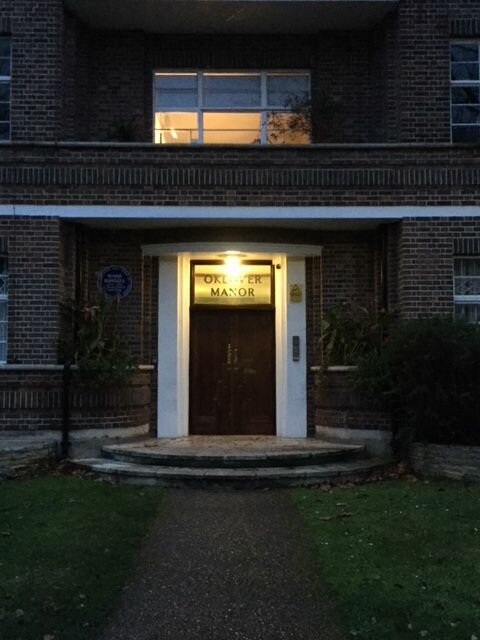 Okeover Manor Appartments, Clapham Common Northside where John Beckley came to rest after being stabbed.
All of a sudden he stopped and leaned groggily against a wall outside a fashionable apartment block called Okeover Manor where he was heard to shout: "Go on then, stab me, stab me!" He eventually sagged down the wall ending up slumped in a half-sitting position on the pavement.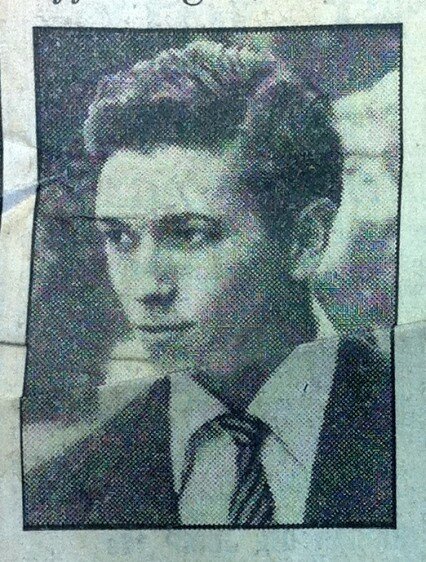 Brian Carter, one of the four boys who were beaten up at the drinking fountain be the 'Plough Boys'.
The situation had suddenly got serious and the remaining Plough Boys ran off. One of the bus passengers, for the bus had now stopped, made a call from the Oakover Manor and another passenger made a makeshift pillow for the victim with a folded coat. At 9.42 pm Police Constable John Ogle arrived and stayed with John Beckley who was still concious until an ambulance arrived. After being taken to Bolingbroke Hospital, Wandsworth, John Beckley was found to have six stab wounds about his body and one to his face and in a bad state of health. Despite being given a blood transfusion, he was was later pronounced dead at 10.50 am by He was aged just seventeen.
What was "the true shame of Clapham Common", as one newspaper put it? The fact that, out of 50 passengers on a 137 London bus, only four came forward to testify about a murder which many of those 50 had presumably witnessed. It wasn't as if the crime had been committed suddenly, taking everybody by surprise when no body was looking. Many of the passengers must have known that trouble was brewing.
Questioning south London gangs, police swiftly narrowed the field down to the six youths they were seeking. All were arrested and charged with John Beckley's murder. "You won't pin anything on me," said one of them. "What a night to be picked up, Saturday night." Two of the gang denied having been on Clapham Common; two admitted being there, but denied involvement. but all under persistent questioning, later confessed to having taken some part in the attack, though all denied using a knife.
Five youths were initially charged by the Police, with one more charged a few days later, and they were remanded to Bow Street. After a three-day hearing, the case was sent to the Old Bailey for trial. The charged were a fifteen year old shop assistant Ronald Coleman, Terrance Power aged seventeen and unemployed, Allan Albert Lawson aged eighteen and a carpenter, a labourer Michael John Davies aged twenty, Terrence David Woodman, sixteen and a street-trader and John Fredrick Allan, aged twenty one also a labourer.
Right from the start of the investigation, however, Michael John Davies, the 20 year old labourer from Clapham, admitted being in the fight. "We all set about two of them on the pavement" he said "I didn't have a knife, I only used my fists."
Shown a tie taken from his home, he admitted that he had worn it when "all this business happened," Why did the Police want it? He was to find out later.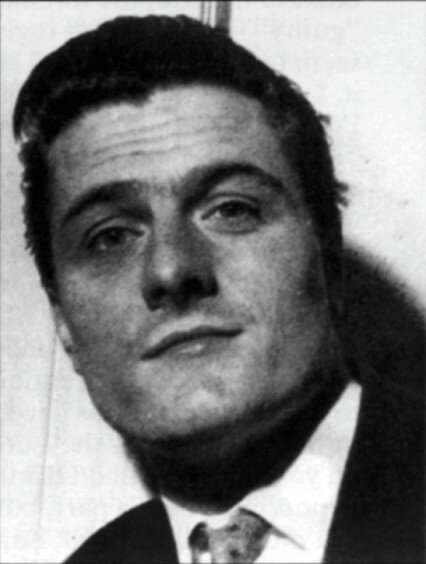 Michael John Davies, known amongst the Plough Boys as "Mickey Davies".
On Monday 14th September 1953, at the Old Bailey, Ronald Coleman and Michael John Davies pleaded not guilty to murdering John Beckley. The four others were formally found not guilty after Christmas Humphreys, the prosecutor for the Crown, said he was not satisfied there was any evidence against them on this indictment. However they were charged with common assault and kept in custody.
The clothes of the defendants had been of interest to the prosecution who wanted to know if the youths on the common wore tight trousers and strange-looking coats with a slit down the back? It was during the reporting of this trial when the press, for the first time, started to make a connection between the odd-looking clothes of the South Londoners and casual violence.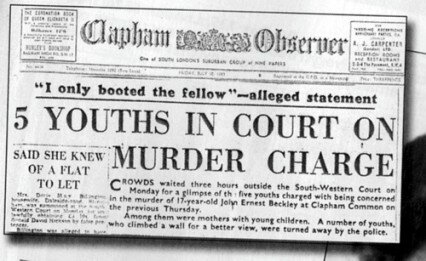 The Evening Standard called Ronald Coleman the leader of the Edwardians .....a teenage gang of hooligans, who wore eccentric suits. In fact Coleman in his statement to the police proudly described how he was dressed on the night of the murder. Stating that he wore a very dark grey suit, single breasted with three buttons ........after the style of what is called Edwardian. It was the Daily Express on September 23rd 1953 who took the word Edwardian and shortened it to Teddy and so the Teddy Boy was born.
A Daily Mirror headline during the trial simply said Flick Knives, Dance Music and Edwardian Suits.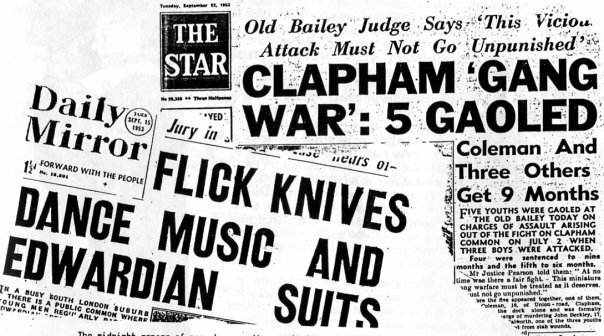 The trial of Coleman and Davies lasted until the following week when the jury, after considering for three hours forty minutes, said they were unable to agree a verdict.
Mr Humphreys, for the prosecution, said that they did not propose to put Coleman on trial again for murder and a new jury, on the direction of the judge, returned a formal verdict of not guilty. Coleman was charged with common assault along with the four others for which they all received six or nine months in jail. Even the 15 year old Ronald Coleman, whom it could be said had started the whole affair, was considered too dangerous for Borstal and was also imprisoned.
Six had now become just one, and Michael John Davies' trial for murder took place a month later at the Central Criminal Court at the Old Bailey on October 19th. There would be a new judge, Mr Justice Hilbery, and of course a new jury although the senior Prosecutor, as for the initial trial, was still Christmas Humphreys.
Michael John Davies' trial for the murder of John Beckley took place for four days from the 19th October 1953. Counsel for both the defence, a Mr David Weitzman, QC who had been a Labour MP for Stoke Newington and Hackney since 1945 and Mr Christmas Humphreys for the prosecution were the same as for the former trial and the same witnesses appeared. The witnesses were cross-examined in exactly the same way now for maybe the third or fourth time.
Notably there was one crucial witness, a Miss Mary Frayling, a secretary, who had purported to have seen the attack from the top deck of the 137 bus. Mary Frayling told the Police that she had seen a particular youth whom she described as the principal attacker put what appeared to be a green handled knife into his right breast pocket. He was wearing a gaudy tie which he removed, putting it in another pocket. She later identified him as John Davies.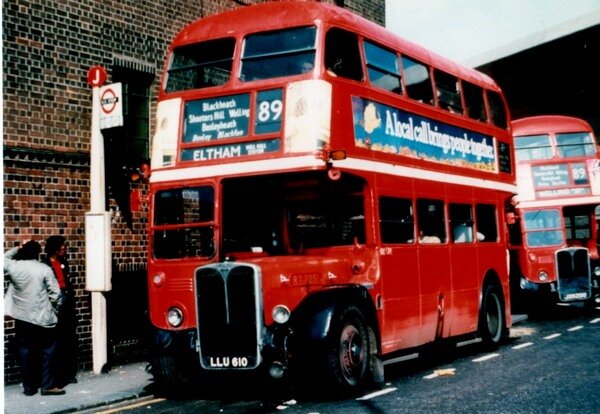 A 1940's designed AEC RT London Transport Bus.
It was almost certain that Mary Frayling had exaggerated what she had seen - it was late in the evening and her view of the fight on the moving bus with its internal lights on must have been obscured by both the relatively small windows of the 1940s designed RT bus (the heavier precursor of the Routemaster) and the large trees along side the road. In fact Mary Frayling had initially picked out John Davies as the main perpetrator while he was standing in the dock of a local south London court and not in an organised identity parade. Mary Frayling may have been enjoying the limelight that the case gave her a little too much but she kept exactly to the same story for the four times she appeared as a witness. The police and the prosecution both commended her for this after the trial.
Although no murder weapon was ever found and no one had seen Michael John Davies use a knife on that night (including the three victims that had been with John Beckley) the jury took just two hours to return with a guilty verdict. Davies remembered:
It just didn't register, it didn't seem to mean anything....then somebody said, "have you anything to say why sentence of death shouldn't pass on you?" and I said, "I'm not guilty of murder sir," and they put the black square thing on the judge's head and he said something about being taken to a place of execution and there to be hung until I was dead, and ending up with, "And may the Lord have mercy on your soul," which I think was a bit hypocritical on his part, but still.
It would have been at that moment when Davies found out exactly where his place was in the infinitely complex and subtle weaving of the cosmic web and he almost certainly didn't want to be there, but maybe that's karma for you.
Davies had been the only one of the original suspects to initially admit to the police to have been on the common and to have been involved in the fights. His fellow suspects had wrongly suspected he had grassed on them (it was someone else) and they and their friends almost certainly colluded and subtly made statements that subtly suggested that Davies had had a knife that evening and the girlfriend of one of the suspects apparently heard Davies say there's "no claret on it" referring to blood on a knife. All of which Davies strongly refuted. A few years later one of Davies' original fellow suspects wrote of him:
"He was not a fighter and I have never seen him with a knife. When we were charged we all realised he was enjoying the notoriety and we decided that if he wanted to take the blame he could. At the same time we all knew that he had not committed the murder."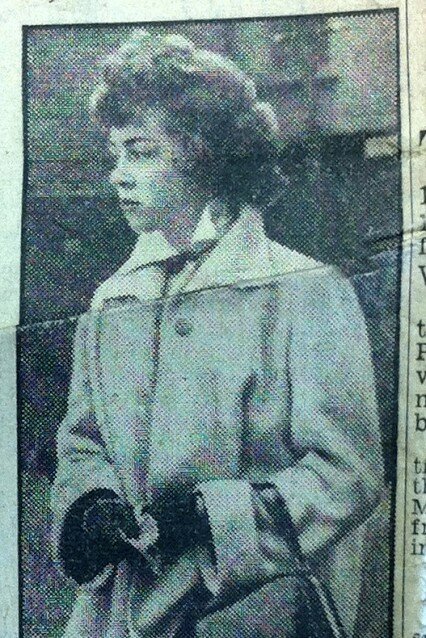 Ronald Coleman's girlfriend Sylvia Clubb - she stated in court that 'Mickey' Davies threatened her if she told the truth.

Although the actual murder weapon was never found there was a knife that was almost treated as such by Christmas Humphreys and the prosecution during the trial. It was a knife bought by Detective Constable Kenneth Drury in a jewellers near the Plough Inn for three shillings ostensibly as an example of what could have been used by Davies. Incidentally Drury, one of the investigating officers in the Beckley murder case, would later become Commander of the Flying Squad in the 1970s and in 1977 was convicted on five counts of corruption and jailed for eight years. But of course that's another story.
It seems that the police and the prosecution had worked together to find someone guilty in this highly-publicised court case. More than anything else it would have been important for them to find someone (whether it was right gang-member or not) to pay for the terrible crime even if it meant with their life. It wasn't the first time of course the police and the prosecution would act in this way and it won't be the last but it's worth noting, however, that Derek Bentley had hanged a few months earlier in another case that involved a minor who, however guilty, couldn't be hanged.
There had been banner headlines in the local and national press from the day after the actual murder. Initially they only reported the side of the case which had been heard in the lower courts - the prosecution's. "It was Davies - I have no Doubt"; Edwardian Suits, Dance Music - and a Dagger were examples of the lurid press headlines leading up to Davies' trial. The freshly coined Teddy Boys and the Edwardian suits they wore were already to the newspapers and their reading public beginning to hold connotations of violent crime. The Daily Mirror wrote on the 23rd October about Davies:
The Clapham Common thug ....took great pains to look like a dandy. Like most of his companions, nearly all his money went on flashy clothes, and just before the murder, he borrowed twelve pounds from his uncle to buy a suit ....This man was a born coward beneath his bravado and his 'gay dog' clothes.
Almost immediately after the guilty verdict there were suspicions to many that there had been a gross miscarriage of justice. Michael John Davies' case went to appeal and eventually to the House of Lords both to no avail. However after many petitions to the Home Secretary he granted a reprieve for Davies after 92 days in the Condemned Cell.
The first thing he said to his mother and sister, glad that he could look smart again, was: "Look, they're letting me wear a collar and tie!" The reprieve may have been because the Home Secretary Sir David Maxwell Fyfe thought that the murder weapon was an ordinary pocket knife and not a weapon of pre-meditated murder or that he had cruelly spent too long waiting for his execution.
After much work gathering new evidence by Davies's sister and with the help of Lord Longford, the Home Secretary now RAB Butler, decided that, subject to good behaviour, he could be released in two years time. By now there were statements from many of the original suspects stating that Davies was not the murderer and also written evidence that one of the original suspects had swapped a bloody suit with a friend pointing to him as the murderer.
In October 1960 Michael John Davies was released from Wandsworth Prison after seven years, although not officially pardoned, he was now a free man.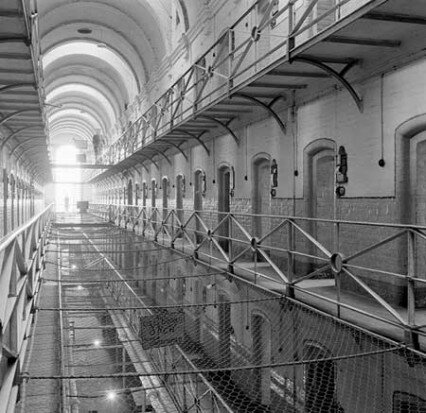 An interior view of Wandsworth Prison, South London. The largest prison in the London area and originally built in 1821 when it was known as the Surrey House of Correction.
Below is the BBC Documentary - Murder, Mystery and My Family, Episode 9 The 1953 Clapham Common Murder.
In this documentary, Barristers Sasha Wass and Jeremy Dein investigate the gang-related murder in Clapham Common in 1953. I was brought in to discuss the Teddy Boy style and take Michael Davis niece, Sharon Sweeting and family friend, Ann Byles around Clapham Common to discuss the events that took place on the Summer evening of Thursday July 2nd 1953. I took Sharon and Ann to the various places where the sequence of events took place that evening starting at the seats near Clapham Common Bandstand where Ronald Coleman had the altercation with the four visiting youths and later ending at Okeover Manor on Clapham Common Northside where one of them, John Beckley eventually slumped against a wall as a result of stab wounds he recieved as a result of being attacked by the Plough Boys. John Beckley later died in Bolingbroke Hospital, Wandsworth later that evening.
As already discussed, Several members of the "Plough Boys" were initially arrested and charged, but only Michael Davies was found guilty of murder and sentenced to death. However, Michael was never executed with his sentence being reduced to life imprisonment. Now, more than six decades later, Michaels niece, Sharon Sweeting, and family friend Ann Byles are looking for closure. Michael protested his innocence on his release from prison, but he was never exonerated and his relative Sharon and friend Ann attempt to clear his name.
Sasha and Jeremy investigate possible murder weapons and re-examine key evidence given by eyewitnesses. They attempt to uncover enough new evidence to bring this case before a Crown Court judge and convince him that the original conviction was unsafe.