Life of Tommy Bruce - British Rock 'n' Roll Star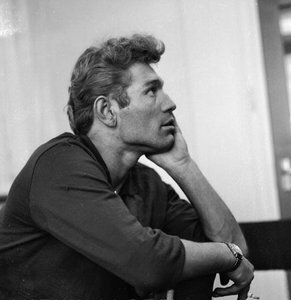 Tommy Bruce had one of the most individual of vocal styles to emerge during the early 1960s. His rasping "sandpaper and gravel" vocal cords were coupled with an unashamedly London accent- long before British regional accents were generally accepted as normal. Consequently, his style was unmistakable at a time when other artists were trying to move to a kind of mid-Atlantic smoothness- gradually shifting away from rock and roll and presumably towards the kind of 'easy listening' that tin-pan-alley was more comfortable with. Certainly, Tommy's lively rendition of "Ain't Misbehavin'" came as a bit of a shock and a welcome change from the stuff we were getting used to in the UK during 1960.
Bruce's upbringing was near-Dickensian in its hardship. He was born in Stepney, East London; by the time he started at secondary school, both his parents had died. On leaving a Middlesex orphanage in 1952, he endured an unhappy engineering apprenticeship before becoming a van driver. Then an uncle found him a job at Covent Garden fruit and vegetable market, to which he returned after national service as a storeman in the Royal Army Ordnance Corps.
Tommy had no real musical training and his rise as a pop star was as big a surprise to him as anybody else.

By 1959, he was living in Notting Hill, west London, where a he became a friend of a fellow tenant who at that time was a struggling singer and songwriter, Barry Mason. Barry decided that Bruce at least looked like a pop star and was so taken with Tommy's unusual voice that he asked him to make a demonstration tape of the only song that Tommy knew well 'Ain't Misbehavin'. This was sung in a style reminiscent of the Big Bopper's recent million-seller, Chantilly Lace. He was backed by four Birmingham musicians, known as the Bruisers, and his EMI producer was Norrie Paramor. With its slurred diction and gravelly ranting, Bruce's rendition reached No 3 in the charts.
The rest- as they say- is history. The song's release- previously a #17 hit for Johnnie Ray in 1956- with its backing attributed to 'the Bruisers' was a rapid success.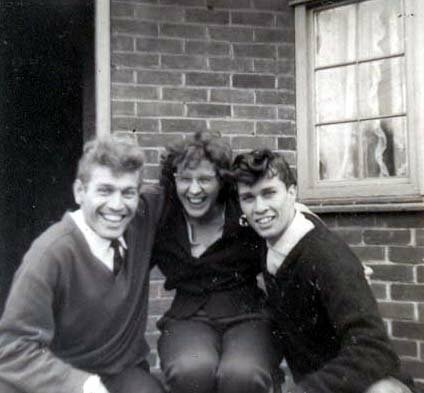 Tommy, Katie and Nelly
Bruce was next plunged into an exhausting schedule of variety seasons, one-nighters with the Bruisers, and such presentations as 1960's Rock'N'Trad package tour - swiftly renamed Idols on Parade - with 15 other vocalists, headed by Billy Fury. High-pitched fan adulation, however, gave a false impression of his standing as a chart contender. A second single, Broken Doll, struggled to No 36, and a hat-trick of flops prefaced 1962's Babette, which barely made the Top 50. Further releases included London Boys, a B-side that was adopted as a signature tune, and, in 1963, a rocked-up version of the Lavender Blue nursery rhyme, with Bruce conveying the impression that he, too, was aware of its ridiculousness.
By then he was a regular on ITV's Stars and Garters, a variety series broadcast on Saturday evenings to counterpoise the BBC's Billy Cotton Band Show. His cockney urbanity suited the beery atmosphere, and, tellingly, he was involved in comedy routines as well as singing spots. He was thus set up for a lucrative living in cabaret, much of it before British holidaymakers in Spain and Malta. After settling in Watford, he also cut an avuncular figure on the 1960s nostalgia circuit, and was received with affection when sharing the bill at Heroes and Villains, a huge charity fundraiser at London's Dominion Theatre in 1985.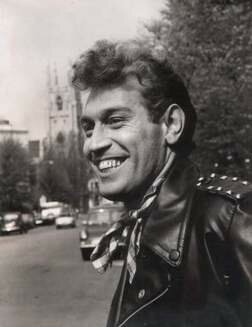 The former vegetable handler found himself held back from the very top only by the American star Jimmy Jones and Cliff Richard. Although Fat's Waller's "Ain't Misbehavin'" would prove to be Tommy's only really big hit, it was enough to establish him as an exceedingly popular performer. Indeed this modest star soon found himself 'on the road' in many concerts and starring in the popular TV series "The Stars and Garters" alongside Kathy Kirby and Vince Hill.
Although "The Bruisers" were originally session men employed by Norrie Paramor for work on Tommy's first releases he soon found a group of competent musicians to back him while on tour. They even managed one minor hit (the Van Dyke penned song "Blue Girl") without their coarse voiced vocalist and became a popular singing group in their own right. Despite backing Tommy, the Bruisers weren't from London at all- they were from Birmingham.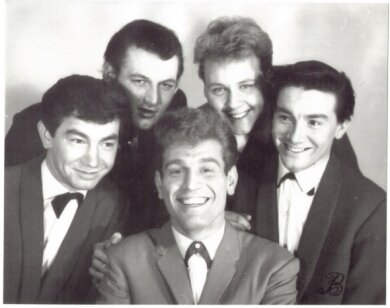 Tommy Bruce & the Bruisers in the early 1960's
Although Tommy Bruce's musical career turned sharply downwards during the late 1960s he nevertheless enjoyed a popular following in cabaret or along with other stars at nostalgia concerts. Sadly, Tommy died as a result of prostate cancer on July 10 2006.
1950s & 1960s 45rpm UK Discography
Columbia DB4453 1960 Ain't Misbehavin'/Got The Water Boilin' #3
Columbia DB4498 1960 Broken Doll/ I'm On Fire #36
Columbia DB4532 1960 On The Sunny Side Of The Street/ My Little Girl
Columbia DB4581 1961 You Make Love So Well/ I'm Crazy 'Bout My Baby
Columbia DB4682 1961 Love Honour And Oh! Baby/ I'm Gonna Sit Right Down And Write
Columbia DB4776 1962 Babette/ Honey Girl You're Lonely #50
Columbia DB4850 1962 Horror Movies/ It's You
Columbia DB4927 1962 Buttons And Bows/ London Boys
Columbia DB7025 1963 Let's Do It Let's Fall In Love/ Two Feet Left
Columbia DB7132 1963 Lavender Blue/ Sixteen Years Ago Tonight
Columbia DB7241 1964 Let It Be Me/ No More
Columbia DB7387 1964 Over Suzanne/ It's Drivin' Me Wild
Polydor BM56006 1965 Boom Boom/ Can Your Monkey Do The Dog
RCA 1535 1966 Monster Gonzales/ I Hate Getting Up In The Morning
CBS 3405 1968 I've Been Around Too Long/ Where The Colour Of The Soil Is Different
CBS 3937 1968 Heartbreak Melody/ The Reason Why