Although a Jazz Drummer by profession - he started the Rock 'n' Roll Band Tony Crombie & his Rockets in August 1956 which lasted until 1958 and produced some of the best home grown Rock 'n' Roll records ever made.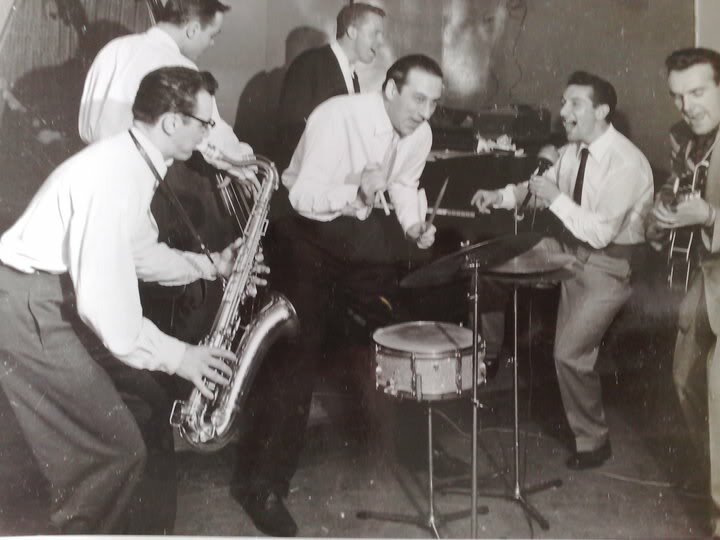 Anthony John "Tony" Crombie 27 August 1925 - 18 October 1999
Born in Bishopsgate, London in 1925, Tony Crombie was a fine self taught drummer, composer and arranger as well as a talented, but occasional, pianist and vibraphonist. He began playing in wartime clubs at the age of sixteen, Mazurka Club (1941), and Number One Rhythm Club before joining Carlo Krahmer in 1943. Following work with Tito Burns and Johnny Claes in the mid 1940s he toured with Duke Ellington in 1948 as part of Jack Fallon's Trio before becoming a founder member of Club Eleven, the birth place of British modern jazz, in the same year. The Club had two bands and Crombie was part of the Ronnie Scott group as well as forming his own Septet.
He features on many early modern jazz recording from the early 1950s often in the company of Ronnie Scott and worked with many of the modern jazz pioneers including Tommy Pollard and Victor Feldman. He spent two and a half years from 1953 with the renowned Ronnie Scott Orchestra as well as accompanying Ella Fitzgerald, Tony Bennett and Lena Horne on their UK tours during the 1950s.
In August 1956, Tony Crombie set up a Rock 'n' Roll band he called The Rockets, which at one point included future Shadows bassist Jet Harris.
The group was modelled after Bill Haley's Comets. Tony Crombie and his Rockets released several singles for Decca Records and Columbia Records, including "Teach You To Rock" produced by Norrie Paramor, which is regarded as the first British rock and roll recordand which made the Top 30 in the UK Singles Chart in October 1956.
He is credited with introducing rock and roll music to Iceland, performing there in May 1957. By 1958 The Rockets had become a jazz group, including Scott and Tubby Hayes. His most famous and best Rock 'n' Roll 10" LP is widely acclaimed as ROCKIN' with the ROCKETS.