Memories of Central London's most famous Teddy Boy Pub during the early to mid 1970's.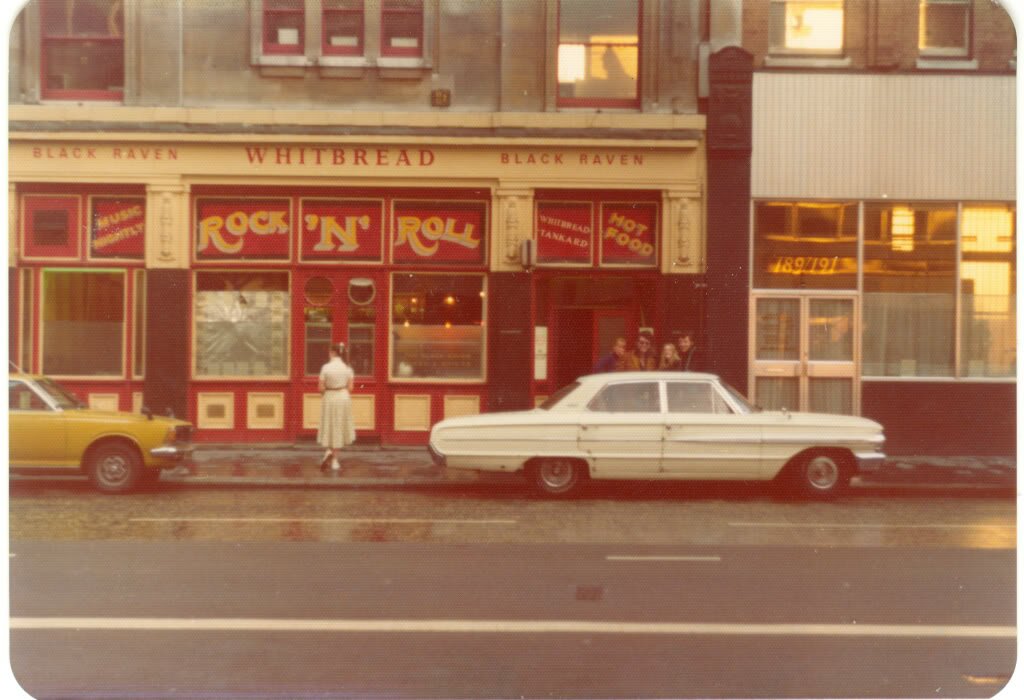 The Legendary Black Raven Pub in London during the early to mid 1970's with 'King of the Teds', Sunglasses Ron Staples & Gang.
The 'Raven' was the main London Pub for Teddy Boys during the late 1960's and early 1970's. and was transformed in the late 1960's and located at 185-187 Bishopsgate Street, London EC2 and then passed into legend on August 16th 1975.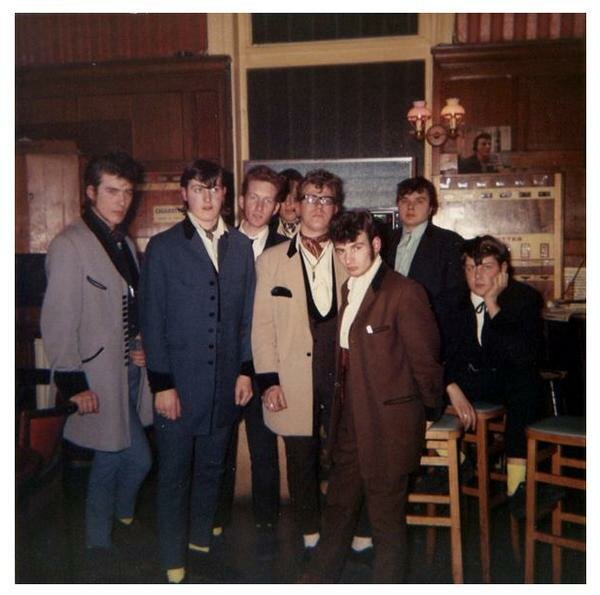 Some of the original Black Raven Teds inside the pub in 1969 with Bob Plumb (Blue Drape) and Vic Hunt (Beige Drape). Prior to Sunglasses Ron coming onto the scene.
Thousands of Teddy Boys and Teddy Girls came and drank, danced, got drunk, fell in love and lived the Rock and Roll lifestyle at the Raven. From humble beginnings with only half-a-dozen or so young Teddy Boys it began. The word spread and more came. They came from near and far. Eventually the Black Raven attracted the youth from across the waters - who returned to their foreign homes and spread the word. For the second time in history the seeds were sown.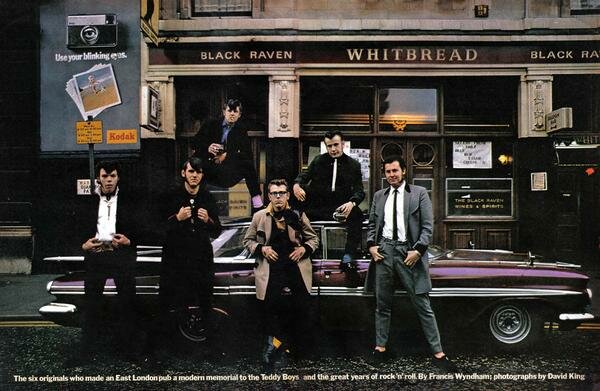 The Sunday Times Colour Supplement, September 17th 1970. Left to right: Pete Harris, Tom Ingram, Mick Adams, Vic Hunt, Taffy and Dave Adams.
Article from the Sunday Times Colour Supplement, September 27 1970 (Part 1)
At the Black Raven pub in Bishopsgate, on Friday nights, it's as if the 1960's had never been. The bar is filled with men, most of them around the age of 30, wearing the classic costume of the historic Teddy Boys: drapes, crepes and bootlace ties. Deafening music from the juke-box insists on the simple beat of early rock 'n' roll. The dancing preserves the athletic tradition of American jive. A chance client might think that some time machine had transported him 15 years back into the past. But the proprietor, Bob Acland, would assure him that he had stepped into the immediate future. "We don't aim to sort of turn the clock back for people who've had hard, unhappy times. The Teds aren't a broken army, all gone down a hole like rats. Why, even Princess Anne went to a rock concert with Nixon's daughter. You can't revive what's never been dead.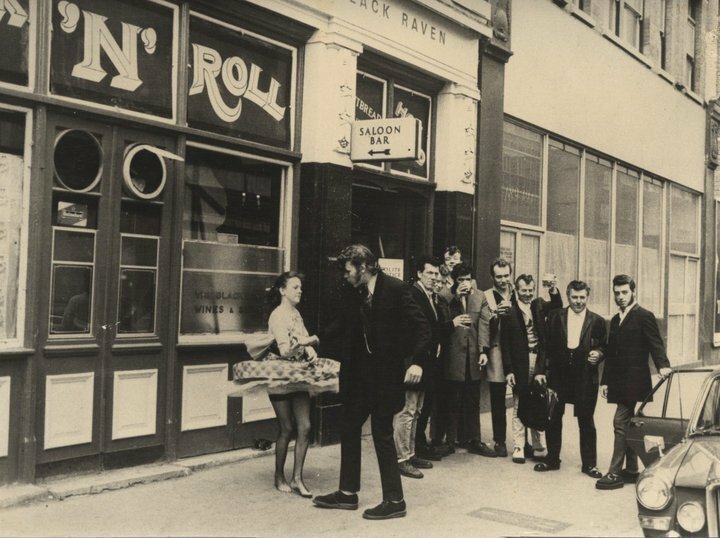 Visiting Teds outside the Raven early 1970's.
"I come from Paddington. Had a greengrocery store, my mother did, and I drove a lorry for her. I ran a rock club in 1958. After that I was a driver for Lady Pulbrook in Belgravia - she gave me a lovely watch from Harrods when I left, I'll show you. Then I drove for Lord Macpherson - he has an office near here in Old Street. I had a council flat round the back and I saw this pub and thought it had got potential. Three years ago I had a lucky win on the horses and I bought it. Lord Macpherson gave me a box of cigarettes and matches from the House of Lords: I've kept them ever since. He's always welcome if he wants to come here, him and Lady Macpherson.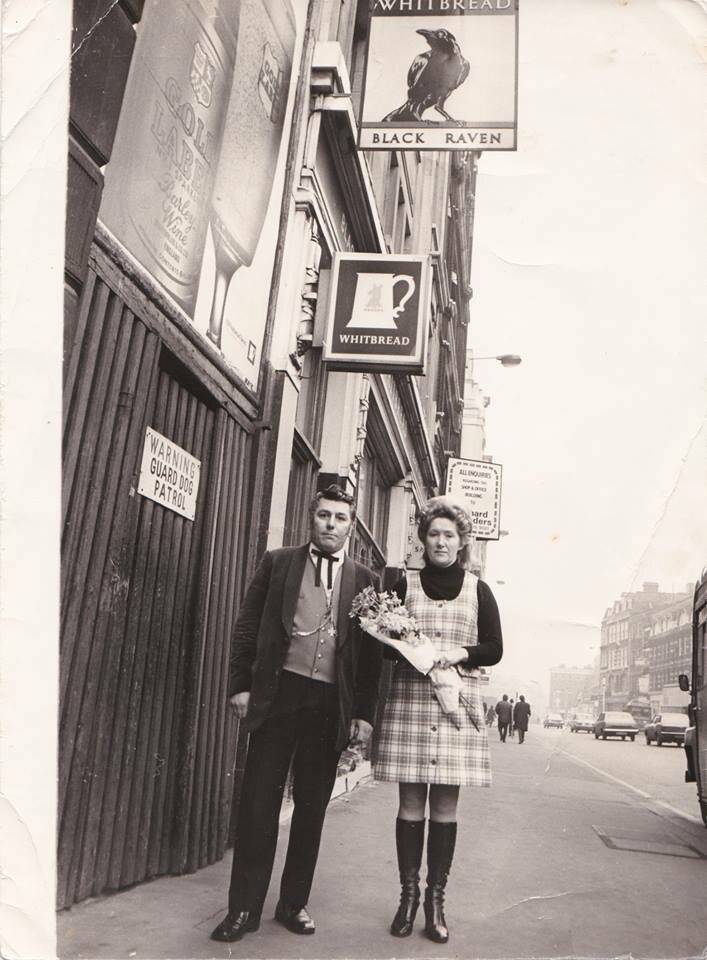 Bob and Eve Ackland outside the Black Raven in Bishopsgate, probably take just before the Black Raven closed its doors on 16th August 1975.
"Nineteen fifty-six to fifty-eight was the great old days for real music. The Beatles and Stones was good at first, then they went out on a cloud. These type of old records will go on when The Who and that is dead and gone. That modern music, it's all the same, ain't it? Weak, like. Just for 16-year-olds. Commercial. Young people today haven't had the opportunity to hear what classical music is. I thought it was a shame to let it die, so I put a couple of records on for my own bunch. Half-a-dozen just happened to walk in, some of them was original Teds, some was the younger brothers of Teds who remembered the good old days. The word got round - I don't waste money advertising. They thought Hello, what's happening here? They told their friends about it and it spread. They introduced new blood - some of them was barely born in 1955. This music, it gets into your blood. They catch the fever, like. People who didn't even think they liked it start tapping their feet.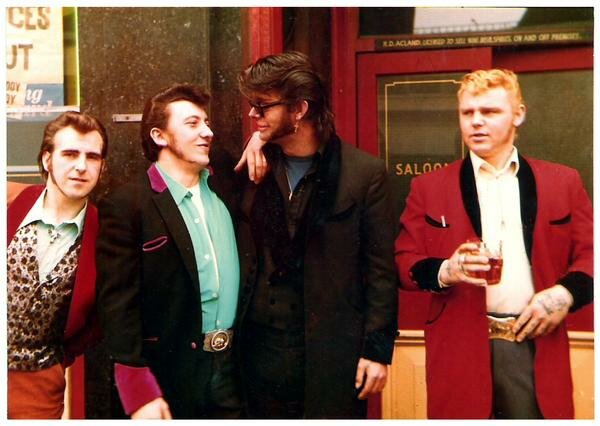 Martin Hale nicknames Ron Staples as Sunglasses Ron.
Former Black Raven Teddy Boy, Martin Hales states "We were all Friday Raven regulars 1970/1973 (Fishmongers Arms Saturdays) It was me who sold Ron his first drape (burgundy colour) and who nicknamed him Sunglasses Ron. We first met in a pub in Waltham Abbey, there were two Rons, hence Sunglasses Ron to differentiate between the two. Took him with us one Friday night and introduced him to the Raven. We were Black Raven regulars, myself, Martin Hale, Stewart Hale, John Wheatley, Richard Stratton, Robert Piechulla, Carol Darrington (now Piechulla). I used to have a large Austin J2 van parked outside and often would give a lift to around a dozen passengers back through north/east London. Was at Brighton when we all went down from the Raven, non of us expecting what eventually kicked off.."

Sunday Times colour supplement, September 27th 1970 (Part 2)
I got two or three thousand records now. Chap from France brings over the new rock 'n' roll records we can't get here - it's always kept going over there. Some chaps come 40 miles on a Friday night. I hit the right note, you see - and now I'm getting the right notes, crinkly ones! A lot of people now are trying to take credit that they revived it, but it all started here, in the heart of the City of London.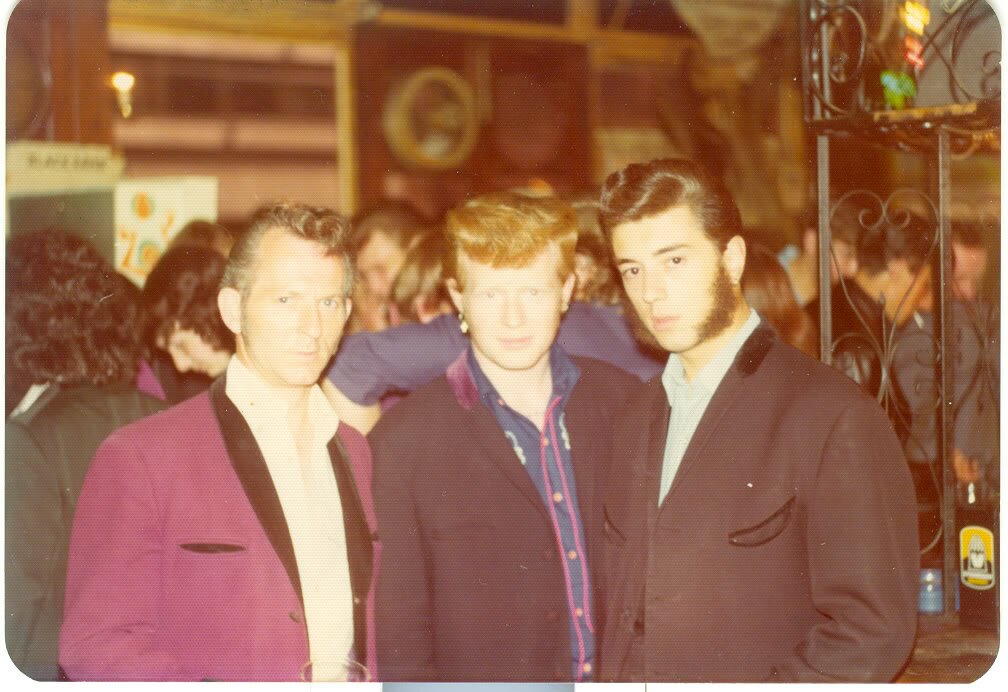 Ken Kilby, Ginger and Spider Ken.
"Tell you one of the greatest artists ever - Al Jolson. It all started with him. We've got Glenn Miller here too. We offer a service - you can't get them anywhere else.
These artists are deceased - Buddy Holly, he's gone. Any stars who died in tragic circumstances, like car crashes, we always give them a three-minute silence on the anniversary of their death. Everybody obeys it.
"I spend £6 a week on records and I hire a juke-box - it's better than a group. The Top Twenty is obsolete in this pub: most of it's a load of rubbish. I've had six brand-new juke-boxes in three years - they're worth about £700 each, it wouldn't pay me to buy one. Dancing gets a thirst up - without that juke-box I'm a dead duck. Got an IQ machine as well: we're not just pretty faces, you know."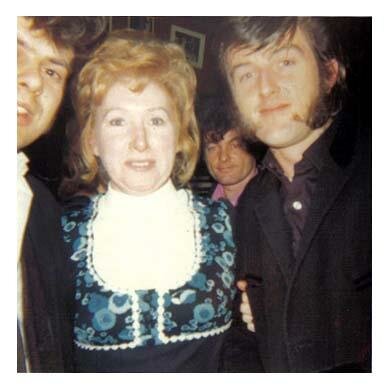 John Cleake, Eve Ackland (Landlady of the Raven) and Tommy Hyde
I tried the IQ machine, but I think it must have been out of order. It asked me who wrote Paradise Lost - John Milton, John Osborne, Shakespeare or Margaret Mitchell? I chose Milton, and the machine told me my answer was incorrect. There was nothing wrong with the juke-box, however. Here the choice embraced Presley, Bill Haley, Little Richard, Cliff Richard, Ricky Nelson, Eddie Cochran, Connie Francis, Nancy Whiskey, Bobby Darin, Paul Anka, and many other vintage names, including an obscure record which happens to be Acland's favourite: Janet Richmond singing Not One Minute More.
The signs over the bar read: Rock & Roll, Elvis the King, One & Only Buddy Holly, Hot & Cold Music & Snacks, Big Band Sensation,Sausages & Pease Pudding.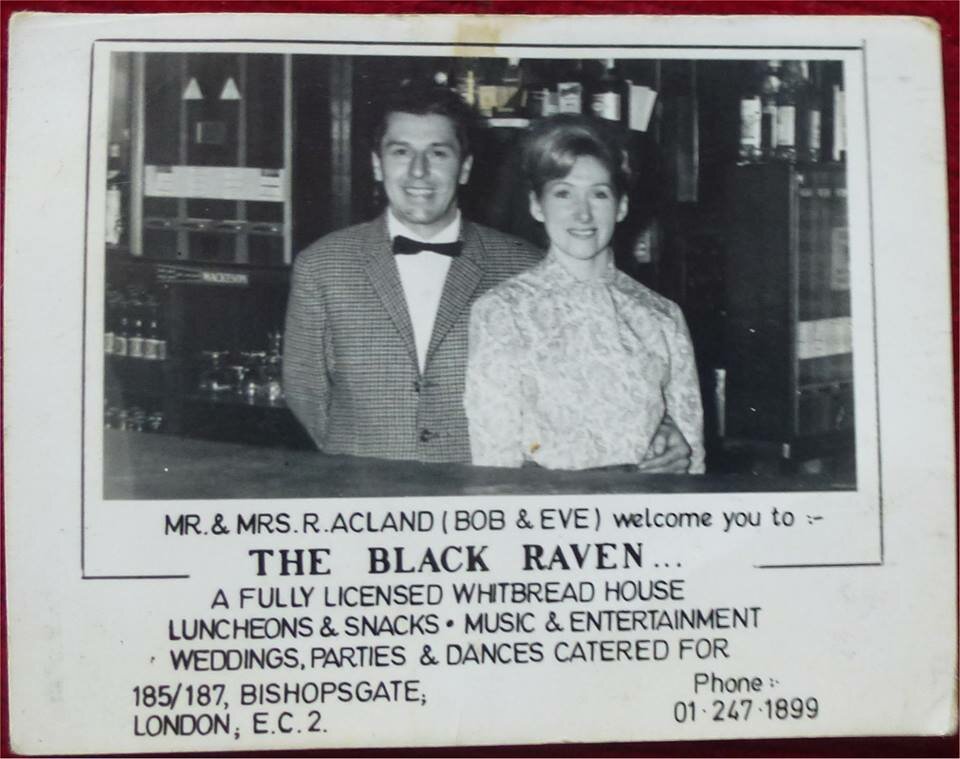 "The Black Raven is now legend and all those that used to frequent the establishment will never, ever forget the Raven, as long as they have breath in their bodies.....and maybe even after!" - Ray Flight.
Ray Fight's Roll of Honour of People who frequented the Black Raven
1. Ray Flight 2. Linda Flight 3. Bob Plum 4. Sue Plum 5. Nicky Lambert 6. Mick Adams 7.'Whisky Dave' Adams 8.Vic Hunt 9.Teresa Hunt 10.Alan 'Gil' Gilmore (R.I.P) 11.'Cherokee' Tom Ingrams 12.Elaine Ingrams 13.Pete Chisnal 14. John Williams (Little John) 15. Tommy Hyde 16. Pat Hyde 17. Dave Page 18. Carol Page (R.I.P) 19. Alan Smith 20. Clive Stevenson 21. 'Tongue-Tied Danny' Cheek 22. Irene Renshaw 23. Roy Williams (Nervous Records) 24. Brent Eglerton 25. Dick Cooper 26. Mal.......(bumbiter) 27. Alan 'Hard Luck' Ross 28. Johnny 'Dumb-Dumb' ....... 29. Graham Fenton (Singer) 30. Steve Batt 31. Den Board 32. Johnny Angel (Singer) 33. Dave Johnson 34. 'Battersea Dave' Bird 35. Terry Greaves 36. Carol......(Terry Greaves blonde g/f from Welling) 37. Johnny Driden 38. Johnny 'Earrings' 39. Kenny Carr (R.I.P) 40. Jackie Carr 41. Jane Peebles 42.Rita.......(an ex g/f of Sunglasses) 43. 'Taffy' Peter Williams(R.I.P) 44. Mickey Lennon 45. Dot Lennon 46. Pete (Spot) Lambert 47. 'Scouse' Gordon........ 48. Bob Duckworth 49. Steve Barret 50. 'Noddy' Martin Bush 51. 'Spider' Ken Wren 52. Ron Bickley 53. Terry Kirby 54. Eve Fairman 55. 'Little Al' Turner 56. Frank Morahan 57. Larry Morahan 58. Ken Kilbey 59. Terry Creasy (R.I.P) 60. Paul Birch 61. Bill Long 62. Pete Harris 63. 'Sticks' Ian White 64. Barry ('Baz') Jacob 65. Jill Jacob 66. Barry Smith 67. Mickey Green 68. Johnny Green 69. Malcom Grist 70. Terry Timms 71. Colin Diggle 72. 'Ginger Ken' Stone (R.I.P) 73. Mick Ransome 74. Dave Ransome 75.Barry Ransome 76. Bill Scott 77. 'Rocky' Ray...... 78. 'Tooting Ray' Emery 79. Johnny Newton 80. John Key 81. Liz Key 82. Clive...... 83. Mary......(Clive's wife) 84. Dave 'The Rave' Self 85. Frank 'Knuckles' Lacey 86. Mumbles' Brian...... 87. Tony.......(American car) 88. 'Scots' John....... 89. Dave Ashworth 90. Johnny Norton 91. Stu Wester 92. Ken Bradbury 93. Dave Chapman 94. Howard.......(Ilford) 95. 'Tattoo Pete' Whitely (R.I.P) 96. 'Sunglasses Ron' Staples (R.I.P) 97. Stan 'The Man' Jackson 98. Pat Elsip 99. Mick Sneath 100. Bob Mason 101. Clive Jackson 102. John Acland 103. Johnny Ace (Singer) 104. Micky Brett 105. Terry Coleman 106. Terry Mead 107. 'Slim' Mason 108. Roger Jarvis 109. Charlie Kray (R.I.P)(3rd Kray brother!) 110. Malcolm McLaren (Music Entrepreneur) 111. Vivienne Westwood (Fashion designer) 112. Ronny Weiser (Rollin' Rock label) 113. John Taylor 114. Mickey Burgess 115. Dave Clark (Drummer, Dave Clark Five) 116. Jim......(Southend) 117. Jan......(Jim's g/f Southend) 118. John Cleak 119. Norman........ 120. Vicky White 121. Fred Allen 122. Jeff Hayden (R.I.P) 123. Eddie (Ed the Chev) Barrel 124. Brian Wells 125. Rita Wells 126. Julie Chandler 127. Gino Charambouros 128. Colin 'Chip' Chipendale 129. Alexander 'Gabby'....(R.I.P) 130. Stephan.... 131. John 'Jock' Woods 132. Joan Woods 133. Lynne Dann 134. Alister 'Ally'....(From Dunstable) 135. Terry......(From Harrow) 136. Eddy Hill 137. Del Richardson 138. Andy Francis 139. Paul 'Tiny' Bradnam (R.I.P) 140. 'Welly Boots' Dave...... 141. 'Rebel' Ed...... 142. Chris Spinks 143. Dick....... 144. Louise..... 145. Maurice Stutely 146. Gerry Rock 147. Bub's...... 148. Sue Smith 149. Margaret Phillips 150. Pete Smith 151. Bob Smith 152. Trevor.... 153. Steve Clarke 154. Alan Burke 155. Ray Monty 156. Howard.... 157. Dave Tasker 158. Steve Tasker 159. Lez The Ted 160. Dennis Tilbey 161. Della.... 162.Brenda.... 163. Roy Noble 164. Cliff Brand 165. 'Ricky' Les Billing (R.I.P) 166. Bryan Savory 167. John White.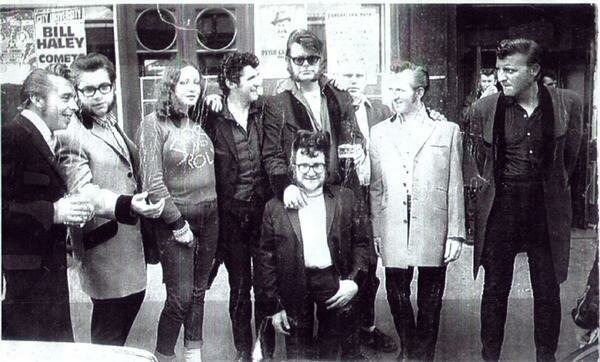 "Sunglasses" Ron Staples with Alan "Hard Luck" Ross on his right and Ken Kilby on his left in the smart light coloured drape. In front of him is "Tongue Tied" Danny Cheek.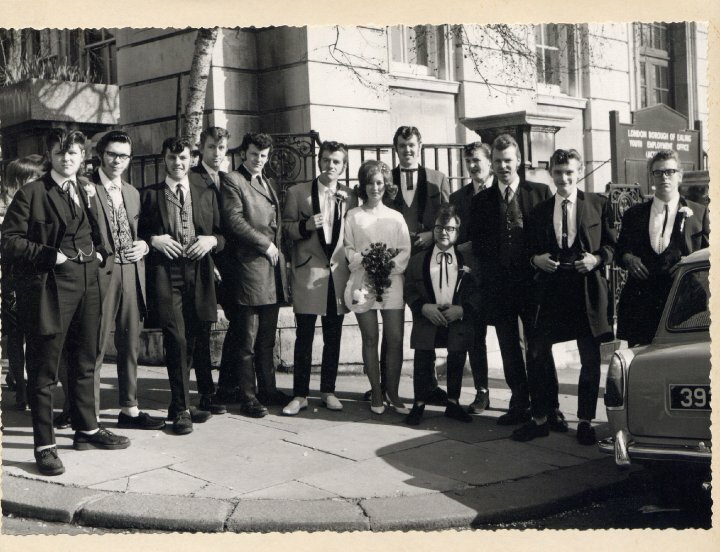 All Black Raven regulars at Roy and Linda Williams Wedding, 1970. L to R Mick Adams, Pete?, Den Board, Ray Flight, Graham Fenton, Roy and Linda, Trevor Hawkins, Danny, Bob Plumb, Dick and Vic Hunt.
After the Black Raven Pub closed on 16th August 1975, many Black Raven regulars moved to the Pembury Tavern in Hackney where upstairs the 'Black Raven' Club was established.
'Little Danny' Cheek - the disc jockey of the Black Raven Club in Hackney, East London, 6th February 1976.