Regarded as the British Elvis of the late 50s, Terry Dene is still recognised as one of the best voices of the British Rock'n'Roll era. A rebel, a cross breed between sacred and profane he was mistreated by the media in an attempt to trash his name. His first record sold in excess of 300,000 copies and secured his name in the British pop history and the Guinness Book of Records.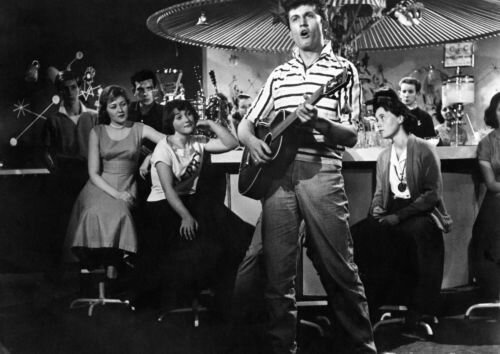 Terry Dene, appearing in the film, The Golden Disc.
Terry Dene (real name Terrance Williams) was born in December 1938 in London at St Thomas Hospital, near the Embankment, just prior to World War II.
He grew up in Lancaster Street, Elephant & Castle, South London.
Terry soon felt oppressed by the educational system and left school at only 15 to look for a job. Employment soon revealed just as oppressive to him and after trying a series of different jobs he saw an advert in the local newspaper to work for HMV as a record packer in Oxford Street.
The association of the job to the music sparked Terry's interest and he applied for the job. He soon started work at HMV taking care to begin half hour before time to listen to all the new releases from the USA. It was 1956 and the music spectrum had given birth to the likes of Frankie Laine, Johnny Ray, Little Richard and of course, Elvis Presley.
As rewarding as 'record packing' might have been to everyone else, it soon became clear to HMV Management, namely George Tollyfield the Manager, that Terry 'Williams' was clearly not there for that reason. In fact Terry had discovered at the back of the packing department, a boiler room which made a great sounding echo. Ignoring Tollyfield, his complaints, his threats and the working discipline that he was determined not to conform to, Terry started to use the boiler room as his rehearsing niche.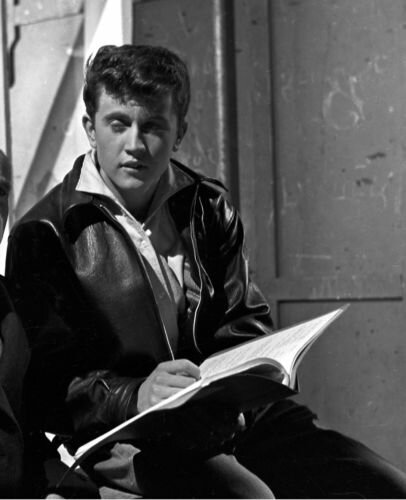 Soho was the centre point of rock and skiffle together with venues like The Cat's Whisker, The Macabre and Heaven and Hell. Terry had already sung at the Cat's Whisker the night that Leon Bell & his Bellcats were staging their act. He sang Blue Suede Shoes and tore the roof off the place blowing Leon Bell out of the back door.
On 24 January 1957 he was fronting Rory Blackwell at the Razzle Dazzle Club (as Studio 51 was known on the Thursday night rock'n'roll scene), billed as 'the new singing sensation Terry Williams'.
However, it was The 2Is Coffee Bar that Terry was really interested in. The place that had seen the birth of Tommy Steele, Adam Faith ,Cliff Richard, The Vipers Skiffle Group and Chas McDevitt.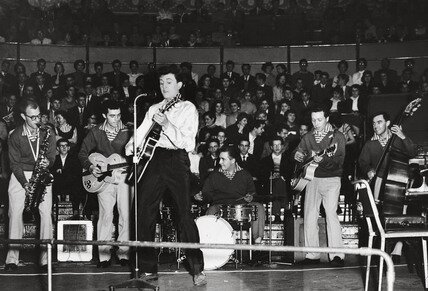 Terry Dene & his Band 1957 with Clem Cattini as his drummer.
The 2Is was indeed the centre point of skiffle and rock and used to get jam packed with agents in search for new talents and teenagers getting the benefit of it all. One night Terry asked the band to let him sing: 'Are you any good?' 'You give me a chance and I'll show you. He took his guitar, strummed a few chords and sang 'Poor Boy'.
Paul Lincoln (co-owner of the 2I's and also known as Dr Death in wrestling circles) that night heard Terry sing and it was he who recognised the winner in him and launched his rise to fame.
Terry was asked to return the following week, to meet Hyman Zhal from Fosters Agents after his act, driven to Hyman's flat in Park Lane, and told 'I'll make you a star', all in one night.
Whether or not wrestling and music attract the same crowd, is disputable, but it was clear in Dr Death's mind they did. Terry was set up to perform at the Royal Albert Hall Welterweight Championship wrestling match to which new TV music show '6.5 Special' producer Jack Good and Dick Rowe, Decca's impresario, had been invited. The wrestling crowd was silenced, the unknown 'rock'n'roll singer announced by a metallic voice and Terry like a Christian thrown to the lions strummed up his guitar and sang his first song.
The audience, subdued slightly as if to 'listen', Terry's voice as clear as a bell through the hung down mic making its way through the protesting crowd, by the third song, the place erupted!
Decca signed him up for 3 years, Jack Good booked him a number of dates on the '6.5 Special' TV show and his name was changed to Terry Dene.
Decca's first choice for Terry was a song by Marty Robbins called 'A White Sport Coat and a Pink Carnation'. In the first seven weeks the song sold in excess of 300,000 copies and together with Stairway of Love, and 'Start Movin' at number 14, put his records in the Top 20 twice in the same year UK Single Chart and secured his name in the Guinness Book of Records.
If the axiom 'never judge a book by its cover' is loosely applied it was tailor made for Terry. Terry's smooth appearance was a total betrayal to his real identity. Living inside him, there was a tiger ready to come out at the first opportunity. The untamed beast was kicking up the same old fuss that the beast in everyone worth being ever has: real freedom.
It certainly wasn't with White Sport Coat or Lucky Lucky Bobby, that Terry would find a release to the drive he had within. And seeing the results of his marriage to Edna Savage, it wasn't with love either.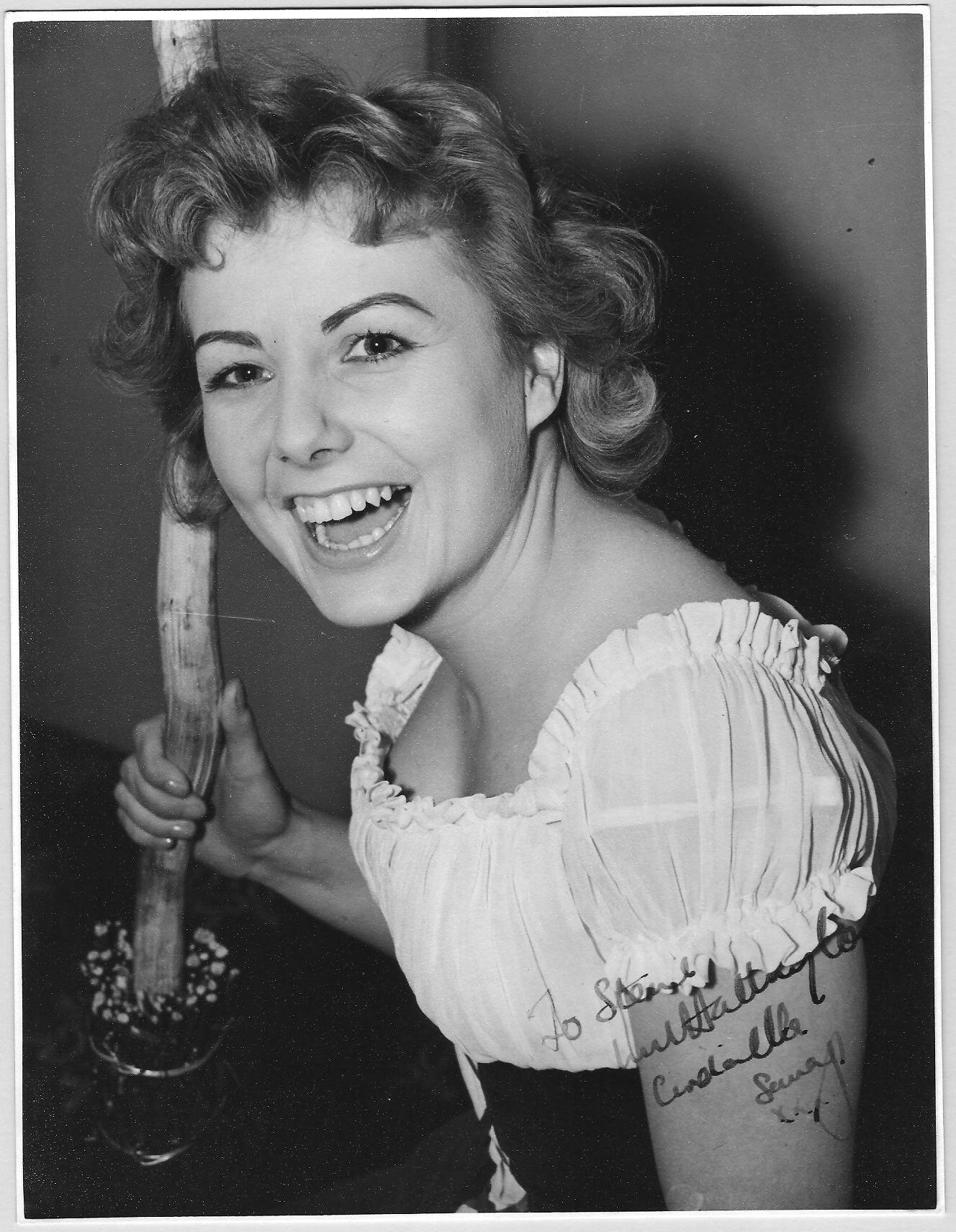 Edna Savage married Terry Dene, however the marriage was destined for an early end.
His frustration became evident in many ways including a few arrests for being drunk and disorderly. But not evidently enough for Decca or anyone else around him to realise what was really going on inside him. In fact Decca, rather than giving this 'live wire' the right bone to chew, they dispensed him with a series of 'lukewarm ballads' that Terry didn't like. And to hush it all up Zahl, concocted a 'public speech' where Terry was to reassure his fans that he would behave like the 'good boy' he was expected to be almost presumably admitting his inability to 'fit the bill'. But what was the bill?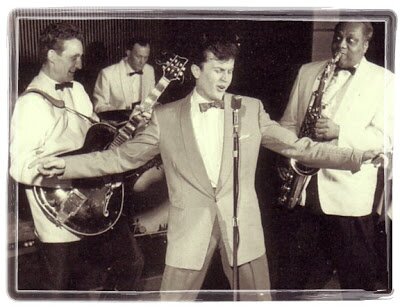 The bill was to please the so called Bourgeois respectability and mould Terry into being just another product of the music industry, another Billy Fury, Tommy Steele or Cliff Richard. Terry wasn't like that, he wasn't even like Elvis Presley, Terry wasn't like any other. Original and unpredictable Terry was his own person. Born free he didn't want to be controlled by anything or anyone, not by the industry not even by his own career. He wasn't there to profess good behaviour or promote his own image, he was there because he had been recognised as one of the best voices of his era, with all the drive, the aggression and assertiveness that was required to fit that bill.
Terry was the real McCoy of rock'n'roll inevitably rocking not only the audience but the boat of conventionality. A pioneer in his own right and ahead of his time Terry, like James Dean before him, was a rebel but with a cause.
Terry was branded the 'bad apple' and the exemplifier of the abomination of rock'n'roll by the press for ripping out a telephone box at the Jacksons TV Studios after receiving a call from Edna announcing the end of their marriage.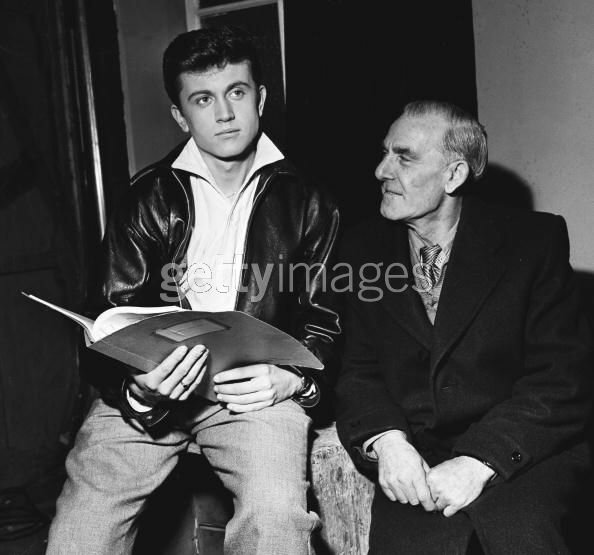 1957 - Terry Dene with Lee Paterson in the studio.
Terry was conscripted to National Service in 1958 and was expected to report to Winchester Barracks of the King's Royal Rifle Corps on 7 July of that year, but as a result of his career his call up had to be deferred. Terry's father had been an army officer for the King's Royal Rifles Regiment most of his life, stationed in Winchester. Terry was determined to join the army no matters what and honour his father, who during his service in India had also proudly taken part of Ghandi's security force. Hyman Zahl saw this as an opportunity to glorify Terry's name and career by having a preview of the camp a week prior to him going in, and together with the newspapers, he arranged for Terry's call-up to national service to be filmed and photographed. Everyone welcomed the idea, including the military, where the adjutant, now like a ballet dancer, ran excitedly all around the barracks making sure that everything had been taken care of, except Terry. Terry thought it was a very bad idea. After all, when had it ever been heard of any such a thing as a new recruit having a preview of the camp? Not even Royalty had received that red carpet treatment.
He felt completely uneasy but it was too late, Zhal had already made the arrangements. Although Terry protested Zahl explained that the press were threatening to ruin his career if he didn't go ahead with it. He had no choice. Before he knew, the week was over and he was ready to start service. By the end of the day, the press were still hanging around gathering their equipment but Terry couldn't wait for them to leave. By this time, he had a horrible feeling that the objective of the whole thing would end up falling flat on its ass. In the meantime, everyone present, even the adjutant, had now started to realise the animosity Terry would have to face as a result of this publicity stunt, as the shouted threats of both the regulars and the new recruits were now making it clearer in everyone's mind what Terry's 8 weeks basic training programme was going to be like. The soldiers' threats were now turning into explicits of impending treatment for Terry had gone as far as a presumable one for his 'soon to be ex' wife. That night in the overcrowded dormitory where the two long rows of beds were divided by a stretch of corridor, all the hype gone, lights out, the hostility in, Terry laid awake waiting for the threats to materialise but before they could the corporal was by his side explaining: 'Terry you're not safe here. Come with me.' He was taken to the corporal's quarters where he was stationed for the rest of the night.
Over the next two days he was transferred to Netley Hospital where he was kept 'under observation' for another 2 weeks. By this time with the press haunting him, the authority were trying to decide what to do with him next. In reality, they wanted to keep control of the situation. They sent him to a civilian hospital where he remained for nearly 8 weeks and although it was an open hospital, he was still under military supervision. After two months he was finally discharged. He had never entered the barracks again and never really served the service he had intended to serve. Terry was furious, but before he left he was offered a pension for life and when he refused the Sergeant asked him: 'Do you think you will get your career back?' Terry replied: 'You tell me sir.'
He toured Britain, was one of the first to appear in the BBC Television's first pop show,Six-Five Special, and appeared in a film, The Golden Disc.
He later joined the Larry Parnes' stable of stars and toured with them around Britain.
Disheartened by the bad publicity in 1964 Terry Dene turned his back on the British pop scene and became an Evangelist crossing over to singing and writing spiritual and gospel music, recording three gospal albums. He travelled abroad as an itinerant preacher playing in churches, prisons and other venues and preached in the Scandinavian Lutheran Church for five years in Sweden where he married for the second time. Two of the gospel albums were released in 1972–73 on Pilgrim Records.
In 1973, Terry Dene released a book, I Thought Terry Dene Was Dead, and around 1984 reformed his group, the Dene Aces, with Brian Gregg. He released an album, The Real Terry Dene, in 1997 which was voted as one of the top 40 best listening CDs, and has continued to appear in rock and roll shows. His Decca compilation was released in December 2004 by Vocalion Records. In October 2007, Terry Dene created his own company and label with his partner, Countess Lucia Liberati, LLTD.COM, and in December 2012 has released in the UK his new CD, The Best Of Terry Dene, featuring a compilation of 12 tracks of his own choice including his own version of "Mystery Train", a remix of "Com'in And Be Loved, So Long", which was written by Terry Dene.
DISCOGRAPHY
UNDER CONSTRUCTION