Bakground and advice on British Made Fabrics, advice on the Tailoring of Edwardian Suits, Suppliers of Cloth and Fabrics and Tailors of Edwardian Teddy Boy Suits.
Introduction to British Made Fabrics for Suits & Jackets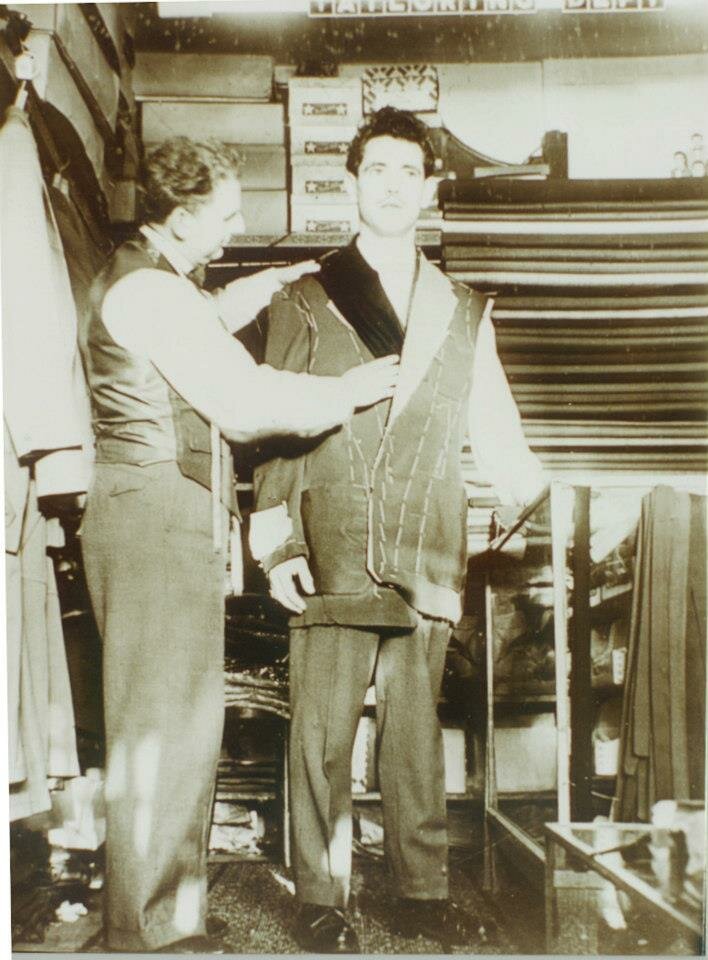 In the early 1950's Tailors on Saville Row started reproducing Edwardian suits for wealthy young clients that worked in the City of London. These luxurious clothes attempted to reassert the sartorial supremacy of both the Saville Row tailors, and that of the wearers. This Edwardian style bespoke dress was a signifier of class, almost an attempt to revive a pre-war notion of class heirarchy in the face of the advancing social mobility of the working and middle classes.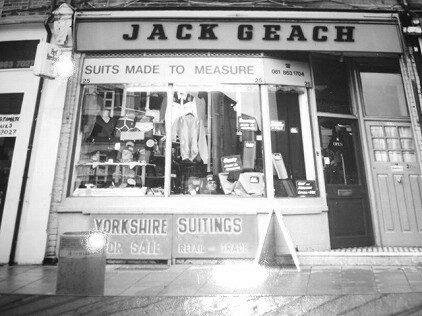 The shop of the famous Harrow Tailor, Jack Geach that was in Station Road, Wealdstone. The late Jack Geach made many fine Drapes during the 1970's and 1980's.
For working class youths to appropriate a clearly upper class dress style for their own purposes was a serious challenge to the old order. The original Teddy Boys used back street tailors or bought suits second hand, and although it began as something of a London style, by the 1950's gangs of be-draped teenagers could be found throughout Britain's cities and towns.
This page gives you some good advice on cloth, materials and tailors, the different styles of drapes and how best to go about getting your Drape Teddy Boy suit tailored.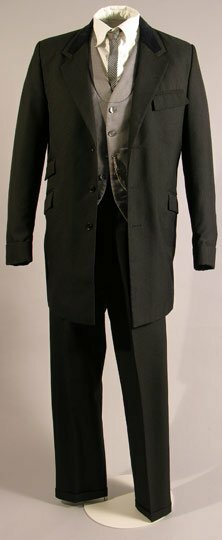 Paul Culshaw donated this original looking early 1950s style two piece black Teddy Boy suit with grey shawled collar waistcoat to the Brighton Museum. The suit was tailored in 1980 by Jack Geach.

There are many fabrics available sold for suitings and jacketing, however many are of poor quality. It is therefore a good idea when choosing a fabric to find out where it is manufactured and to check the quality of the material. This then should become a major issue for the discerning Teddy Boy when choosing a suitable fabric, prior to having a Suit or Jacket tailored.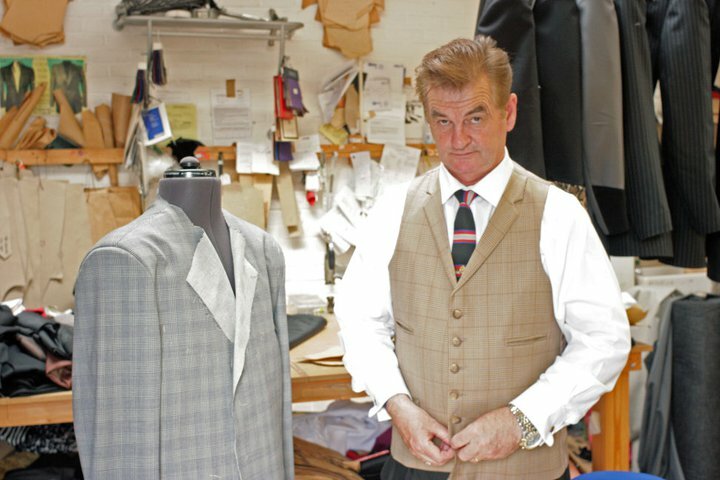 Nidge having a Plaid Fountelroy Drape jacket made at Colin Taub 'Tailor to the TEDS' premisis at Hackney, East London in 2010.
Sadly, there are only four mills of any stature now left in England producing top quality suiting fabrics, which is of course a massive shame, but it is good to see a healthy trade still passing through. Many tailors have their shelves packed with poor quality Asian fabrics, so it is good to see that customers do still recognise the quality that Britain and its mills still offers!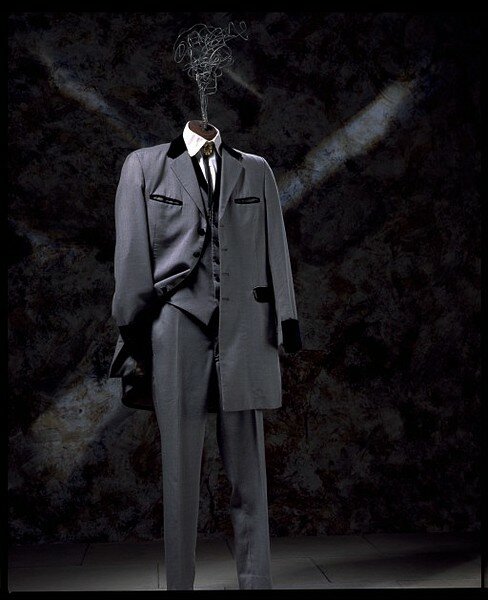 A three-piece Teddy Boy suit in grey wool worsted with black velvet trim designed by Edwin Hardy Amies for Hepworths, London in 1972.
The looms that create these British made fabrics really are something special, taking the weft (the horizontal yarn) through the warp (the vertical yarn) over 700 times a minute with precision accuracy. The great thing about automation is that it creates consistency and also help brings down price. The downside about automation is that your competitors can get hold of the same machines. Many of the Indian and Chinese mills now have their hands on these looms which, assuming they purchase the same quality yarn, means they can get fabric of similar quality to this stage. However, at this stage the fabric is still of a texture comparable to cardboard so it's transported to the finishers who are tasked with bringing it to life.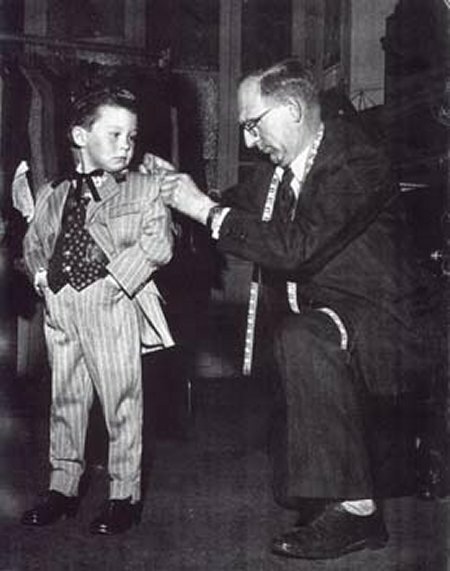 The West Riding of Yorkshire has formed the centre of the UK's wool trade for hundreds of years due to it's ideal conditions for sheep grazing, but more importantly, the clean, pure, consistent soft water that the local hills and layers of gritstone and shale produce. For it is this local water that is used to scour and clean the fabric and what makes Yorkshire the envy of the rest of the wool producing world.
There are some good things still happening to the British Wool Fabric Industry. By way of example, W.T. Johnsons & Sons, a Huddersfield Mill who finish fabrics, have invested literally millions in the machines they use to process the fabric and invented their own bespoke machinery where it was required. But the machines are only half the story, as more important are the skills they have gathered and closely guarded over the past 100 years. It is the skill of their employees who know how to pick the right machine, choose the correct process, apply the right conditions that still separates the fabric they produce from their international competitors.
Some questions answered about British Made Fabrics
A quick rundown for anyone interesting in buying fabrics for suiting but not overly familiar with fabric jargon. Maybe you'd love a tailored suit but have no idea what a finish is. Or you're looking into buying a wool jacket but don't know the difference between mohair and lambswool. Whatever it is, this is here to help you!
What does "ply" (3 ply, 4 ply) mean in terms of fabric?

3 ply means there are 3 threads intertwined together in the yarn and 4 threads in 4 ply. Usually only 2 threads are used, which is called 2 fold. The higher the ply, the heavier the finished cloth.

What are the differences between Merino, mohair and cashmere wool? Between mohair and kid mohair?

Merino is a high grade of wool named after the name of the Australian sheep where the wool comes from.

Mohair comes from a goat, while the kid mohair is an extra soft wool taken from the kid goat.
Cashmere helps to give a softer feel to the finished cloth when added to the yarn.
Lambswool makes for a softer fabric because the wool comes from younger sheep.

What is Worsted?

Worsted is the term used for wool suiting fabric.

What is tweed?

Tweed is the term used for heavier woolens with a harder feel, traditionally used for jackets, skirts, etc. (i.e. Harris tweed).

What are these "Super" numbers on my fabric (Super 120s, Super 150s, etc)?

They indicate fabric quality. Super 100s, 120s and 130s are ideal qualities for a good suit.
Super 140s, 150s and 160s are much finer and softer, so perfect for the suit for a special occasion. Similarly, the higher the yarn count, the softer the fabric.

What is the significance of fabric weight when picking fabric to make a suit from?

Lightweight starts from 260 grams (summer weight) and below (i.e. lightweight wools, panama weave, mohair fabrics, crepe weaves). The average weight of a suiting fabric is around 280 grams.
Winter weights are from 300 grams upwards.

What is twill? What is a crepe style weave? Basket style? Donegal style? Barathea style? Imperial?

Twill, panama, hopsack, basket and barathea are all terms describing the type of weave in the cloth.
Twill is the most common weave, a diagonal weave from right to left.
Hopsack and panama weaves, on the other hand, look like a series of small pin dots.

What does "finish" refer to?

Finish is the term used to refer to the handle of the fabric.

The West Riding of Yorkshire and Scotland have always been famous for producing the best cloths in the world. Tartans, heavy tweed and woollen fabrics are typically produced in Scotland, while finer suiting fabrics are made in the remaining mills of Huddersfield and Bradford.
_______________________________________________________________________
The essential elements to the Style and Cut of your Edwardian Suit - a Guide to Tailoring Terms for the discerning Teddy Boy.

Gino, a Lancashire based Tailor (now retired) discussing fabric for a new suit with Preston based Ted, Jake Naylor
The details below are a guide for you to take to a good tailor. Some of the names used for the various styles will vary slightly from tailor to tailor and the part of the country that you live in. The best advice would be to get a suit made that fits well and you feel comfortable in. If you use a recommended tailor who has good experience of tailoring your Drape (Teddy Boy Suit), they will be familiar with the detailing described below, and having your suit made will be a far more straightforward experience.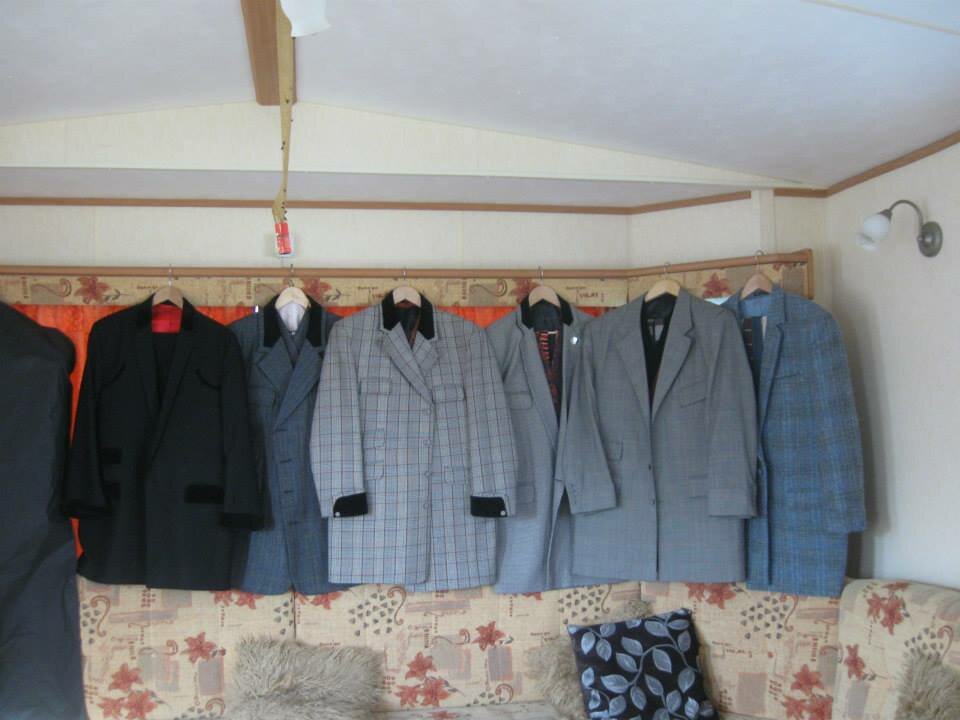 An interesting selection of some of Rockin' Nidge's Drapes hung up at the Ted Do in Scarborough 2013.
Cut of the Jacket

The first thing to consider when having a jacket tailored is whether you want the jacket to have an open front with a single link button fastening with long lapels or a closed front jacket with three or more commonly four button front with short lapels.

This is an element of the jacket that you cannot really change your mind after the first fitting as once your tailor starts to cut out the suit, he cannot alter this element easily, especially once the button holes have been put in.
Velvet Trim
The traditional perception of an Edwardian or Teddy Boy suit is that it always should have a Velvet collar, however this is not strictly true. Although many original Teddy Boy suits had black velvet half-back collars, not everyone wore a Drape with a velvet collar and this is largely a matter of choice. The most common colour for velvet trim has traditionally been black, although during the 1970's many other colours appeared such as red velvet trimming. However by far the most authentic colour worn in the 1950's is definitely, black, although brown and grey are acceptable colours.
Again how much velvet trim you have on your suit is down to you, for instance you can have velvet on the collar and velvet on your cuff (as Crazy Cavan sings on the song 'Wildest Cat in Town') with no velvet on the pockets, you can have velvet on the collar, velvet on the cuff, velvet on the pockets and velvet buttons (as was common in the 1970's), then you can simply have velvet on the collar or indeed no velvet at all.
Collar Styles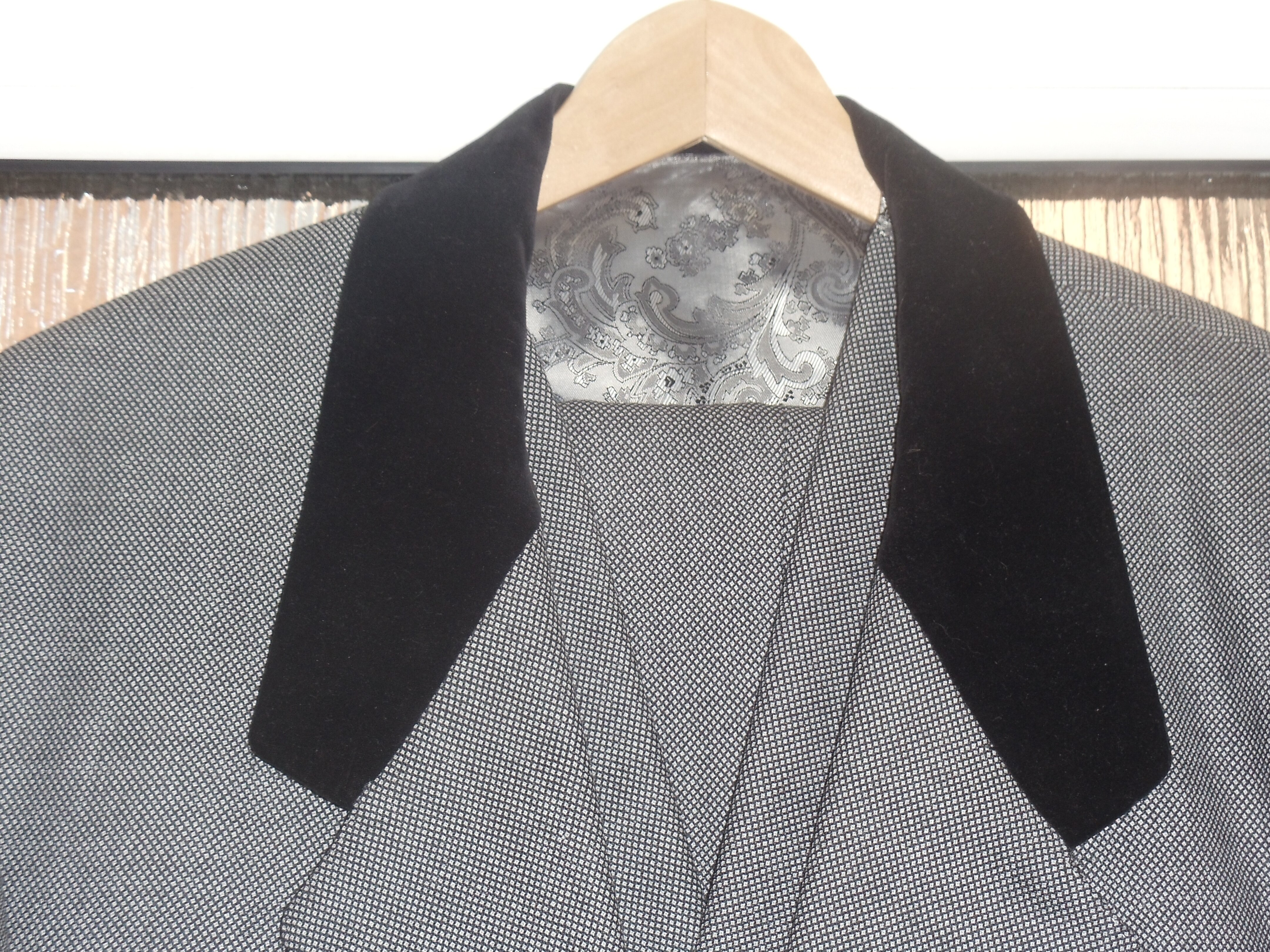 The most popular collar during the 1950's was the full half-back Black Velvet collar (as shown above), however laid-on, inlaid or in-set half-back Black Velvet collars (below) were also quite popular.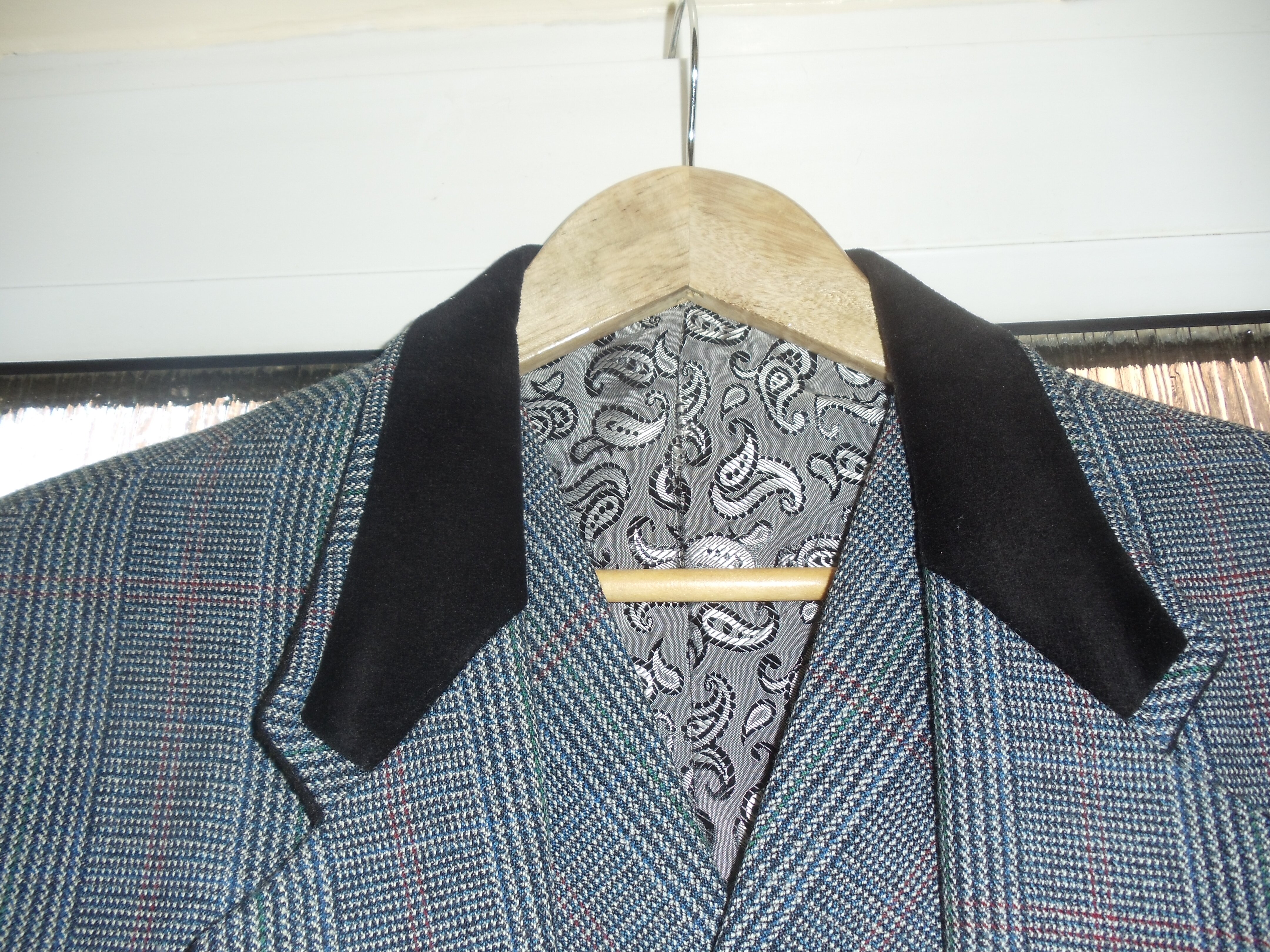 As time went on, the full rolled collar appeared, this was extremely popular during the 1970's especially with Drapes with half-moon pockets.
Back of the Jacket
These is a very important part of the Jacket as a pucker Drape has a whole back without any seam. The waist should not be shaped as with a conventional jacket and it should hang like a curtain, hence the name Drape jacket.
Length of the Jacket
Again this is down to personal preference, however a Drape Jacket should be at least "finger-tip" in length". Most Drape jackets are either "finger-tip", just over finger-tip or knee length. A number of Ted's prefer longer drape jackets (over knee length) which resemble American Western 'Gambler Coats'.
Pockets

This is largely a matter of preference, however the cut of the jacket will help you determine the type of pockets that will go well with the cut of the jacket.
As far as breast pockets are concerned, most Drape Jackets have two pockets of varying styles, however there is no reson why you cannot have a single breast pocket. Many original 1950's Drape Jackets had these. You can be a single conventional 'welt' pocket located on the left breast of the jacket. Alternatively you can have a single jetted or more commonly two jetted breast pockets. Flap pockets are also very popular breast pockets, especially for closed front Drape jackets. Often a combination of flap hip pockets and jetted breast pockets is also quite popular. Half moon pockets (a spin off from the American Country & Western style) started to become apparent on Drapes particularly with rolled collars in the 1950's and became very popular with Teddy Boys in the 1970's. Some
suits have a third pocket at the hip, the ticket pocket, usually located just above the right pocket and roughly half as wide. While this was originally exclusively a feature of country suits, used for conveniently storing a train ticket, it is now seen on many conventional suits and is an interesting feature for a Drape Jacket that adds a bit of panache'.
Bottom of the Jacket
This ideally should be with straight bottoms to compliment the straight cut of the jacket although some Drape Jackets have rounded bottoms.

Style of the Lapel
Again, very important. lapels vary in width with the original Edwardian style between 31/2" and 4", later periods widths vary between 3" and 11/2". Lapels on open fronted jackets normally finish at the point between the naval . Although if you go for a 3 or 4 button suit the lapel may well be smaller and finish between the nipples of your chest. You may wish to have a buttonhole inserted to hold a Poppy or badge, this should be inserted on the left lapel.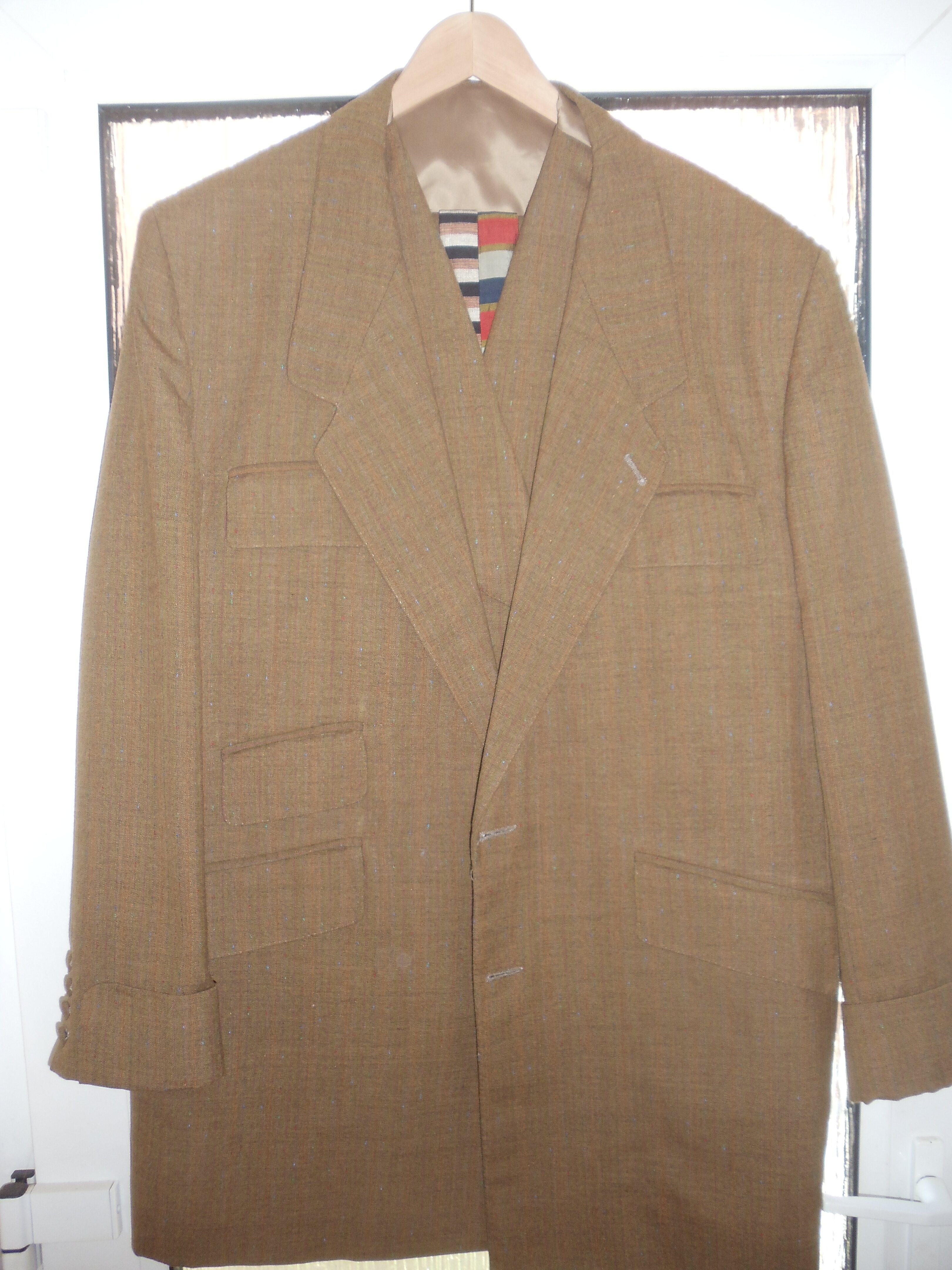 Stitching
On your suit, this can have the effect of making it look totally different. A hand stitched suit always looks that bit better, it looks like a lot more effort has been made in it's creation.

Lining and Material
This is always a personal thing, but most Ted's should have at least one mohair suit in their wardrobe as this cloth is light-weight and ideal for warm Dance Hall's.

Cuffs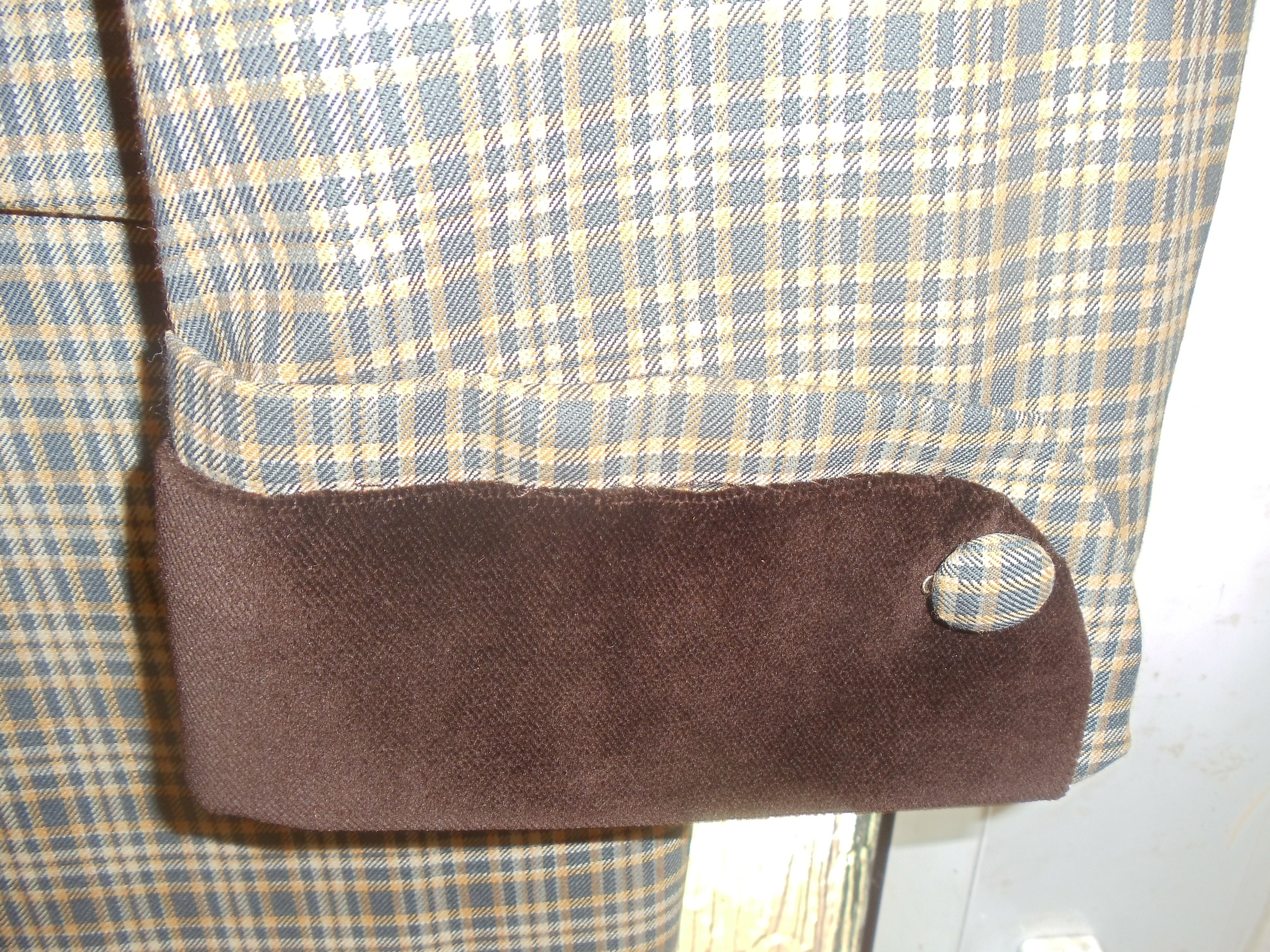 For your suit, you have a choice of either double (also known as a french cuff), vandyke or plain cuff design. Most Drape jackets have double cuffs of varying styles with some being half double or full double cuff and some with a combination of double and plain cuffs. Double, or French, cuffs, are folded back on themselves. French cuffs were once considered to be more formal than button cuffs With the plain cuff, you can always ask for it to be made so it does actually "undo", these are known as "Working Cuffs" and can be opened open at the wrist, and are traditionally associated with bespoke tailoring.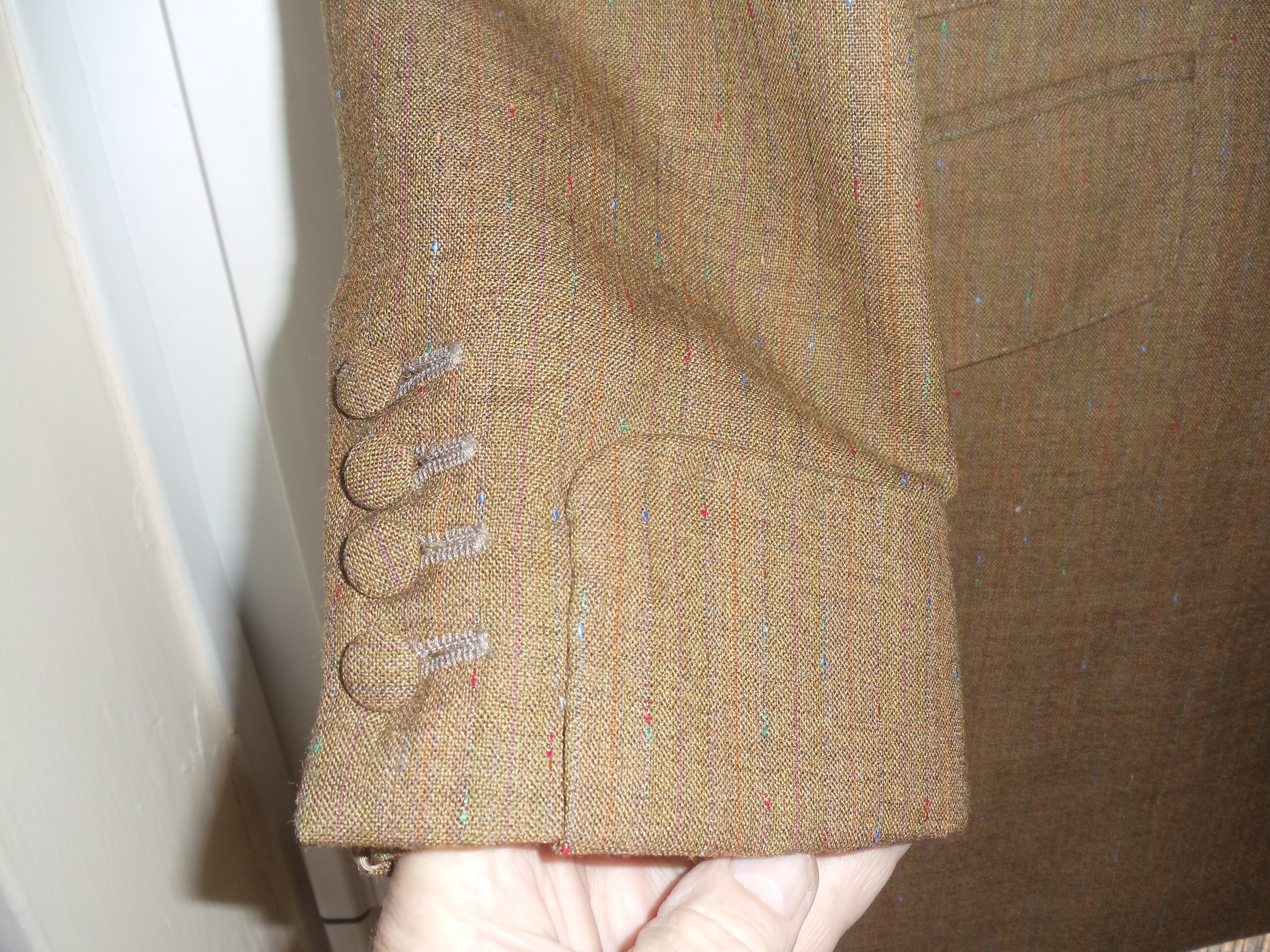 Buttons

On a suit, buttons can be plain or covered with either the cloth of the suit or with the velvet of the suit. The number of buttons on the suit varies with the style of suit. Most open fronted single button suits have a link fastening, whereas most closed fronted suits will be of a four button opening. Cuff buttons will normally be much smaller in diameter than those at the front of the suit.

Half belt

This is not a very common optional extra. You can have it plain or with two buttons at either end.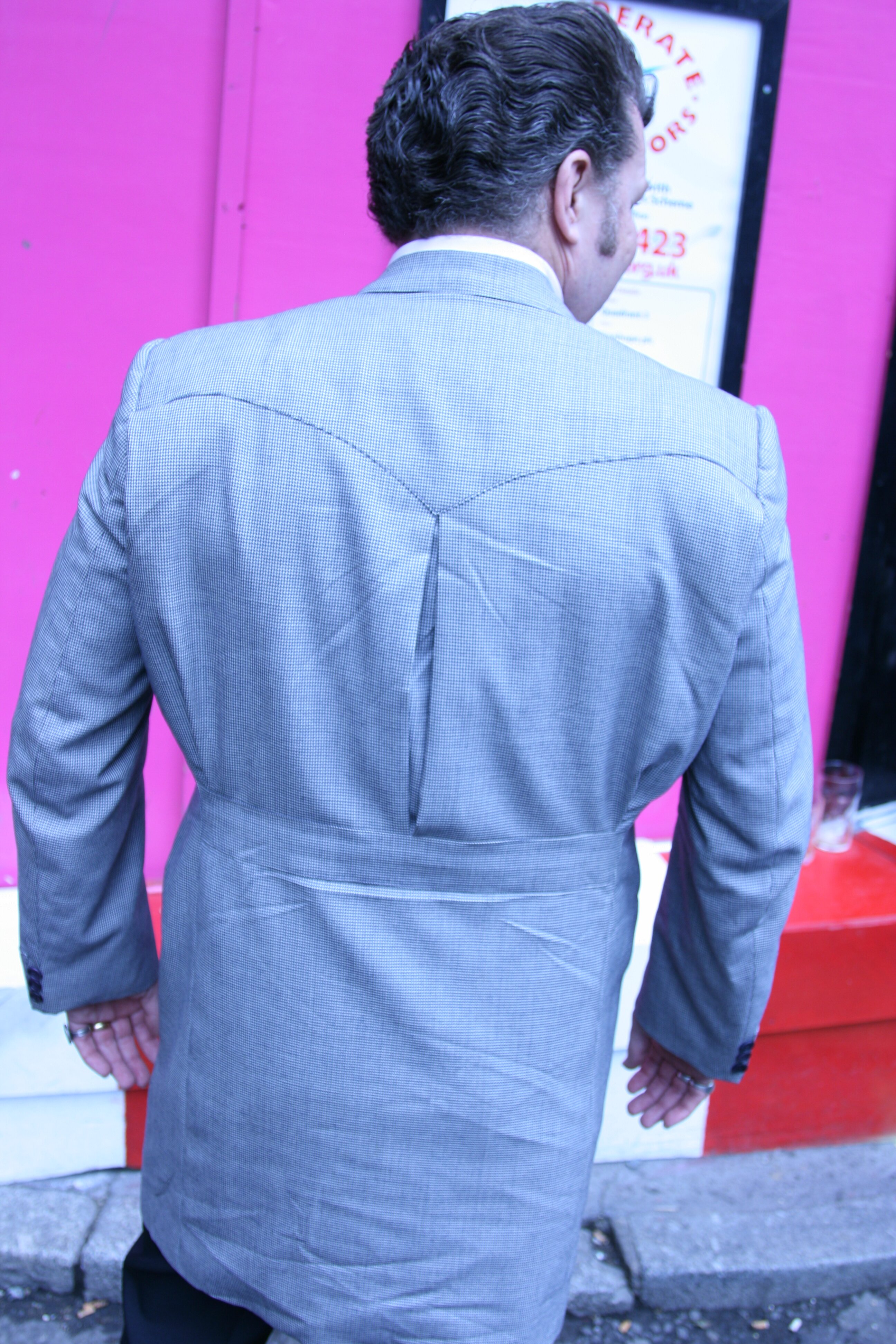 Martin Heaphy wearing a Dog-Tooth Drape Jacket with a Yoke (Western style) pleated back with tapered-in waist and half belt - a very unusual design in a Drape Jacket.
Cut of the Trousers
The first thing to consider with trousers is the cut of them. The waistband is personal preference as you can have high-waisted trousers that can be worn under a waistcoat or normal waisted trousers. High-waisted trousers or hipsters can vary from a 5" rise up to an 8" rise. Do you want belt loops or bracing buttons for braces - you need a well made waist band for these. Most original 1950's trousers have twin or single pleated fronts with flat fronted trousers being far more common in the 1960's and 1970's.


Trouser Bottoms
The bottom of a pair of trousers can have many added features. Most trousers in the 1950's had 1-1 1/2 " turn-ups which complemented pleated fronts. The main reason for the turn-ups is to add weight to the bottom of the leg, to help the drape of the trousers. You alternatively may also want a small split in the bottom of the trouser leg with a button at the top of the split on the outward facing seam or a triangular shape cut into the seam. A pair of trousers with the bottom of the outward facing seams sewn back in butterfly style can also look smart with a small button on each flap.
Although trousers worn by Teddy Boys have traditionally drainpipe (narrow) bottoms, the original Teddy Boys would have worn a slightly wider bottom that would complement a pleated fronted trouser and would be more likely to be 15 to 17" in width. A flat fronted trouser would lend itself to a more narrow bottom such as a 14" bottom such as that more commonly worn in the 1970's. However the trouser width is very much down to personal preference and dependent on the trouser style.
Trouser Pockets
Pockets on trousers can be front facing frog mouth pockets like those found on denim jeans or vertical or slanted at an angle side pockets. This will depend on the style of the trousers and frog mouth pockets would suit flat fronted trousers whereas vertical or slanted pockets would suit pleated front trousers. Rear pockets can be jetted, welted or flap pockets depending on preference.

Belt Loops
Belt loops on trousers can be many different styles, varying from 2" thin loops to 2" tunnel loops. The tunnel can be any length from 1" to 4", or maybe a continuous tunnel all the way round. "Epilete belt loops" can be another option to consider, although these tend to be a bit of a Mod concoction.

Trouser Buttons
Buttons on trousers can also be covered, or normal but never mixed. A button inside the trouser will take pressure off the outside zip button, which can be a french bearer style.

Trouser Lining
A nice touch is a lining in the trouser leg.
Cut of the Waistcoat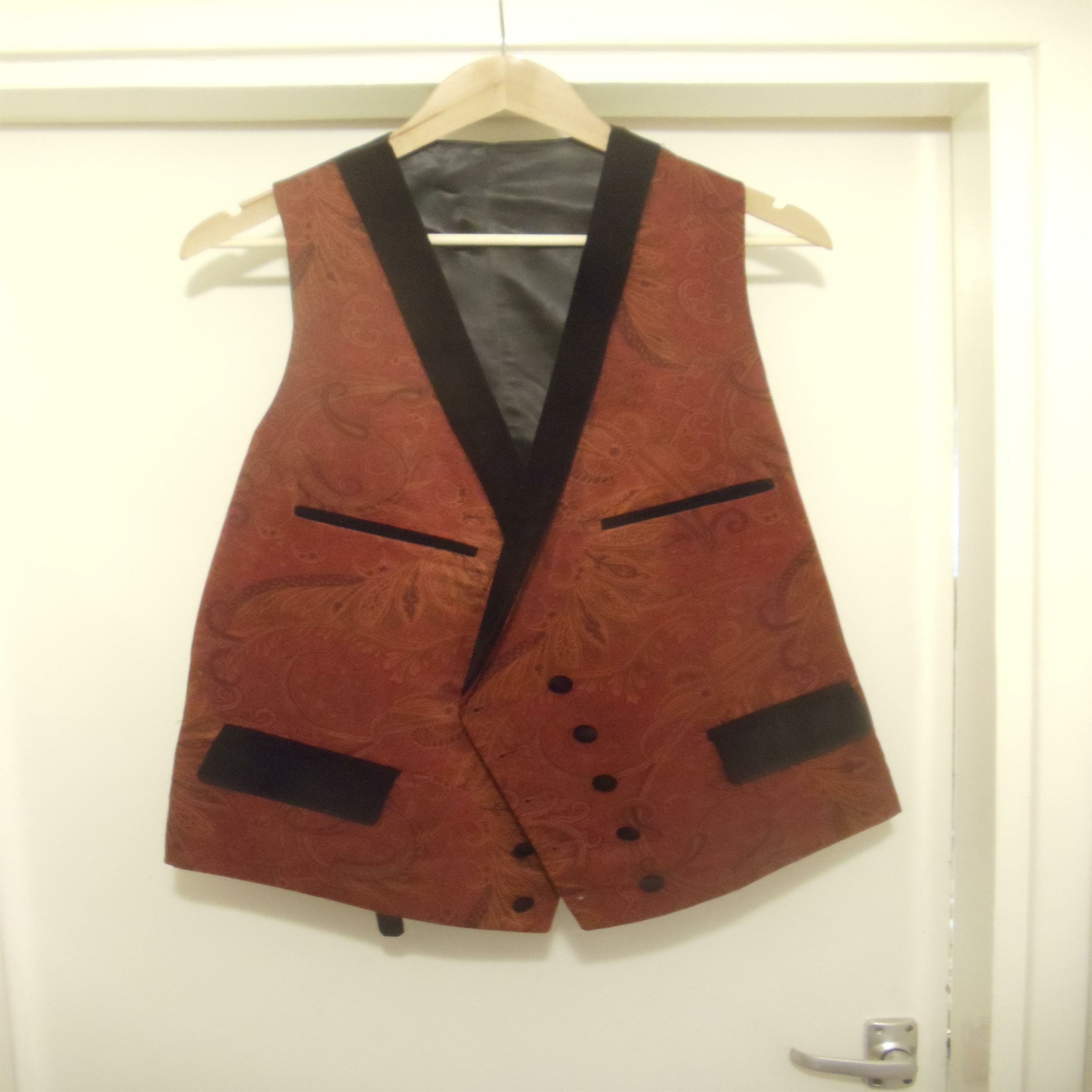 ______________________________________________________________________
Tailors who make Teddy Boy Suits
Below are listed a number of tailors and fabric suppliers that would be able to help you when having a new Drape Suit or Jacket tailored. You can obtain fabrics and get a suit tailored to Saville Row standard if you know where to find your fabric and which tailor to go and this is what this page is all about - to help you, the Discerning Teddy Boy who wants a suit of quality at a reasonable price that looks the business!
______________________________________________________________________
Oakwood Tailors & Formal Hire, 655 Roundhay Road, Oakwood, Leeds, LS8 4BA Tel: 0113 293 5180 - Tailor Charlie Butcher.
https://www.oakwood-tailors.co.uk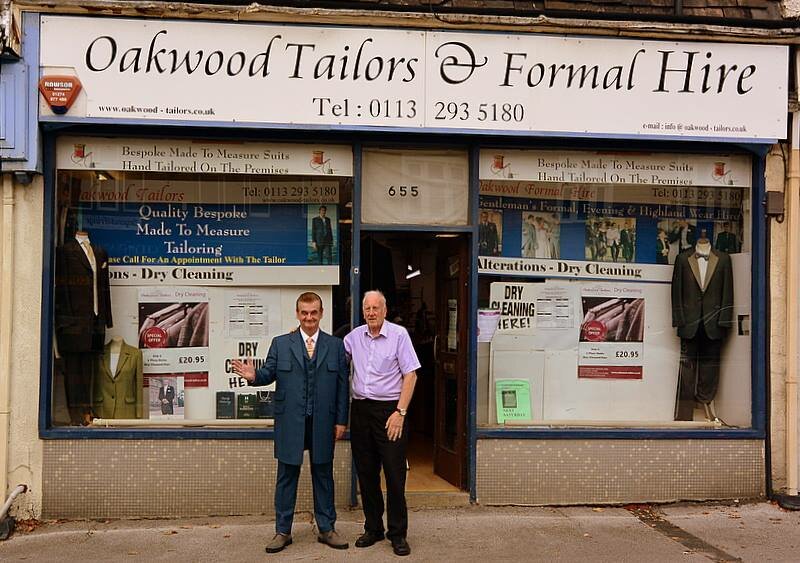 Nidge (left) pictured in a new 3 piece blue check Drape suit tailored by Bespoke Tailor, Charles Butcher (right) outside Oakwood Tailors in Leeds. October 2015.
Established in Oakwood, Leeds in 1997 with over 45 years experience in the bespoke tailoring business, Charles Butcher knows how to make the discerning Teddy Boy look good in a bespoke suit.
______________________________________________________________________
Peter Smithard, Tailor 134 Domestic Street, Holbeck, Leeds, Yorkshire LS11 9SG (Sadly died and no longer in business)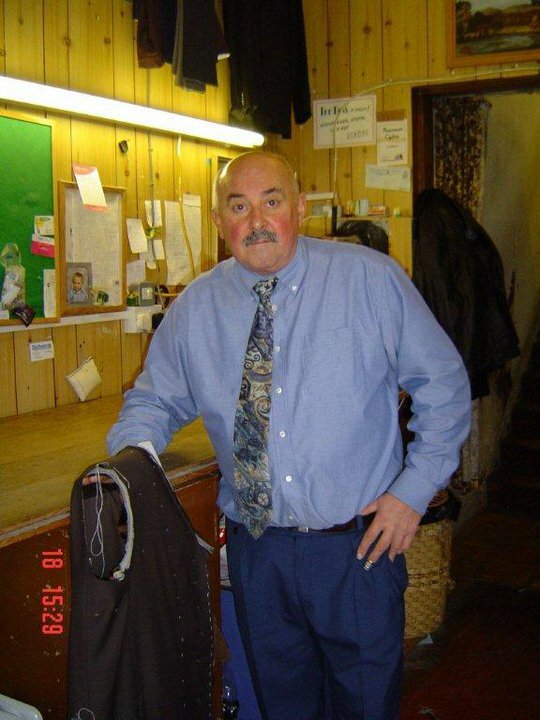 A photo of the late Peter Smithard, Bespoke Tailor of Holbeck, Leeds taken in 2004. (Courtesy: Sue Billam.)
PETER SMITHARD. Peter was situated in what was once the heartland of English tailoring, the West Riding of Yorkshire, Mr Smithard belonged to that rare breed - a tailor and cutter who makes the entire suit for you. This was a chance to go fully bespoke for between £250-£700. Refreshingly there is no web site, so telephone 0113 243 3880 for an appointment. Peter was an excellent value for money tailor and made Teddy Boy Suits and Jackets etc. for a number of well known Teddy Boys, particularly in Yorkshire.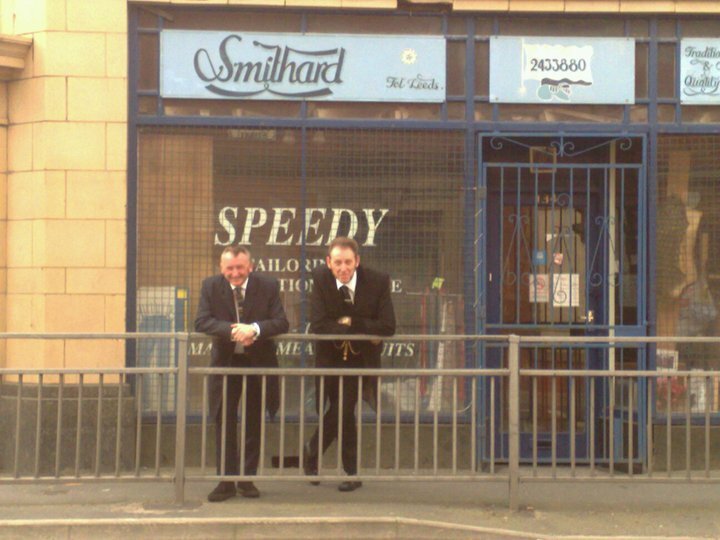 Huddesfield Teddy Boys Brian Nicholls and Steve Moore outside Peter Smithard's shop in Holbeck, Leeds in early 2011.
_______________________________________________________________________
C. E. Seymour Tailors, 10 Bootham, York YO30 7BL. (Now, no longer in business.)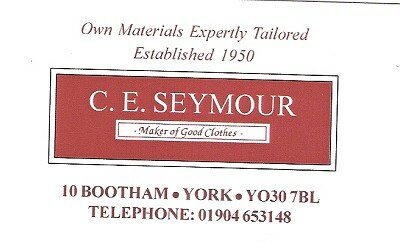 A very old established York Tailor who makes Teddy Boy suits for York area based Teds. He isn't cheap, however he give great attention to detail.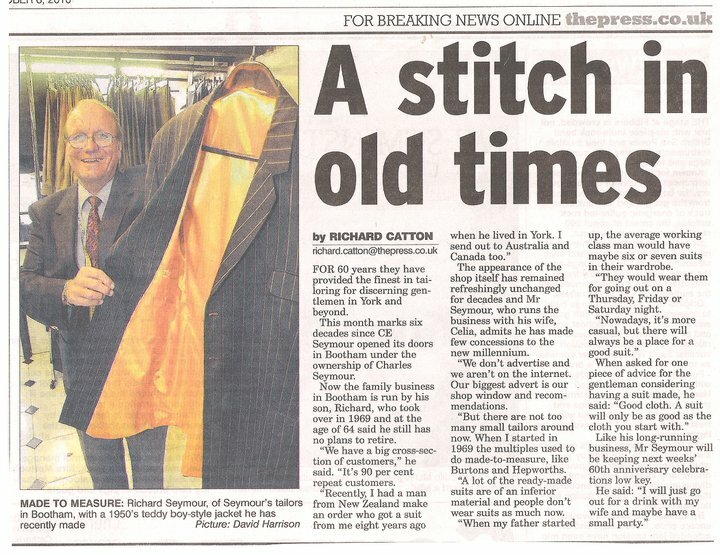 This suit was made by Richard Seymour for York based Teddy Boy, Dave 'Melbourne' Williamson - Black with Gold Pinstripe.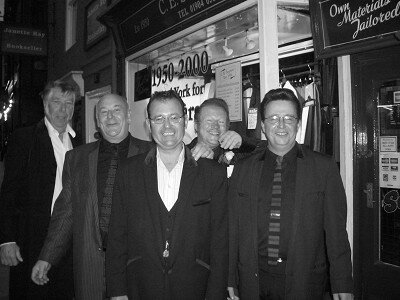 Howard, Dave (Melbourne) Williamson, Chalkie the Yorkie and Graham Neyt outside Seymours the Tailors in Bootham, York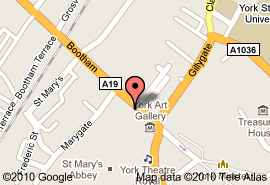 _______________________________________________________________________
Suit Length & Fabric Centre
Bateman Ogden & Co Limited, Argyll House, 918 Wakefield Road, Bradford, Yorkshire, BD4 7QQ
Tel: 01274 729103 Fax: 01274 720818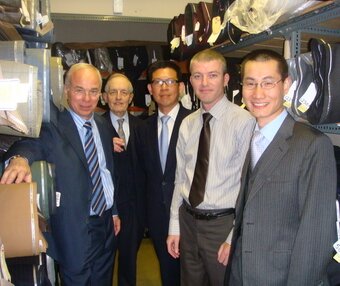 Bateman Ogden & Co Ltd (Est. 1881) pictured with Chinese company officials from Camellia Universal to promote the finest English cloth to China in May 2010.

Suppliers of one of the widest ranges of suit lengths in England with many locally spun materials manufactured in the West Riding of Yorkshire. Huddersfield and Scottish Worsted suitings, jacketings in pure new wool, wool/cashmere and tweeds. Ladies Fabric Department. Mail Order Service.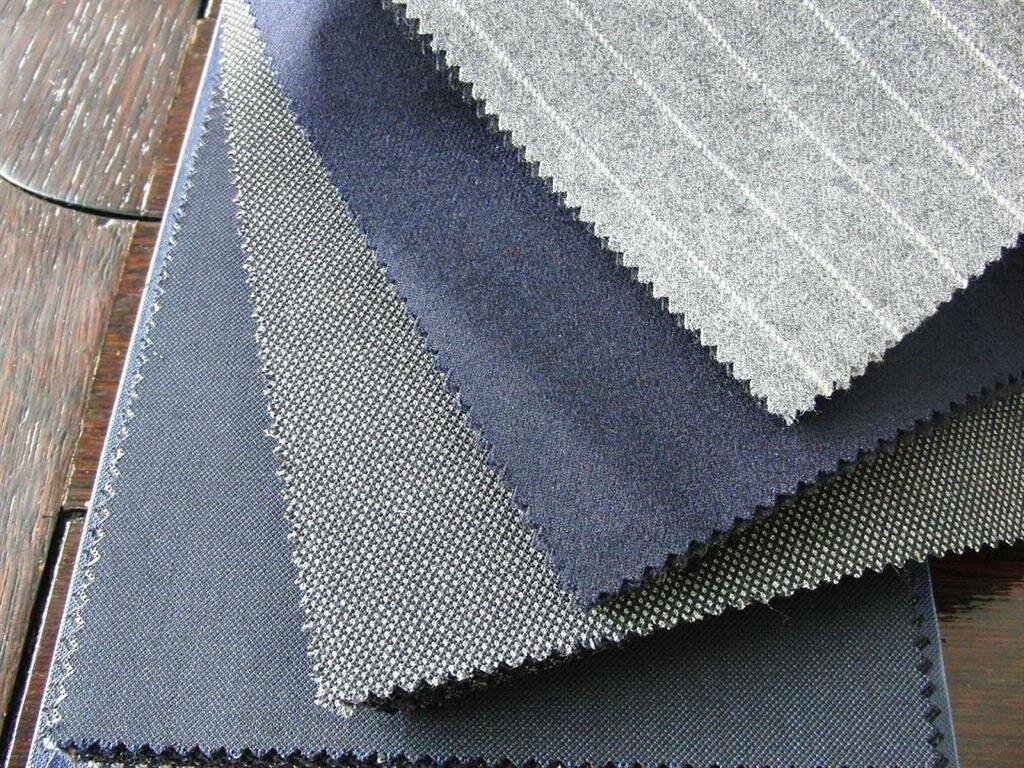 Very reasonable prices compared to London suppliers, well worth the visit - an Aladdins Cave for the decerning Teddy Boy.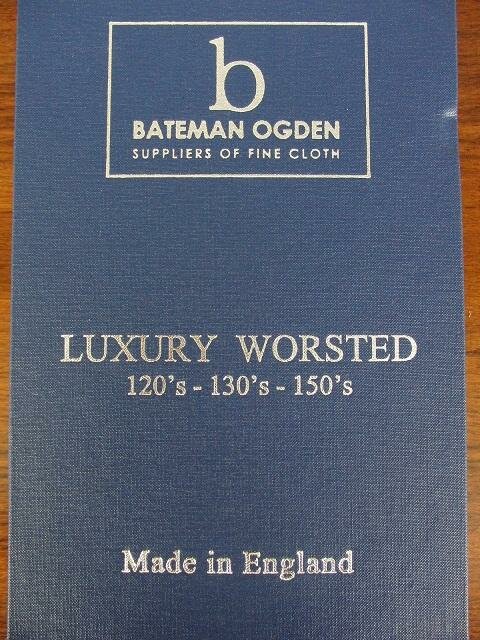 _______________________________________________________________________
Colin Taub, Tailor to T.E.D.S., Unit 11, Broadway Market Mews, Hackney, London E8 4TS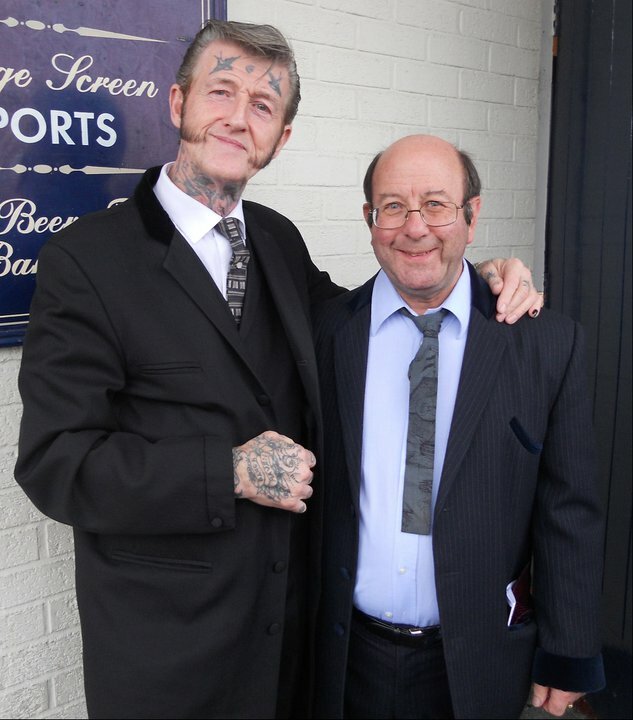 Colin Taub is a name known to most Teddy Boys and is a specialist tailor and has been long established as a family business for over 30 years in the East of London. Colin Taub has been specialising in the tailoring of Edwardian Suits, Drapes & Drainpipe trousers for a number of years Colin Taub is the official tailor to Bill Haley's Original Comets. Tele: 020 7275 9735 Mobile: 07801 549251
https://www.myspace.com/colintaubtailors#ixzz0zFOFyt1n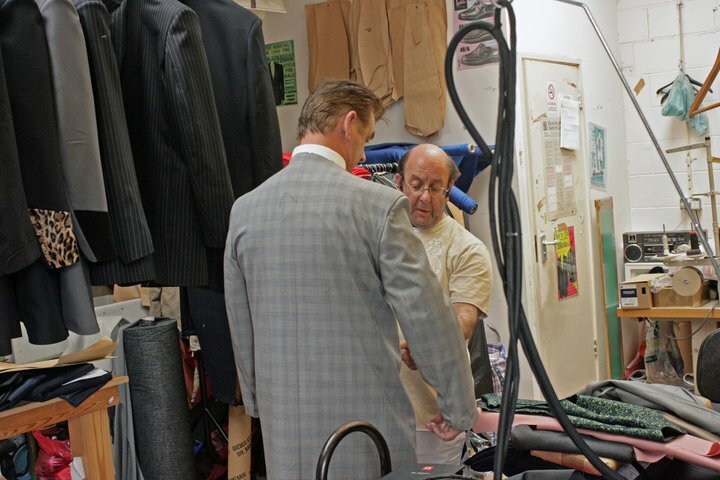 _______________________________________________________________________