A first-hand account of growing up as a Teenager and the Teddy Boy Scene in Bolton, Lancashire between 1957 and 1960.
A first-hand account of growing up as a Teenager and the Teddy Boy Scene in Bolton, Lancashire between 1957 and 1960.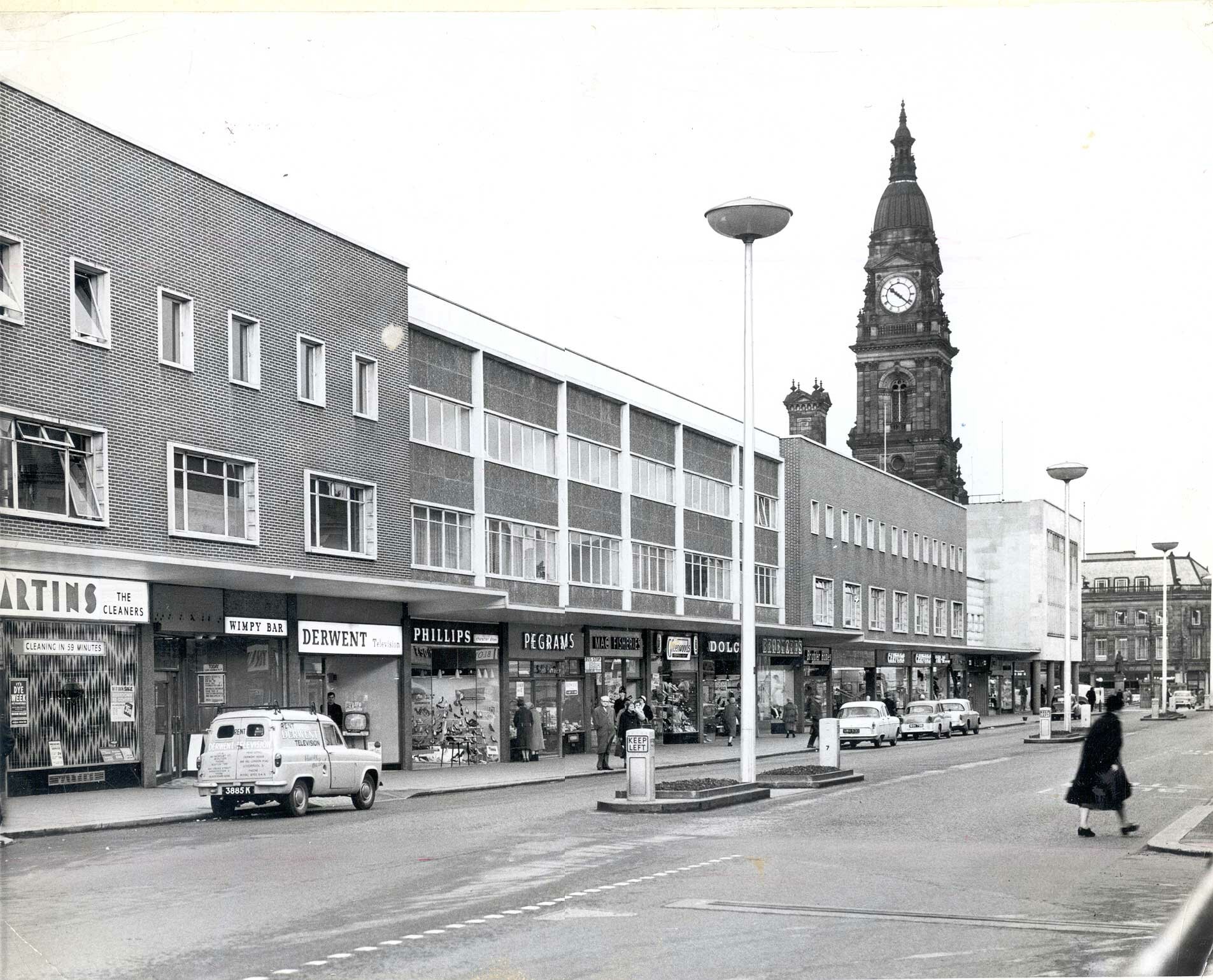 Newport Street, Bolton, Lancashire circa 1960.
In 1957, there were still the old original Teddy boys, and girls, from the early '50s. The boys wore grey or pale blue drape suits, with black or navy velvet collars, usually smothered in dandruff and Brylcreem! They had black or white shirts with thin ties or bootlace things with a metal pull-up thingie to adjust them. Some were almost strangled with their own ...ties after the inevitable fights, or risked their legs being broken running for the trolley bus to Farnworth Monaco Dance Hall, and getting their knee caught in the plethora of buttons, sometimes one, sometimes 12, in a space of 6 inches, at the bottom of the jacket! They all had acne, due to the amount of grease they smothered on their D.A.s Brothel creepers completed the outfit.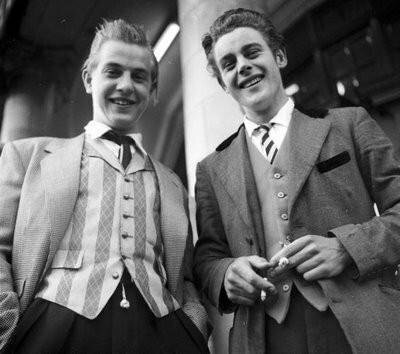 The gals wore calf-length black tight skirts, white or blackslash-neck sweaters, ridiculously-padded pointed bras, nylon stockings with seams and flat black ballerina shoes. Their hair was like the boys, but they wore big white button earrings. They all slapped on Max Factor Panstick makeup, so consequently most of them also had acne.
They frequented the Monaco, which was quite posh, but that didn't stop the fighting, Swinton Palais, the Academy,('Cad,|) in Salford, and the Lyndale in Eccles, plus The Horseshoe and Shamrock pubs in Little Hulton, and The Gas Tavern, Peeping Tom, and Fox on Regent Rd. They'd drink pints of mild, and the girls'd have halves. There would be a fight every Friday and Saturday night, usually over a girl, or because someone criticised another's dress sense. They would reputedly, use coshes, knuckle dusters or stilettoes, but all that was exaggerated and stuff of B-grade films. They usually kicked, punched and bit one anothers' ears!
The cafes de rigeur were the soda and sarsparilla sweet shop in L.Hulton, and Hurleys Milk Bar on Eccles New Rd. in Salford. They danced a very tight jive, hardly moving, with the girls doing the work, but still quite restrained, except for some nutters, like Lol, afairground worker who wore a red drape suit and just threw himself all over, shaking. Everyone used to stand round him and clap to the beat, but it was not dancing, more like status epilepticus! (Perhaps it was-poor bugger!)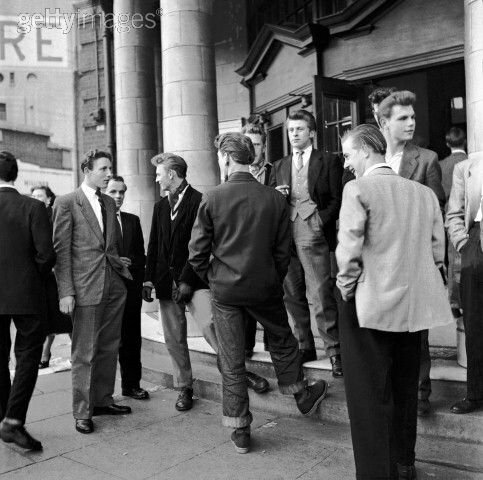 There was also the "Routine", which ONLY the boys were allowed to do, a bit tribal when you look back. It was a bit like the steps The Shadows with Cliff Richard used to make, but 12 of them in a row. Sometomes they used to get a bit carried away doing that, and jump about a bit.
They were the old brigade and liked Johnny Ray and Guy Mitchell, then Elvis, Tommy Steele, Eddie Cochran, Chuck and Bo, the Platters, Bill Haley, Screamin' Jay Hawkins, Larry Williams, and some old jazz/blues singers. Johnny Ray came to Manchester and there were riots outside the Midland, with several hundred teddy girls screaming. The girls began the change by becoming Bobby-soxers, wearing same as above, but with short white socks, which started the American trickle, which then
became a
flood.
I was one of the Sweet little Rock'n'Rollers, being 14, whilst the older ones were the Rebels Without a Cause. I only had 2 teddy boy-friends, one of them Fred the Ted, from Farnworth. That was a short-lived rapport as I couldn't understand his ees and aars, and he called me "Luv" all the time. Fred disappeared back to the wilds of Farnworth after my Mum waved an umbrella at him, because I was 5 mins late home. (9.05pm!) The other was Tony, who was a "proper" tall, thin, ted. He was dark and greasy and had a scar on his chin from the army.(Think he'd cut himself shaving!) He was the one my Mum thought was wearing an overcoat in Summer, but it was just his mega-longjacket. He had a motorbike, a BSA, but told me he was getting a Norton Dominator, so I stayed with him for a while, until he didn't get theND. Anyway, he was a bit cross-eyed, but quite attractive with it in a strange way, as it went with the gear. My Dad said he was shifty, so I ended it and started going out with Duffy.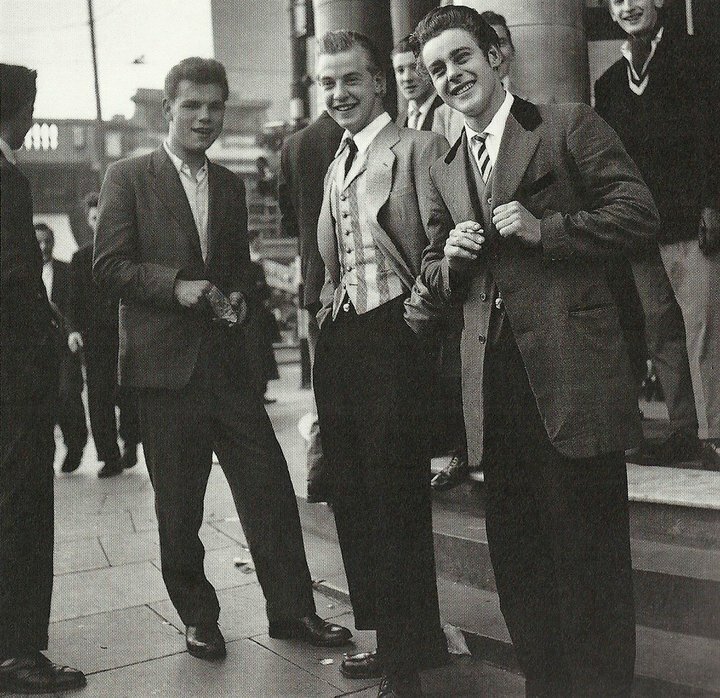 Duffy was like me, in mid-1957, one of the new rock kids. He and his mates wore black sweaters with a white stripe down the sleeves and music notes on the front, over a white shirt with the collar turned up, black jeans and black suede beetlecrushers or white tennis shoes.They had "hybrid" haircuts, a bit teddy boy DA and a bit American crew cut. Crew cuts eventually seemed to take over. The girls, myself included, wore rolled-up jeans, white t-shirts and check or white shirts worn outside and open, with white socks and tennis shoes. We wore our hair long, with pony tails and fringes, and chewed Wrigleys Arrowmint whilst riding past the boys on our bikes, with a "proper"bottle of Coca Cola nonchalantly held in one hand, the other on the handlebar.We went to Bolton Palais, the Monaco, The Co-op, and St Edmunds Youth Club, where Father Loran used to come and bop a bit,trying to bond with us.
Whilst the teddy boys had been totally the bosses in a relationship, we were ever so slightly more easy-going, and a girl could be the most popular and influential person in the gang. My friend, Jean Brannie and I used to compete for that in our gang. For going out bopping, (we no longer called it jiving, and we said hip instead of hep,) the boys wore black pants slightly too long, so that they creased a bit over their 14 inch bottom pants and white socks and black suede slip on crushers, and a white jacket over a white or black shirt, buttoned up, but no tie. The girls wore black felt full-circle skirts and frothy white nylon petticoats, which crackled and gave you electric shocks in the knees, with white lace sleeveless tops and thick black belts.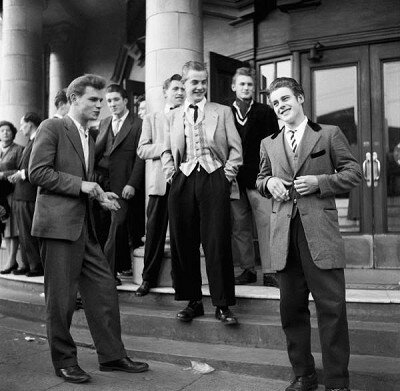 Our dancing was more energetic and boppy, with a bit of throwing
around, and we had the singers named above, but also newer and younger ones, doowappy groups like Frankie Lymon and The Teenagers, Little Anthony and The Imperials, and Buddy Holly, Duane Eddy, Little Richard, Fats Domino, Rick Nelson, Frankie Avalon etc. The girl singers were only really Connie Francis and Brenda Lee. We used to try to go to the Shamrock but were usually thrown out quite swiftly, as the look was different to teds, much more youthful and, let's face it, we were kids. I remember once that my mate and I dressed up in trench
macs, with belts pulled tight, high heels, and fags hanging out of our mouths, (trying to look French,) and went into the Shamrock. I didn't know what to drink, so I ordered a pint of cider, (unheard of for a female in those days!) and we were again shown the door. We used to instead, buy bottles of Babycham or Cherry-B from the offie, and drink them behind the youth club.
In 1958, there was a huge Italian influence on fashion, although the only songs were Come Prima, and Volare! The boys began wearing suits with short, boxy jackets, tapered knife-edge trousers, waistcoats and winklepicker shoes, with white button-down shirts and red thin ties and a matching handkerchief, (usually a bit of red cloth on a white card, which slipped into the top left-hand pocket of the jacket.)
Their hair was side-parted and very short, called a flat-top. That was when the music died, as Don McLean sang. Music became more middle road and poppy, rather than rock, and I didn't like most of it, preferring to stick with Chuck, Bo, L. Richard, Fats etc. I did embrace the fashion though, polo neck sweaters, tight skirts to just on or above the knees, pointed white shoes and Brigitte Bardot hair, with pale makeup and lips, and very black eyes.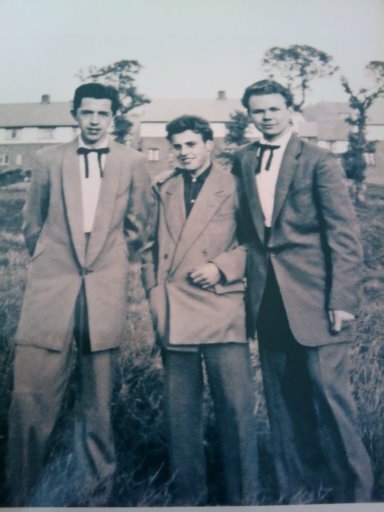 The dancing changed with the music and the dress, and became more "sophisticated", a bit more restrained, as it was hard to move with the tight skirts and suits, and The Twist evolved with the Italian look. The singers became more like the ones in the early 50s, with no wild childs, or very few, and although the hot Summer of 1959 loosened people up a little, there was nothing of any great note in that year, Bobby Darin,(Mack The Knife,) Marty Wilde, (Teenager in Love,) but some good black American stuff like Ben E. King, Santo and Johnny, and someone called Johnny Tillotson. The music from then on didn't change, and although there were still some old die-hard teds in the dance halls, they were becoming a bit of a joke to the new Italian-suited younger ones of my years. The refreshing person of that year in the UKwas Adam Faith, with "What Do You Want?" which caused a stir by his music style and his dress style.
By 1960, we had Fabian, Bobby Vee, and a load of pretty American boys very similar, singing pop and schmaltzy songs which were good to smooch to. Smooching was very popular, and music becoming more sexual, in words and nature, but no longer rawly-sexy, as rock'n'roll had been, in a completely innocent way.
I was then frequenting different Palais, as was everyone who was anyone, including lunchtime dancing in Manchester, at The Plaza, with Jimmy Saville as a young DJ, then we'd go back to work. I was at the CIS at the time. Our cafes were becoming "continental", with the Bodega club-cafe in Portland St. and The Casablanca, in Bolton, which was painted white brick walls, with candles in Chianti bottles, and cafe espresso.
Nothing changed much, boring singers like Helen Shapiro and Susan Maughan.(Please Don't Treat Me Like a Child, and Bobby's Girl, you get the idea?) Rock'n'Roll had become first, respectable, and was now completely controlled and becoming bourgeois, with rich kids who couldn't sing getting on the bandwaggon. For example, Lesley Gore, a yank millionaire's daughter, sang a puerile song called, "It's My Party and I'll Cry if I Want to," Her father apparently said, that if nobody bought the record, he'd buy a million copies, so that she'd get a gold disc.And she did. The sad thing was that the public bought the song, because there wasn't much else, and the words appealed to teenage angst,to which were devoted a lot of songs in those days, but all false.The only one I can think of hat I like at that time was wonderful, but still poppy, The Shirelles, Will You Still Love me Tomorrow, oh and Blue Moon by The Marcels.
I'm afraid that this was how it stayed until late 1962, when I was
sitting with Michelle on my knee, watching Scene at 6.30, and Bill
Grundy introduced a new group, The Beatles, singing Love Me Do. After that, there was a revolution, which made the teddy boy era, although hugely innovative, look like a drop in the ocean. No, that's not fair, The teds were the first ones after the flappers of the 1920s, to go against dressing the same way as your parents. So the teds did play a big part in the direction in which music and fashion combined at the time, and have done, ever since.