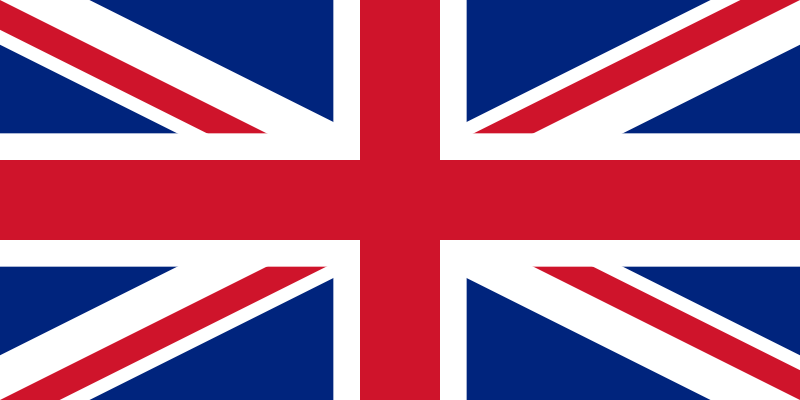 Welcome to the home and premier site of the authentic British Teddy Boy.
_______________________________________________________________________
Teddy Boys admiring the view on Clapham Common in 1954, a year after the infamous Teddy Boy Murder.
In 1953, the major newspapers reported on the sweeping trend in men's fashion across all the towns of Britain, towards what was termed the New Edwardian look. However the working class Edwardian style had been on the street since at least 1951, because the style had been created on the street by the street and by working class teenagers and not by Saville Row or the fashion designers.
_______________________________________________________________________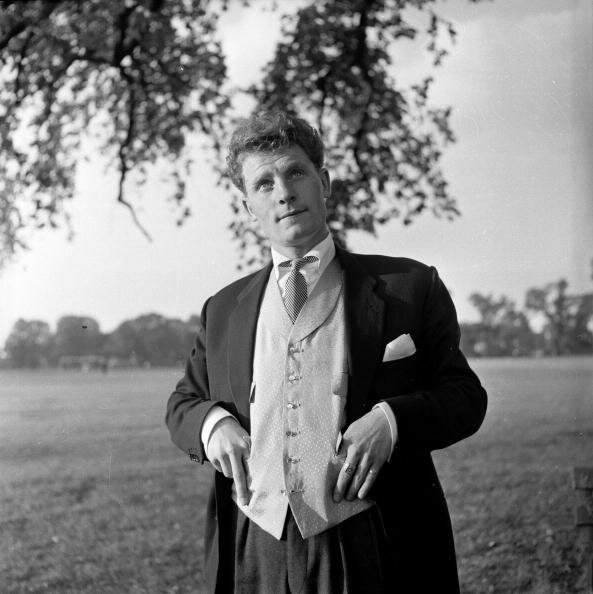 10th October 1953 London gang member Colin Donellan dressed in fashionable Edwardian Teddy Boy style on Clapham Common. One of the historic icons of the original Teddy Boy Movement.
The name "Teddy Boy", was not officially born until September 23rd 1953 when a Daily Express newspaper headline shortened Edward to Teddy and coined the term 'Teddy Boy'. Nevertheless, it is also known that a number of girlfriends of working class Edwardian's were referring to them as Teddy Boys well before the Daily Express used its media power to officially christen Edwardian's into Teddy Boys.
_______________________________________________________________
Alec Cruickshank, a clerk in a City of London shipping office poses ready to go into the Mecca Dance Hall, Tottenham, Middlesex (North London) on 29th May 1954.
Taken from the Picture Post aticle: The Truth about Teddy Boys.
In 1956, the film, Blackboard Jungle made its premier at the Trocadero Cinema at Elephant & Castle in South London. It was then shown thereafter at Cinemas throughout Britain. At the end of the film, the song 'Rock around the Clock' was played and at the Trocodero, Teddy Boys danced with their girls in the aisles and when cinema staff attempted to stop them, they rioted and ripped up the cinema seats with flick knives.
_______________________________________________________________________
29th May 1954 Teddy Boy, Frank Harvey pictured outside the Co-op in Tottenham, North London.
When teenager John Beckley was murdered by a Teddy Boy gang known as the Plough Boys in July 1953 after a fight that started on Clapham Common, the Daily Mirror's headline 'Flick Knives, Dance Music and Edwardian Suits' linked criminality to clothes.
_________________________________
"These 'Teddy Boy' gangs must be broken up" said one London Magistrate.
_______________________________________________________________________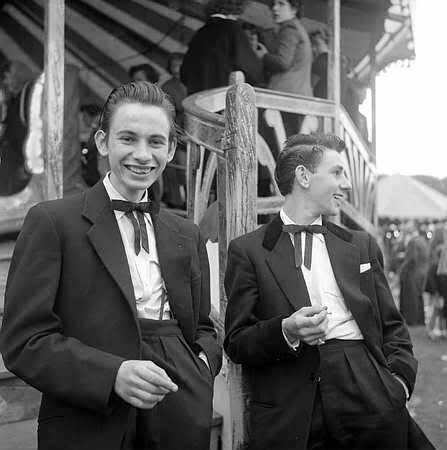 100 TEDDY BOYS FIGHT AT FAIRGROUND
The biggest Teddy Boy gang fight ever known in Leicester flared up at Saffron Lane Fairground in the second week in May of 1958. At the height of the battle, fairground workers joined in to protect their stalls and rides as many Police arrived on the scene. According to the showpeople, there were more than 100 Teds mixed up in the fight, and estimates the number of Police involved ranged from a dozen to nearly 30 or 40. A veteran showman, Mr M. Harris, said this was the worst fight he had seen since the Irish Gang Battle at Coventry some years ago. (The Leicester Mercury headline for May 11th 1958, read '100 Teddy Boys fight at Fairground')
_______________________________________________________________________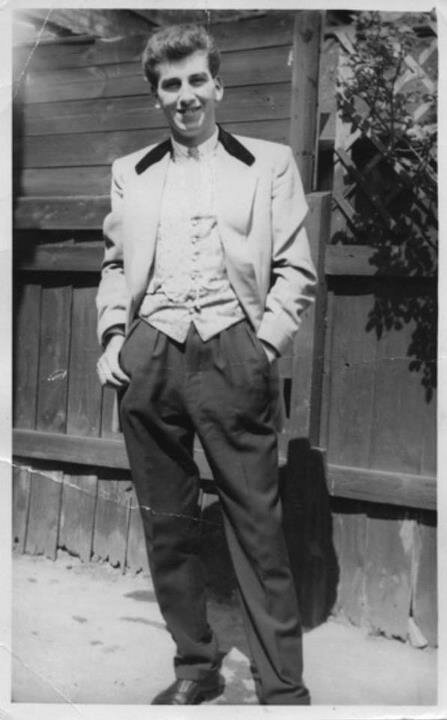 A well dressed Teddy Boy from 1956.

The first 'Best Dressed Ted Contest' was held at Canvey Island, Essex, during the August Bank Holiday of 1954. The winner was a twenty-year-old greengrocer's assistant.
"The Teddy Boy myth was born.''
_______________________________________________________________________
Events in the Edwardian Teddy Boy Calender in 2013
_______________________________________________________________________
_______________________________________________________________________
STOP PRESS
Rockhouse 58 Club - Royal British Legion
210 Broadway, YAXLEY nr. Peterborough PE7 3NR.

are hosting
"TEDS for HERO'S"

on

Saturday 13th April 2013
with special guest star of the 2i's Coffee Bar,
the Legendary

WEE WILLIE HARRIS

appearing live with the fabulous
'The Fireballs UK'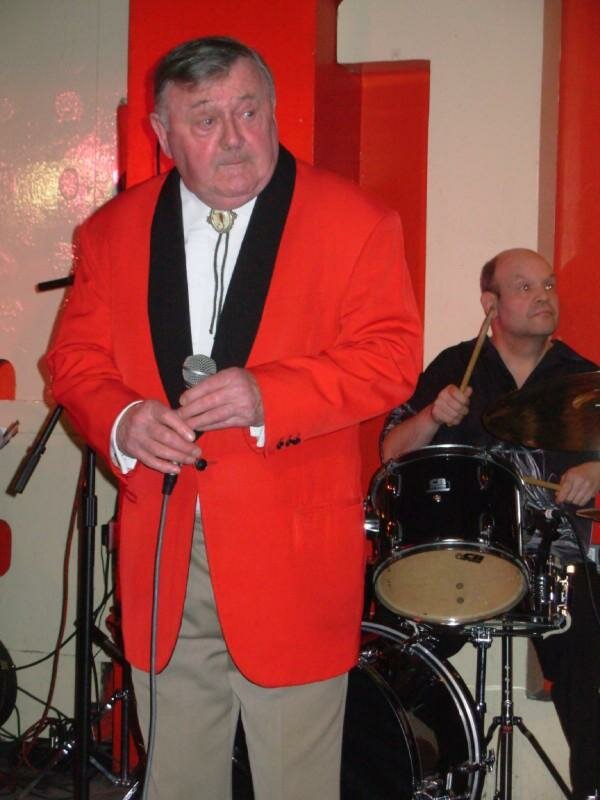 Message from Martin Smith of The Fireballs:


"On Saturday April 13th, the Fireballs U.K. are honoured to be playing at the "Teds For Heroes" gig for Rockhouse 58 club at Yaxley. I say "honoured", because joining us on stage will be British Rock'n'Roll legend Wee Willie Harris. He has chosen to sing a lot of his Decca 1957-60 material in his set with us, and we've been asked to learn songs like Rockin' At
The Two I's, Love Bug Crawl, Rosie Lee, Wild One, I Go Ape etc. This is going to be a sensational night. and we're working hard to make a good job of backing Willie on those Decca recordings."
DIRECTIONS: JCN 16 A1M Yaxley turn off - follow A15 to traffic lights at Yaxley and turn right into Broadway (B1091) Royal British Legion Social Club (is on the left hand side) at 210 Broadway YAXLEY, Peterborough PE7 3NR. ROCKHOUSE 58 Club is accessible from the side of the RBL Car Park. Come and have a Great Time for only £7.00 - I know we will!
Prior to the Event, there will be a
TEDS in PETERBOROUGH Pub Crawl

Meet at the Saturday 13th April 2013 starting at the Brewery Tap, 80 Westgate, Peterborough, PE1 2AA at 13.00 (1 pm) which will include a number of Peterborough Pubs including the Wortley Almshouses, the Bull Hotel, the College Arms, Broadway and then via Fitzwilliam Street culminating at the Ostrich Inn (Free House) and North Street Bar with a Rock 'n' Roll Hop managed by Dave Grant from Whittlesey.
We will then depart for YAXLEY at around 5.00 pm for a great night with the fabulous FIREBALLS UK and the Legendary WEE WILLIE HARRIS.
_______________________________________________________________________
STOP PRESS!
Teddy Boy Photo Shoot in Manchester
Easter Saturday 2013.
The now Footage Pub - site of the former Grosvenor Picture Palace at the junction of Grosvenor Street and Oxford Road, Manchester M1 7DZ.
The Manchester Evening News are preparing an article on the Teddy Boys. There will be a photo shoot at the Footage pub (formerly the Grosvenor Picture Palace) on Oxford Road, Manchester in the afternoon (they want good light for the shoot) of Saturday 30th March 2013 (Easter Saturday), so you will need to arrive between 1 and 1.30 pm. THIS IS AN IMPORTANT EVENT, and ALL Teddy Boys and Teddy Girls are welcome. The Manchester Evening News have requested that all the 'troops' (their words) wear their full drapes.
The Footage pub has been chosen because it was formerly the Grosvenor Picture Palace in the 1950's and the site of some now classic photos of Manchester Teds in 1955, so it is a good location for the shoot. There is also free parking there in the afternoon. There is an increasing interest in the 1950's in the media at the moment, and specifically in the Teds.
In our opinion, we should aim to present ourselves as the guardians of this great British tradition The Edwardian Teddy Boy (because no one else does) and not miss this opportunity. Thank you all in advance - organised by Teddy Boy Julian Lord, author of TEDDY BOYS A Concise History.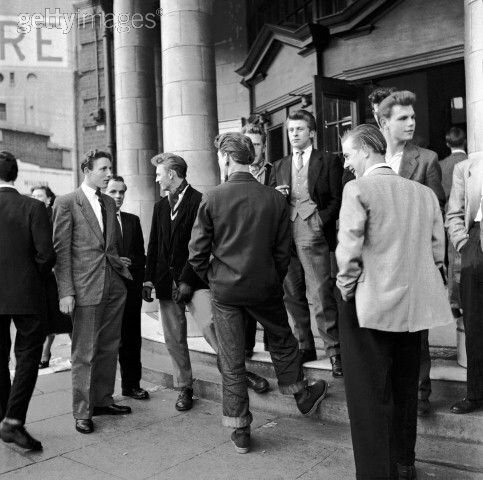 Teddy Boys outside the Grosvenor Picture Palace, Oxford Road / Grosvenor Street, Manchester in 1955.
_______________________________________________________________________
John aka Rockin Nidge at Chorlton-cum-Hardy, Manchester in May 2013 wearing a John Anthony Tailored two piece drape suit of Charcoal with Royal Blue window pane and blue velvet collar. The cuffs are turned back pirate cuffs of 3 1/2" with opening buttons with 4" lapels and 17" bottom trousers.
______________________________________________________________________
Welcome to
The Edwardian Teddy Boy
a British Cultural Icon
John aka Rockin' Nidge pictured next to the Horsforth Hotel (locally known as 'The Friendly') at Stanhope Drive, Horsforth near Leeds in the West Riding of Yorkshire wearing a blue mohair 3 piece Drape suit made by the late Peter Smithard of Holbeck, Leeds.
_______________________________________________________________________
Edwardian Teddy Boy Steve Moore from Dewsbury, Yorkshire sporting a 3 piece Drape tailored by Oakwood Tailors, Roundhay, Leeds. Note the inlaid collar on the waistcoat.
_______________________________________________________________________
Welcome to the Edwardian Teddy Boy, a website dedicated to the British Teddy Boy history and culture. I am John aka Rockin' Nidge and have been a Teddy Boy for around 40 years, after first adopting the Teddy Boy style while at Secondary School in 1972. Clearly I am not an original Teddy Boy, I am a third generation Teddy Boy as I was born in the late 1950's when the British Teddy Boy was at its pinnacle. I later became part of what became known as the Rock 'n' Roll and Teddy Boy revival, which started around 1967 and became quite big during the 1970's.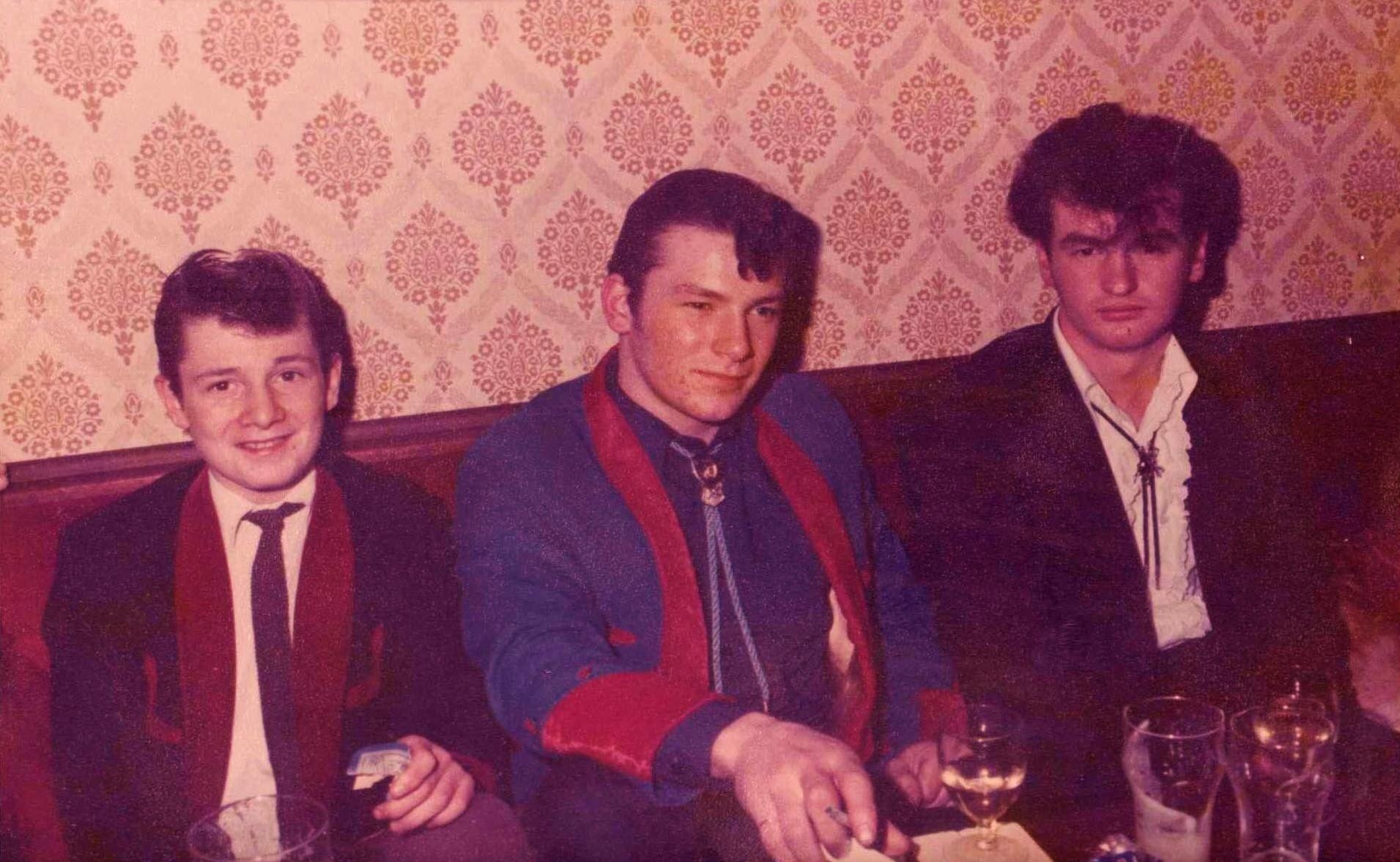 A 1970's picture showing then young Leeds Teddy Boys - left to right: Steve Sampson, Jimmy Fletcher and Nidge.
Towards the end of the 1950's when the number of Teddy Boys had started to dwindle, many of those remaining Teddy Boys had started to adopt brighter colours with narrower lapels and trousers. This is the time when Ice Blue, Maroon and Bottle Green drape suits became popular with black velvet trim with 2" lapels and 14" bottom trousers. This particular style would then set the scene for the re-emergence of the Teddy Boy some 10 years later in 1967 when the identical style became re-adopted.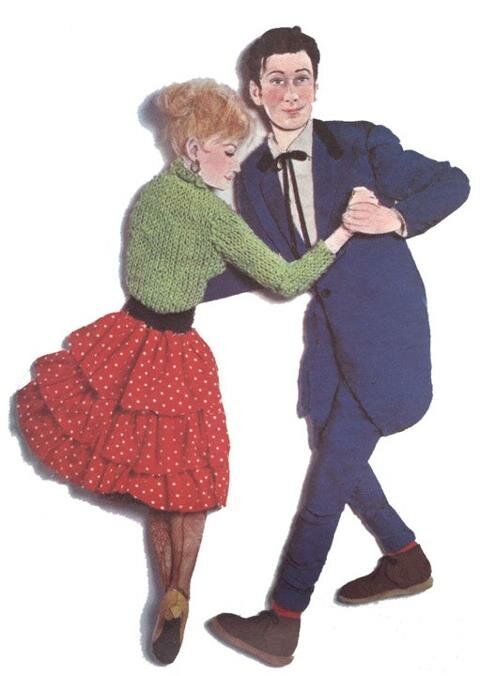 However, during the 1970's, the Teddy Boy style had become somewhat bastardised compared to the original Edwardian Teddy Boy of the early to mid 1950's where jackets were characterised by much more sober colours of black, grey, navy blue and plaid checks. This 1970's Glam Rock image was started when fashion designer Vivienne Westwood had started making glam Teddy Boy clothing for Malcolm McLaren and in 1971, they opened a shop called 'Let it Rock' at 430 Kings Road, London.
A group of Leeds Teddy Boys in the late 1970's showing the different coloured velvets, use of roll colours and half-moon pockets which were very popular at the time. Note many Teddy Boys at this time would also wear Leather Jackets which were a spin off from the Rockers of the 1960's.
As a result, the 1970's drape jackets were heavily influenced by this glam rock image which had perpetuated 1970's popular culture and much brighter colours were then worn. These colours included Scarlet Red, Royal Blue, Canary Yellow and in some cases the jackets had Lurex and Leopard skin trim in place of velvet. Generally however, greater use of velvet however was worn on both collars, pockets and cuffs, all in velvet of varying colours. Many Teds in the seventies wore black drape jackets with red velvet, however black velvet still predominated as being the popular trim. The use of Vandyke cuffs on Drape Jackets became popular as opposed to the original 50's cuff or French double cuff of the 1950's. There was also a predominance of drape jackets with velvet rolled collars and velvet edged half-moon pockets. Trousers were generally of 14" bottoms with very few who would wear turn-ups. Many Teddy Boys in the 1970's were wearing Bootlace (or Bolo) ties with their suits as opposed to 'slim jim' or 'maverick' ties worn in the 1950's.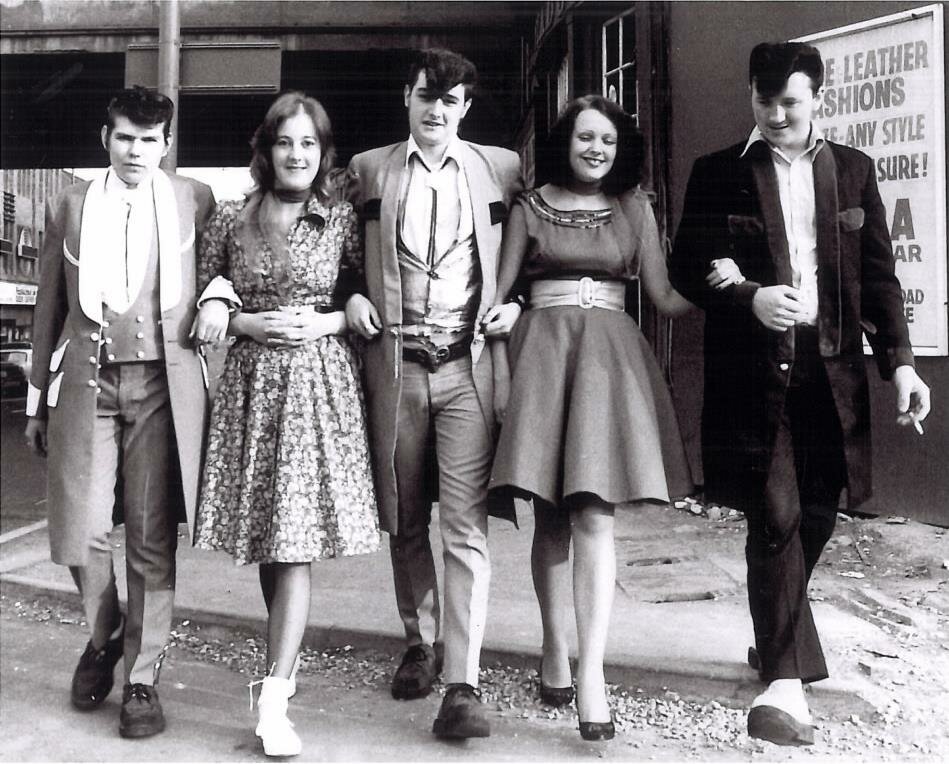 Leeds, 5th July 1976 Rock and Roll line up from left: Henry Karasiewicz 25 Kirkstall, Julie Skelton 18 Horsforth, Nick Kovrlija 21 Halton, Lynda Gedge 18 Horsforth, and Terry Best 25 Roundhay. Henry is wearing a Scarlet Red Drape trimmed with White/ Silver Lurex, Nik is wearing a dark Yellow Drape with Black Velvet pockets and Terry is wearing a Black Drape with Blue Velvet. All three Teds are wearing the squared-off Roll Collar which was influenced by Big Gerry Townes older brother Rocky Townes who wore a similar style of Drape back in 1959 - very much a Leeds individual style.
As time went on there was a move back towards the original 1950's style which started in the 1980's amongst Teddy Boys who had become disillusioned with the Glam Rock image. This original style dispensed with all the Glam Rock trimmings and many Teddy Boys slowly started to go back to their roots and adopt the original Edwardian look of 1953/4.
Farnbourough 'Edwardians' in Birmingham in 1986 - they, along with others, had started to reclaim the original style.
This original Edwardian look comprised of wearing more sober colours with far less velvet trim with velvet on the collar and maybe on the cuffs with no velvet on the pockets. Many original drape jackets featured no velvet trim and these same Teddy Boys were also then starting to have Drape Jackets tailored with no velvet at all. These original style jackets also featured wider lapels of 31/2" and 4" with the trousers being of wider 16" bottoms with turn ups and pleated fronts. The move towards this original style has continued and many Teddy Boys are now wearing a much more authentic style of dress as opposed to the Glam Rock image made popular in the 1970's. The main purpose of this website is to perpetuate this original 1953/4 image amongst the Teddy Boy movement.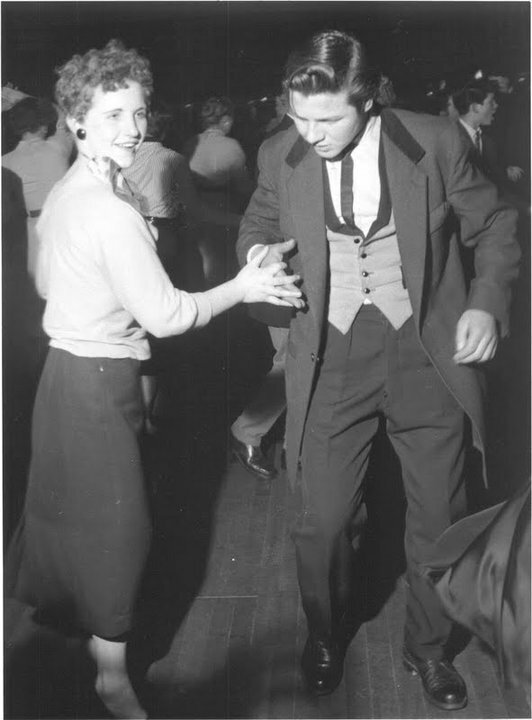 Teddy Boys or Edwardians however, first began to appear in the early 1950's on the streets of South and West London after the style had become adopted by working class youths. The style had originally appeared in the late 1940's when Saville Row Tailors attempted to revive the styles of the reign of King Edward VII, 1901-1910 into men's fashions. The Teddy Boy fashion of the fifties had it's origins in what was an upper class reaction to the austerity imported by the socialist government in the years following World War II.
However the newly established working class 'dandified street gangs' with their extravagant dress and defiant pose made Teddy Boys popular subjects for the media in the 1950's. Like the Spiv of the Second World War, the Teddy Boy became a media folk devil and ended up as the scapegoat for anything to do with juvenille delinquency. The media in their efforts to vilify the great British Teddy Boy unwittingly spread the image far beyond the London area, until the Teddy Boy became a nationwide teenage style and the first post-war teenage subculture in Great Britain and Ireland.
Well known Teddy Boy and organiser of the Wildest Cats in Town weekenders, Ritchie Gee pictured with Joanie and Derek Guy organisers of Rockin in Rosso, Rossington, Doncaster, Yorkshire all wearing hounds tooth drapes.
The Edwardian Teddy Boy is run for the benefit of all British Teddy Boys and Teddy Girls who have continued to maintain this great British distinctive style and tradition. The principal aim of the Edwardian Teddy Boy is to promulgate the original styles of the pre 1955 Teddy Boy and actively promote the ethos and style of the original and authentic British Teddy Boy movement.
Today, the Edwardian image and lifestyle is very much alive and kicking. The outfit is practically unchanged, the haircuts, and the music are still the same.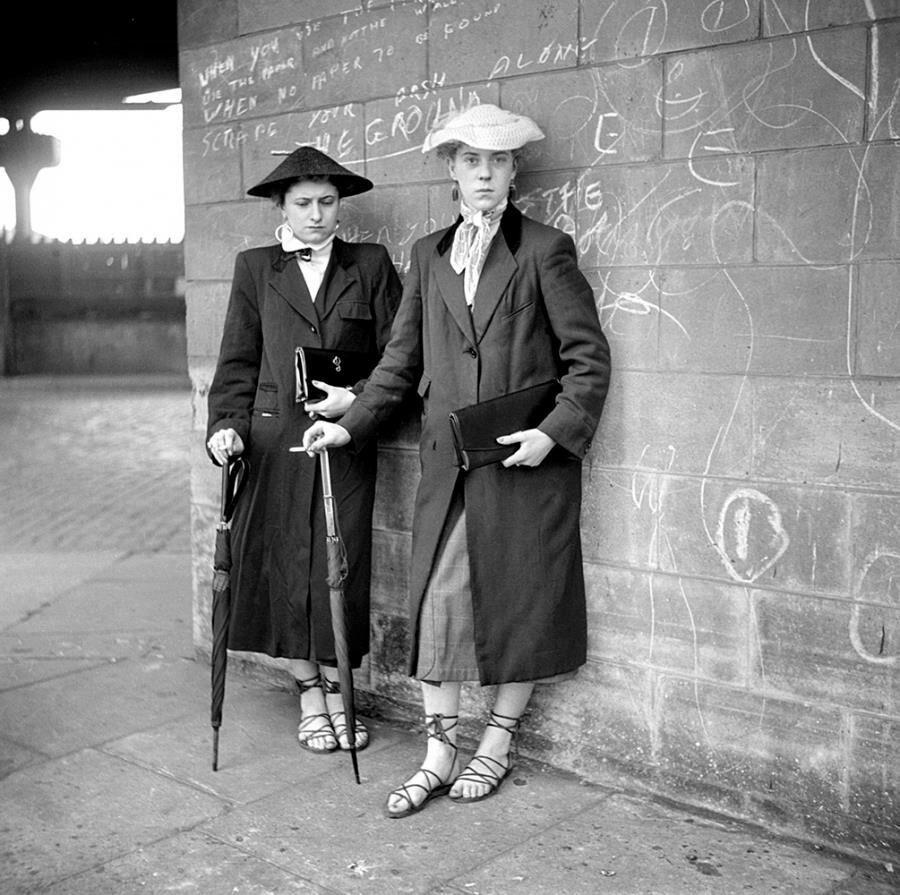 Photograph by Ken Russell January 1955 of Teddy Girls, Pat Wiles and Iris Thornton, aged 17 from Plaistow, showing off their lace up espadrilles.
At Rock 'n' Roll clubs throughout Britain, Teddy Boys still strut their stuff on the dance floors, bopping and jiving to their favourite records.
The only difference is that the aggressiveness of their predecessors has all but gone, the fighting in the cinemas, and the weapons are but a thing of the past. However, one thing is for sure, the great British Teddy Boy is here to stay.
Members of the Manchester Peacock Society pose at the Castle Pub in Oldham Street, Manchester', 30th May 2011.
This site is also designed to educate and inform all who are genuinely interested the history of British Rock 'n' Roll music. I hope that you will find this developing site a useful source of historic and current information.
Regards
John aka Rockin' Nidge
_________________________________
Norman Noel Dodds (1903-1965), Labour Cooperative politician pictured talking to two typical "Teddy Boys" with their Edwardian style clothes and "Tony Curtis" hairstyles in a Cafe in July 1955. Norman Dodds was the MP for Dartford from 1945-1955 and for Erith and Crayford from 1955 to 1965 until his death at the age of 61.
_______________________________________________________________________
Edwardian Teddy Boy Mick Mcloughlin cycles in to The Tramway Hotel, July 2011.
_________________________________
2013 Edwardian Teddy Boy Calender
_________________________________
Below are some up and coming events that are happening in the Teddy Boy Calender - please contact the organisers for further details.
_________________________________
Teddy Boys on T.V.
Simply Media TV produced a Television Documentary called Teen Spirit: 'Here Come the Teds' which was filmed at the 'Wildest Cats in Town' Weekender in June / July 2011. This was narrated by Graham McPherson (better known as ex-Madness singer 'Suggs') and was originally broadcast on Thursday 26th January 2012 at 9.00 pm on the Yesterday Channel. It has been subsequently repeated, however if you missed it, you can view the documentary on the Here comes the Teds page.
______________________________________________________________________
STOP PRESS - New Book on the History of the Teddy Boy Movement - written by two top Teddy Boys.
No youth cult has been so enduring, yet so misunderstood, as the Teddy Boys. They were maligned by a British Establishment that had no clue what they were about, and as the movement grew that scorn turned to fear. Teddy Boys tells of their roots, the music of jive and boogie artists, how the fashion became associated with violence and how the Teds fell into decline after the 1958 Notting Hill Riots. Their spirit was preserved by the Rockers of the 60s and through the rising popularity of rockabilly across Europe and beyond.
'Teddy Boys - a concise History' is a great new book due to be released on 1st December 2012 and written by Ray Ferris and Julian Lord based on an idea from Paul Ramsbottom. Retail Price approx: £8.00. The Ted on the finalised front cover is London Gang member, Colin Donellan taken on 10th October 1953.
_______________________________________________________________________
R.I.P. Tony Sheridan
Tony Sheridan, born May 21 1940, died February 16 2013
Tony Sheridan playing guitar at the 2I's Coffee Bar, Soho, London in 1958
Tony Sheridan was born Anthony Esmond Sheridan McGinnity on May 21 1940 in Norwich. His parents enjoyed classical music, and by the time Tony was seven he had learned to play the violin. At Norwich School he played in the orchestra, sang in the choir, and appeared in productions of Gilbert and Sullivan operettas. In 1956, having also mastered the guitar, he formed a skiffle group and ran away to London, where he was soon playing in the Two I's club in Old Compton Street, Soho, by night, and sleeping in doorways by day.
His fortunes improved when he appeared on the BBC's pop show Oh Boy! He was reputedly the first British musician to play the electric guitar on television (the BBC had hitherto banned the instrument), in rock classics such as Blue Suede Shoes and Mighty Mighty Man. The American journalist Bob Spitz later described him as a guitarist of extraordinary flair who, after backing stars like Marty Wilde and Vince Taylor, attracted a sizeable cult following of his own. "His rave 1959 appearance on Oh Boy! was one of those transcendent TV moments in which an unknown performer leaps from obscurity to stardom," Spitz noted.
Perhaps the calibre of "stardom" he achieved was not recognised by the big names of American rock. When Sheridan performed on a British tour by Gene Vincent and Eddie Cochran the following year, he asked if he could travel with them to the next venue. They refused him a ride, which meant he escaped the traffic accident which left Cochran dead and Vincent badly injured.
Later in 1960 Sheridan took a residency at the Kaiserkeller in Hamburg, playing with various British backing musicians, then moving to the glitzier Top Ten club where he met and worked with the Beatles. Their collaboration continued when the Liverpool band returned to Hamburg for a second time the following year, and was sealed when Sheridan and the Beatles cut their first disc together for Polydor, with My Bonnie on the A-side.
Tony Sheridan, born May 21 1940, died February 16 2013.
_______________________________________________________________________
_______________________________________________________________________
The Edwardian Teddy Boy and the Teddy Boy Movement.
_________________________________
An Iconic photograph of Teddy Boy, Frank Harvey taken in a street at Tottenham, Middlesex (North London) in 1954 and featured in the Picture Post article: "The Truth about Teddy Boys"
In March of 1954, a sixteen year-old youth had been convicted at Dartford Magistrate's Court of robbing a woman 'by putting her in fear'. The Chairman of the Magistrates said:
"There are a lot of things and so-called pleasures of the world which demand a lot of money. You tried to get hold of money for ridiculous things like Edwardian suits. They are ridiculous in the eyes of ordinary people. They are flashy, cheap and nasty, and stamp the wearer as a particular undesirable type."
"In April two gangs, also dressed Edwardian-style, met after a dance, at St Mary Cray, Kent, Railway Station. They were ready for action: bricks and sand-filled socks were used. Fifty-five youths were taken in for questioning."
"East of Barking in the summer of 1954, on a train from Southend, someone pulled the communication cord. The train ground to a halt. Light bulbs were smashed. When the train eventually reached Barking, Police arrested a gang dressed in Edwardian suits"
The first 'Best Dressed Ted Contest' was held at Canvey Island, Essex, during the August Bank Holiday of 1954. The winner was a twenty-year-old greengrocer's assistant.
"The Teddy Boy myth was born.''

Two original 1954 Teddy Boys at Kingston upon Thames wearing Drape Jackets with 4" wide lapels, silk patterned waistcoats and trousers with pleated fronts and 16" bottoms with turn-ups.
"Cinemas, Dance halls and other places of entertainment in South-East London are closing their doors to youths in 'Edwardian' suits because of gang hooliganism. The ban, which week by week is becoming more generally applied, is believed by Police to be one of the main reasons for the extension of the area in which fights with knuckle dusters, coshes, and similar weapons between bands of teenagers can now be anticipated. In Cinemas, seats have been slashed with razors and had dozens of meat skewers stuck into them." - Daily Mail, 12th April 1954.
The Stag-Line at a Dance Hall. The Teddy Boy in the centre is wearing an Edwardian outfit, which may have cost him as much as £50.00 ( very expensive at the time). Note the Long Jacket with 'Shawl' collar and single link button fastening (nearly coming off), Drainpipe trousers, thick Crepe soled shoes ('Creepers') and parallel-striped 'Slim Jim' tie. The boy on the right has a 'Tony Curtis' haircut and is wearing crepe soled suede shoes. - July 1955.
Welcome to The Edwardian Teddy Boy, a proactive website that is dedicated to maintaining and furthering the British Teddy Boy movement and culture amongst like-minded people throughout Britain, Ireland and Europe.
Totally authentic Edwardian Teddy Boy, Paul Trainor from Manchester.
This is a site where Teddy Boys & Girls who are committed to the 1950's neo-Edwardian lifestyle can access current and historical information, news, details of events and view photographs from Teddy Boy and Rock 'n' Roll events.
Teddy Boys pictured at Surrey Street Market, Croydon, Surrey in 1976. Left to Right: Unknown, Micky Mould & Brian Boyce. Photograph: Chris Steele-Perkins.
'The Edwardian Teddy Boy' as a website, was started in April 2010 and has been built by Edwardian Teddy Boy, John aka Rockin Nidge.
Edwardian Teddy Boys - Jake, Gaz & John from Preston, Lancashire.
This is a very useful website for those who are researching 1950's British Youth culture, British Rock 'n' Roll and the evolution of the Teddy Boys. From their conception in the early fifties through the so called Rock 'n' Roll Revival of the late 1960's and 1970's through to the return to the fifties neo-Edwardian roots and the evolvement of The Edwardian Drape Society during the mid 1990's, and to the present day, the Teddy Boy has always been an icon of British Youth Culture and Lifestyle.
The 'Tramways' at Pakefield, Lowestoft hosts the Edwardian Invasion each year and has now become an annual Saturday afternoon pilgrimage for Teddy Boys & Girls whilst attending the 'Wildest Cats in Town' weekender in early July.
The Edwardian Teddy Boy website is specifically for Teddy Boys and Teddy Girls who are dedicated to perpetuating and maintaining the authentic 1950's Teddy Boy image and lifestyle.
A famous photograph taken by photographer, Ken Russell in January 1955 by at the back of the Walthamstow Palace Theatre of a small group of Teddy boys talking to 17 year old Josie Buchan a Teddy Girl who is sporting a DA hairstyle which was unusual for women in 1955.
British Rock n Roll
The Edwardian Teddy Boy strongly supports British Rock n Roll music from original artists such as Tommy Steele, Tony Crombie & his Rockets, Terry Dene, Billy Fury and Cliff Richard & the Drifters.
Norrie Paramor with Cliff Richard & the Drifters - Jet Harris, Tony Meehan, Hank Marvin & Bruce Welch in 1958.
The site also promotes all other forms of 1950's Rock 'n' Roll music such as Doo Wop, Rockabilly and main stream Rock 'n' Roll.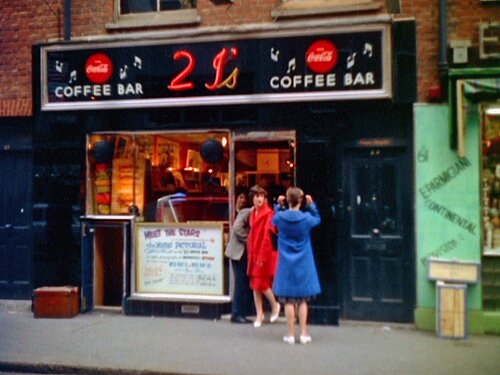 The 2i's Coffee Bar, Old Compton Street, Soho, in London's West End in 1959 - Birthplace of British Rock 'n' Roll. The 2i's Coffee Bar was a coffee bar upstairs and in the basement was a small area where emerging British Rock 'n' Roll artists and groups were able to perform. It was situated at 59 Old Compton Street, Soho, London, England, between 1956 and 1970. The 2i's was owned by Paul Lincoln, an Australian wrestler and wrestling promoter.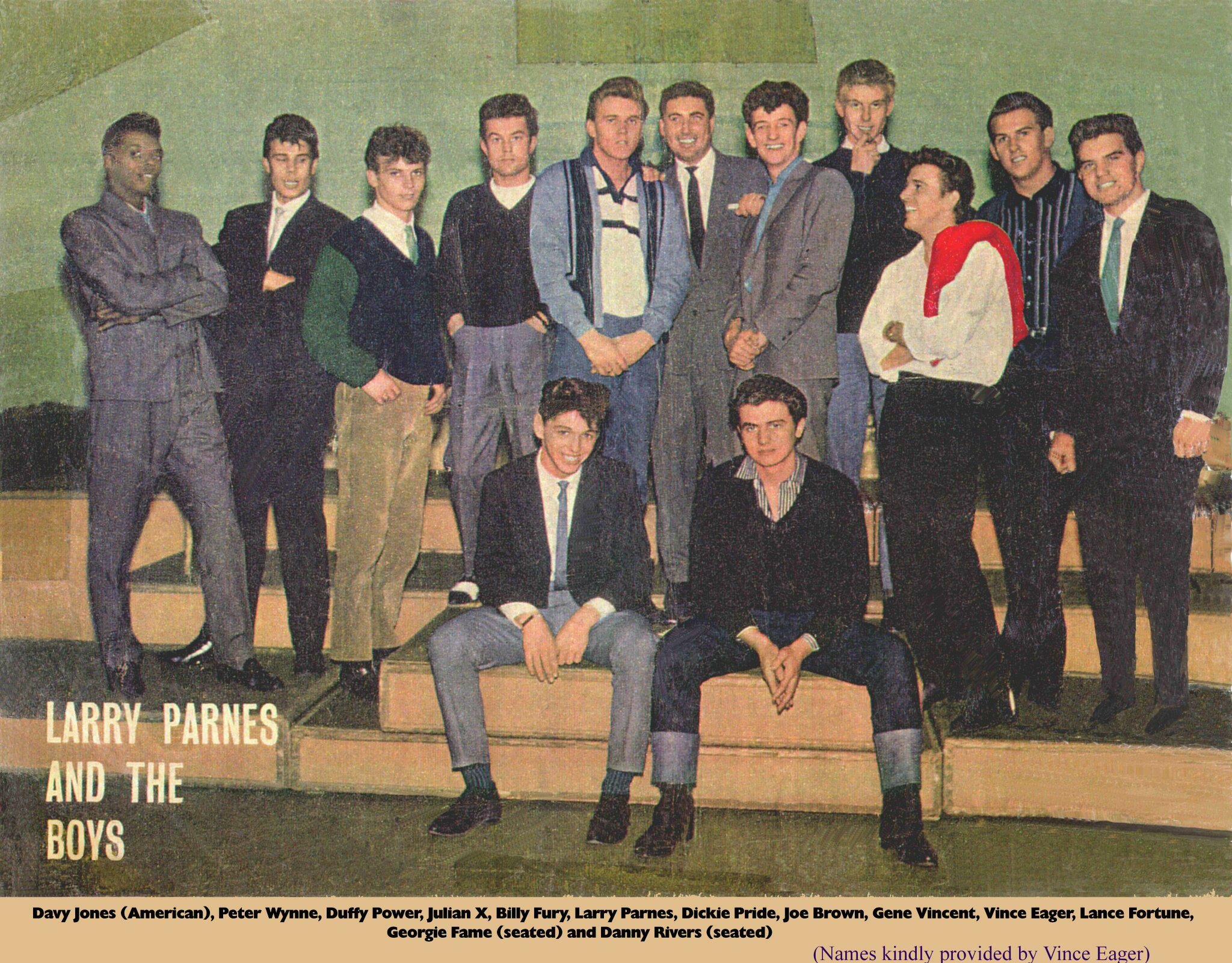 The Edwardian Teddy Boy website acts as a link and source of information for all drape wearing Teddy Boys and Girls and promotes the common cause of maintaining the British Teddy Boy culture and lifestyle.
The Edwardian Teddy Boy has always been in support of the original pre 1955 Teddy Boy style of dress. However, the actual return to the original Conservative Edwardian style of Teddy Boy dress was originally a concept that was steadily developed during the late 1980's after many Teddy boys had become disgruntled with the 1970's glam image that had dominated the Teddy Boy style during the 1970's.
Teddy Boys and Girls at the Tennesee Club in the mid 1990's.
Later in 1993/94, The Edwardian Drape Society (T.E.D.S.) was started in a move to support and promote of the re-claiming of the original 1950's Teddy Boy style back into Teddy Boy culture.
Manchester Teddy Boys outside a Cinema in 1955.
There are now a large number of Teddy Boys who are very much in support of the ethic of maintaining and promoting the original pre 1955 Conservative Edwardian Teddy Boy style and this site actively encourages this. This involves the wearing of Drape jackets with 3"- 4" lapels, minimum use of velvet apart from the collars and cuffs (or none at all) and 16" bottom trousers with turn-ups.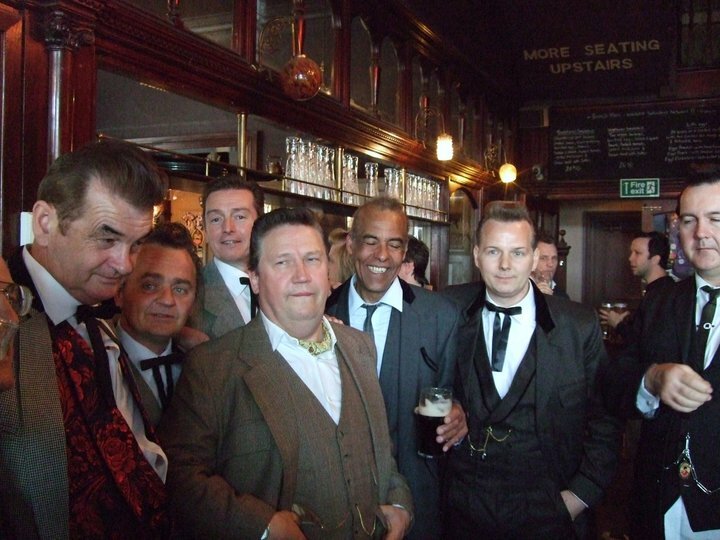 Edwardian Teddy Boys at the Adelphi Pub in Leeds on 30 April 2011 taking part in the Ted's Around Town in Leeds Pub Crawl.
When Teddy Boys first emerged in 1953 amongst British working class youths, it became acceptable for young people to care about what they looked like and to dress for show, instead of having work or school clothes and Sunday-best.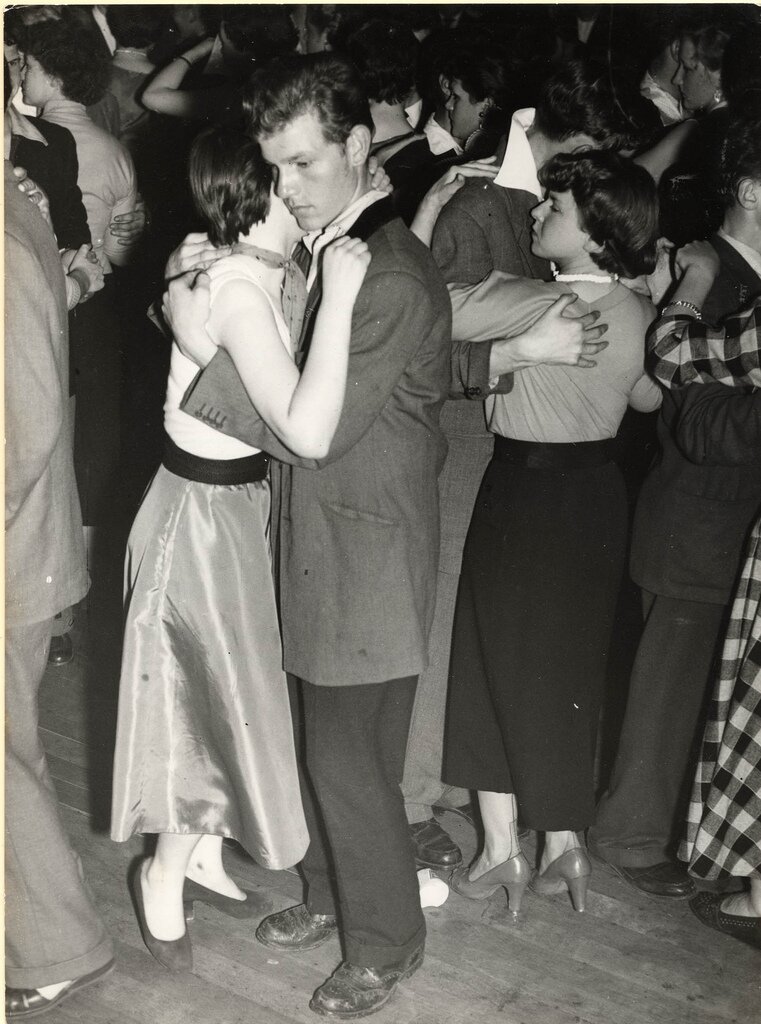 A Teddy Boy with his girl 'Moon Dance' at a Dance Hall - July 1955 - note the Drape Jacket with half back full velvet collar with 16-17" turned up trousers and Brogue Shoes.
Today people dress very casually and there seems not to be the same sense of occasion when Going out on the Town. This was never the case for the Teddy Boys, who despite their reputation always dressed up and strutted around like peacocks when they went out.
The Edwardian Teddy Boy website encourages those like-minded individuals who are committed to emulating the original Teddy Boy styles as near as possible, taking into account regional variations.
The Edwardian Teddy Boy is keen to stimulate interest amongst younger people and develop them to become the Teddy Boys of the future and continue to keep the neo-Edwardian culture alive.
Edwardian Teddy Boys in the 1980's recreating the original pre 1955 style L to R: Paul Culshaw, Richard Wooley, Jerry Lunn & Frankie Calland.
The Edwardian Teddy Boy website is certainly not telling anyone what to wear and is in no position to do so. However, this site is somewhat cognosenti about authentic Teddy Boy attire and is keen to emulate and encourage the wearing of the original 1950's Teddy Boy styles in terms of colours, suiting's, footwear and clothing accessories as much as possible.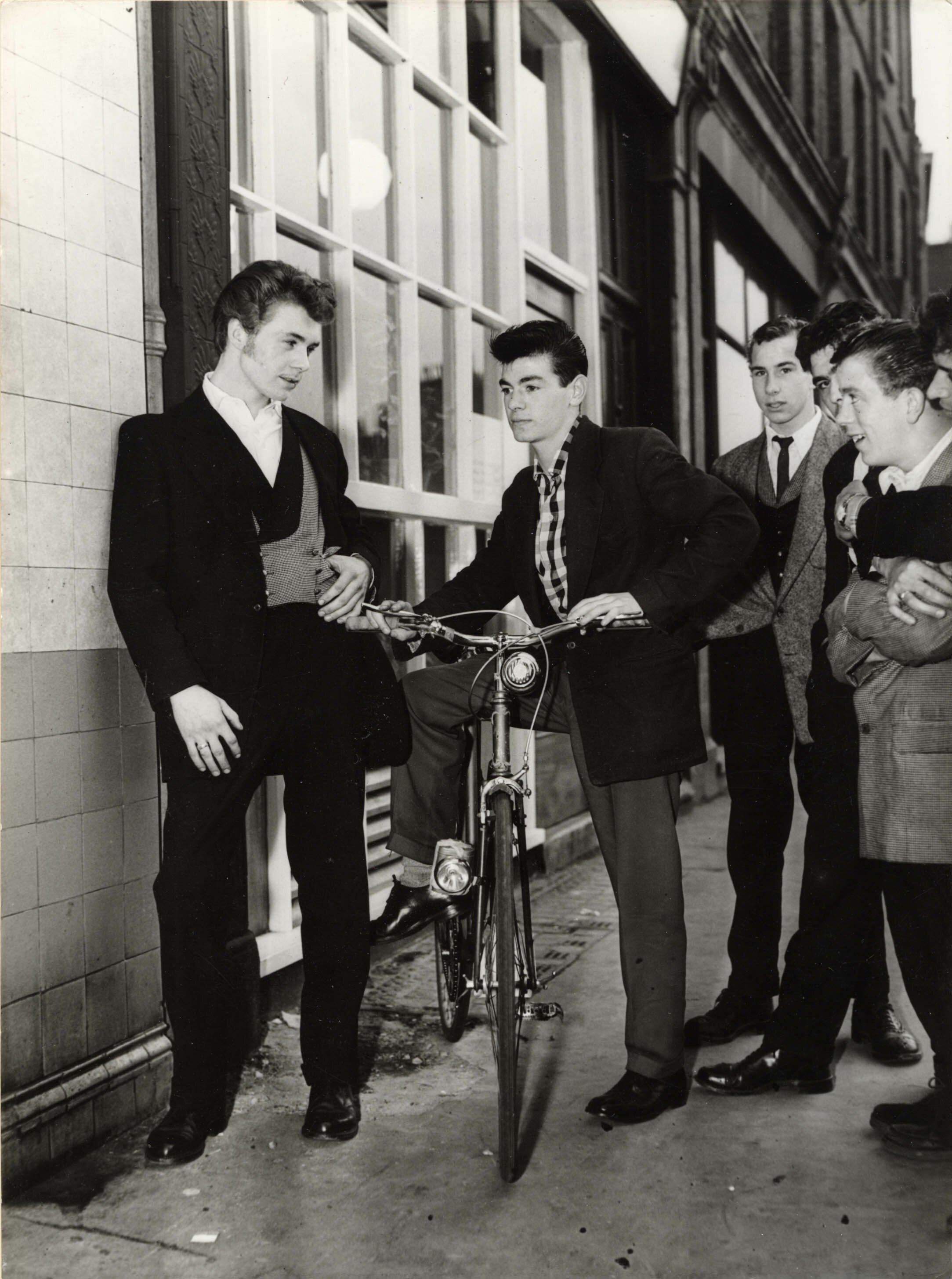 Boys wearing Edwardian style clothes at the "Teen Canteen" at Elephant & Castle, South London, July 1955 - note the unusually long sideburns of the Teddy Boy with the double breasted waistcoat for the period..
The Edwardian Teddy Boy is particularly against the 'Glam Rock' influence that was responsible for bastardising much of the Teddy Boy attire worn during the 1970's and support a return to the more authentic 1950's style.
A Group of Deeside Teddy Boys and Girls at the Tower Ballroom, New Brighton, Cheshire in the Mid 1950s
The Edwardian Teddy Boy website embraces and welcomes all committed Teddy Boys and Girls. We encourage those of you to dress smartly and wear your clothes with pride when attending Teddy Boy and Rock 'n' Roll events, venues and functions.
At Steph and Michele's Wedding at Mundersley - Nidge, Rodger, Jonny and Sophie in true Edwardain style, March 2012.
There is too much emphasis on dressing casually these days and this seems to have become the norm. We, as proud Edwardian Teddy Boys and Girls on the other hand want to dress and stand out and apart from the rest!
Well dressed Edwardian's Steve Pete and Mark at a TEDS Do at the Holloway Tavern 1992.

In the last 25 years Teddy Boys in Britain have fostered and strengthened links with Teddy Boy groups that have emerged and developed in Europe, particularly in Germany, France, Spain, Norway and Finland.
These links have strengthened the Edwardian brotherhood considerably and there are regular events that British Teddy Boys attend in these countries. Our European counterparts are regular supporters of functions and events held here in the UK .
Well known London Teddy Boy, Johnny T.
Please note that this website is maintained by Rockin' Nidge and that the views and comments expressed therein, are not necessarily those shared by the rank and file of Teddy Boy's.
If you wish to contact Nidge regarding any comments or statements on this website, please feel free to email Nidge at: shanganipatrol@ntlworld.com .
The Edwardian Teddy Boy actively supports: